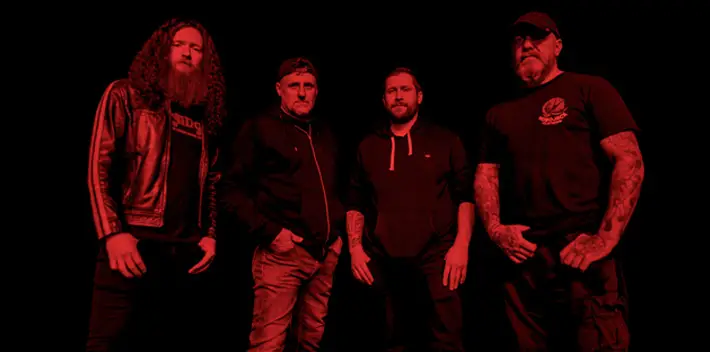 Hard rock mix from Sheffield making waves…
YOUR NAME: Paul Pudge Johnson.
BAND NAME: Until 9.
WHAT DO YOU DO/PLAY? Rhythm guitar and lead vocal.
HOW LONG HAVE YOU BEEN TOGETHER AS A BAND/PLAYING MUSIC?
With Until 9? 2-3 years. We've crossed paths with one another in bands over the years. Gained some success and had a few unforgettable experiences. Also had a few ball clenchingly embarrasing moments along the way. But it builds character I guess, haha.
GIVE US 3 REASONS WHY WE SHOULD TRACK DOWN, LISTEN AND DISCOVER YOUR MUSIC?
1. You'll be getting no nonsense metal with plenty of melody and songs you can sing along to.
2. The upcoming EP 'Look at Me Now!' has got pretty much something for everyone in terms of versitility.
3. It sounds orate.
WHERE DO YOU SOUND BEST – FESTIVAL, CLUB, BEDROOM – OR SOMEWHERE ELSE?
Festival – yes. Club? Ok but they make you stop half way for bingo
WHAT WAS YOUR FIRST RECORD?
Crikey err… believe it or not probably Meat Loaf, Bat out of Hell. Not actually purchased, it was my dad's, but I claimed it.
SO, WHEN IT ALL GOES RIGHT AND YOU'VE GOT A HUGE QUEUE OF HANGERS-ON AND A RIDICULOUS MANSION, WHAT WILL BE YOUR BIGGEST INDULGENCE, MUSICAL OR OTHERWISE?
It'll be music for sure. I'm a good lad 😉
SO, WHEN IT ALL GOES WRONG AND YOU'VE ACRIMONIOUSLY BROKEN UP CITING HUGE MUSICAL DIFFERENCES, WHAT DO YOU FALL BACK ON?
Throw a hat on the floor in town and sing some sh*t acoustic covers for pennies.
CITE SOME INTER-BAND MUSICAL DIFFERENCES…
The heavy to melody ratio is always in debate. Like if I'm screaming too much or not enough for example. How angry the song should be. Genre wise we kind of have the same route we wanna take it. We have a few tiffs unrelated to music sometimes but we get over it soon enough. We can all be di*k heads sometimes dont you think?
WHO ARE YORKSHIRE'S FINEST IN CULTURE, SPORT AND MUSIC?
Sport – Marcelo Bielsa. Without question (The man is God). Music, I think Bring me the Horizon. They've exploded onto the scene, in the past few years especially.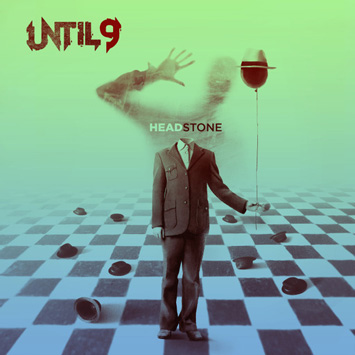 NAME YOUR SUPERGROUP – WHO'S PLAYING WHAT, WHO'S ON VOCALS AND WHO'S YOUR BEZ?
Right, so:
Lead guitar – Tom Morello
Drums – Joey Jordison (RIP)
Bass – you've gotta go Lemmy
vocal – Chris Cornell (RIP)
Obviously me on rhythm and backing up Mr Cornell. (Can't kick myself outta my own band)
And Bez?… I'd have Bez, haha.
GO SEE THIS FILM: Lock, Stock and 2 Smoking Barrels.
GO READ THIS BOOK: Hairy Bikers' Cook Book.
GREAT LOST BAND/ARTIST: Heart of a Coward.
WOULDN'T BE CAUGHT DEAD SUPPORTING: Man United, haha.
LONDON, L.A OR LEEDS?: Leeds Leeds Leeds.
AND FINALLY… AS YOU LEAVE THE STAGE, WHAT ARE YOUR PARTING WORDS?
Its been a fuc*ing pleasure (mic drop).
For more info visit: facebook.com/UNTIL9original