The White Swan at Wighill – Restaurant Review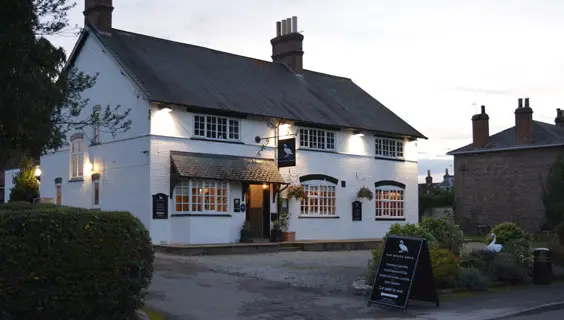 By Paul Howard
Sunday lunch is the great British Food tradition for friends and family, regularly voted as one of the things that most define Britishness. We went to The White Swan at Wighill recently to see whether they could serve a Sunday lunch that could rival the essence of home-made cookery.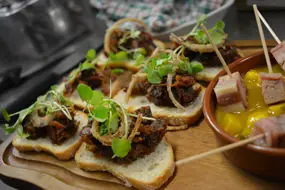 The centrepiece of any Sunday Lunch is a huge roast meal with all the trimmings. Some say this tradition arose when church goers returned home to a celebratory dinner left to cook during their absence. As with many British traditions, its origins probably extend back to feudal times. Meanwhile, its popularity has spread around the English-speaking world. Indeed, Sunday lunch is arguably still the essence of family cookery; with the roast meat of choice, Yorkshire pudding, roast potatoes, gravy and a selection of veggies.
Sunday lunch is at the heart of the perfect lazy Sunday. Maybe start with breakfast in bed, then a slow read of more newspapers than you can shake a stick at, before sitting down to a huge roast meal. Afterwards, a well-earned calorie-induced snooze on the sofa is in order.
However, lengthy preparation at home can be stressful, never mind the washing-up afterwards. Increasingly in our busy fragmented lives, we've turned instead to the Great British Pub to provide it for us. Less than half of us now make our own.
"Keeping it distinctive"
Getting a Sunday Lunch in a pub that's worthy of the tradition isn't always easy. Who hasn't experienced their fair share of joyless carveries, with their overdone meats, pre-prepared puddings and watery frozen vegetables? Such crimes against taste remain all-too-frequent.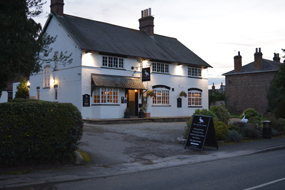 Thankfully, The White Swan turns out to be a splendid example of where Sunday Lunch combines excellent value cookery in a relaxing atmosphere. It's a charming old pub in the centre of the village of Wighill, readily accessible from Leeds, Harrogate and York. Ainsty Inns, a local small pub group, bought it in September 2016.
Tom Thorup and his team have moved in, including Chef John Griffiths. Tom was previously in charge of one of The White Swan's sister pubs, the national-award-winning Chequers at nearby Bilton-on-Ainsty. They are now bringing The White Swan up to similar standards while keeping it distinctive. And it shows; in the décor, atmosphere, customer service and food.
In fact, one of their recipes, Monkfish with wilted spinach, hollandaise and poached egg, features in the newly published The Leeds and West Yorkshire Cookery Book. Their philosophy is to use local produce wherever possible. Hence meat and poultry are from Sykes House Farm, fruit and vegetables from Hebden and Poole and the fish comes from Hodgson's of Hartlepool. Yorkshire beers from Ilkley Brewery, Tim Taylor's and Black Sheep, are all on tap.
"Correctly, there is plenty of tasty gravy"
With a warm welcome, we took a window table in the newly refurbished dining room, tastefully decorated in relaxing teal blue and grey tones. The Sunday lunch menu is refreshingly simple, with a choice of four starters, five mains and four desserts available from 12 noon through to 8pm, with table service. While roast meats are of course the centre point, there are fish and vegetarian options too. One course is £11.95, two for £15.95 or all three for £18.95, so its good value as well.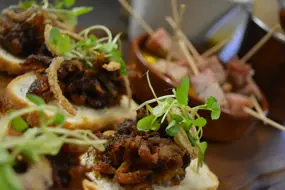 For starters, we order salt and pepper squid and chicken liver paté. The squid is tender, the batter light and the aïoli punchy. A large wedge of paté comes with toast and a side salad. Both dishes prove to be delicious.
For mains, the roast choices were between beef, belly pork or chicken breast. We both choose the slow roast pork. Roast pork needs to be moist and evenly cooked, with a crisp, flavoursome crackling. It is cooked to perfection. It comes with a large, pillowy Yorkshire pudding and hot roast potatoes that are crisp on the outside and fluffy within. Correctly, there is plenty of tasty gravy.
A special mention for the delightful side vegetables too. Cauliflower, broad beans and sugar snaps are colourful, textured and flavoursome; the baby whole carrots are scrubbed, not peeled. Apple sauce and English mustard rounds things off. A Beaujolais Cru Fleurie, from the surprisingly varied wine list, helps us wash it down with gusto.
Meanwhile, other diners are relishing pink roast beef, while the vegetarian aubergine parmigiana looks and, I am told, tastes just as good.
"This is a place to visit hungry"
Given the generous portions of starters and mains, we could stop there. However, this being Sunday, we don't want to miss out on the desserts and, after a short break we are very glad we don't.
The vanilla pannacotta comes with home-made ginger shortbread and raspberry coulis. It is clean and light with just the right amount of jiggle. Even better is that English classic, Sticky Toffee Pudding. The sponge is light and moist, and a jug of hot caramel sauce soon drenches it, melting the vanilla ice cream. Delectable stuff.
Finally, we take coffee with some more ginger shortbread and fudge. It is a while before we can move, but there is no rush. Indeed, this is a place to visit hungry, wear loose clothing and don't be shy in asking for a doggy-bag.
Booking is advisable as the dining area is full, with couples, family generations and groups of friends clearly enjoying themselves. The White Swan is child and dog-friendly, so this is a place for all the family to come and relax.
In short, The White Swan Sunday lunch exceeds our expectations and is highly recommended. Next time I'm looking forward to exploring their seasonal menu, which is available Monday through Saturday.
Oh, once back home, I indulged in that afternoon snooze.
The White Swan, The Avenue, Wighill, Tadcaster, LS24 8BG
01937 832217
thewhiteswanwighill.co.uk