The White Horse & Griffin Hotel & Restaurant, Whitby – Review
By Karl Hornsey
Mention Whitby in conversation and the vast majority of people will immediately conjure the same sort of images in their mind. An idyllic coastal town with bags of history that has been thriving in recent years, with a strong fishing community still to the fore, and plenty to attract the thousands of tourists that flock there each year – with a hefty dose of Gothic folklore thrown in for good measure. And if you're interested in picking just one establishment that perfectly sums up what Whitby means today, then you'd be hard pushed to find a more suitable one than The White Horse & Griffin hotel and restaurant.
Built in 1681, the great and good of the sailing and exploring worlds gathered at the coaching inn and for centuries after. Since then, apart from a spell of just over 50 years during the 20th century, one of Whitby's most famous cobbled streets, just a stone's throw from the famous 199 steps up to the Abbey, the White Horse & Griffin has been a place of choice for those wanting good food, alcoholic refreshment and a place to rest their heads. And that's very much the case to this very day judging by how popular the place was when we visited.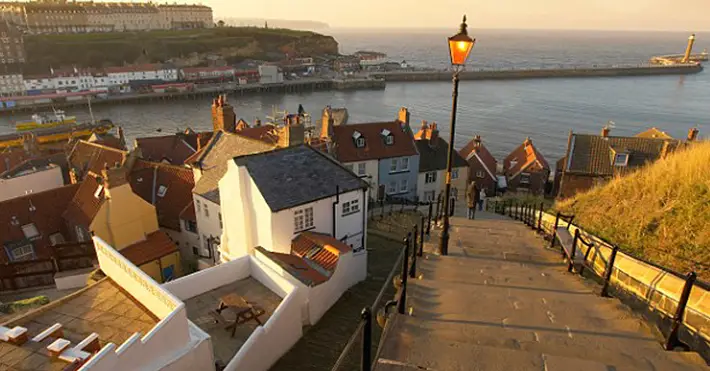 "Warm and welcoming"
Crucially, the restoration that took place in the 1980s and 90s was done with history in mind and many of the original features in the building have been kept, creating a genuinely warm and welcoming atmosphere, and an Aladdin's cave of fascinating period pieces without any element of contrived fakeness coming through. It may sound simple, but many such historic establishments have been ruined when being restored, and it was a relief to see how well the owners had developed the place.
The White Horse & Griffin prides itself on offering high quality food, primarily using the local fish and seafood that is as fresh as it could possibly be, and that ethos shines through in the menu. When we dined, there were six main courses on the menu, along with three specials, and I'm always happy when a restaurant chooses to concentrate on quality rather than quantity, and doesn't try to pack their menu with too many dishes. Our welcome and service was exemplary, with relaxed and efficient staff who dealt with the demands of more than a dozen tables of diners with consummate ease, all while adhering to the social distancing regulations that we've all become so used to these days.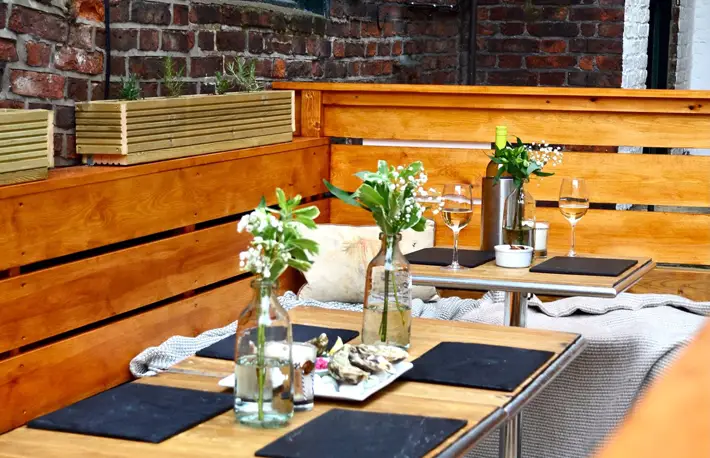 "Beautifully cooked"
From the choice of five starters, we opted for the chicken liver parfait and the seared king scallops. The parfait was served with several pieces of melba toast and a wonderful array of small pickled vegetables that really made the dish come alive, while the scallops were cooked to just the right springy texture, with a tangy lemon butter and Parma ham crisps adding just the right amount of zing and crunch to accompany. While the shin of beef or pea and pinenut linguine were tempting us from the list of main courses, it seemed almost sacrilege to go to Whitby and not partake of something fresh out of the sea. Not quite feeling capable of, or patient enough, to wrestle with the very reasonably priced full or half lobster, we decided instead on the halibut and the tempura cod.
As seems to be the trend these days, it's only really once your plate arrives that you get the full scale of what you've ordered, with the descriptions on the menu being suitably downplayed and simplistic, so my halibut with purees and langoustine bisque, also came with green vegetables, fish roe and fries, and the purees were delicious dollops of flavour that accompanied the beautifully cooked, chunky and flaky halibut delightfully.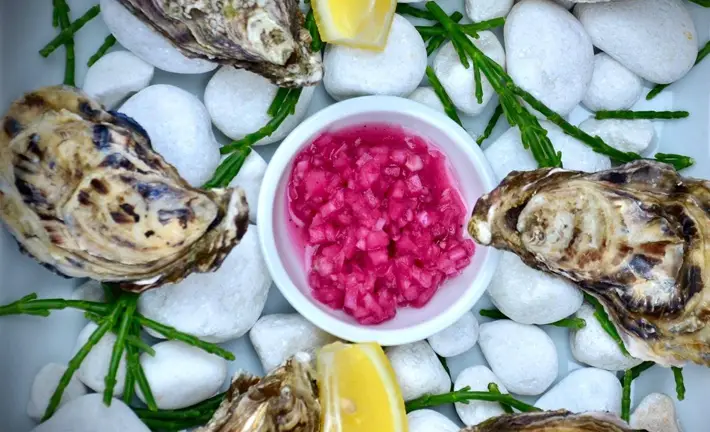 "Work of art"
The tempura cod was effectively an upmarket version of fish and chips, served as it was in a light and crisp tempura batter, with fries and minted marrowfat peas, and a glorious homemade tartare sauce. For dessert, we both chose the lemon posset, partly as it's always a favourite, but also as it seemed like the option that we'd have most room for after such great mains. The posset didn't disappoint either, with lemon curd adding a sharp tanginess, a shortbread crumb to add texture and a raspberry sorbet to cleanse the pallet.
After such a delicious meal, we were particularly pleased to only have to walk a few yards to our accommodation, because the WH&G has another trick up its sleeve to tempt the tourists, in the shape of not only 10 en-suite guest rooms, but also April Cottage, which sleeps six and is tucked away just behind the main building. It was to here that we went to settle for the rest of the evening, and it really is a work of art in how the cottage, along with many others have been squeezed into the space available, yet still manage to be roomy, comfortable, spotlessly clean and with many of the original features still to the fore.
"A marvel"
Despite only staying there for one night, April Cottage immediately struck us as the perfect place to base yourself for a longer holiday, and to be just a hundred yards away from the throngs of people, yet be surrounded by nothing but silence (well, apart from the squawk of the gulls), was a marvel to behold. This also afforded me the chance to sample a White Horse & Griffin breakfast, offering as they do a traditional full English and variations thereof, or smoked kippers from just along the street, where Whitby's only traditional smokehouse is located.
While there are literally hundreds of options of places in Whitby to eat, drink, sleep and partake of all manner of other leisure activities and attractions, for its location, price, quality of service, food, drink and accommodation, it's hard to see how the White Horse & Griffin can be beaten as a place to head to on anyone's next visit to Whitby, and that will certainly be the case when we next return to the town.
White Horse & Griffin, 87 Church Street, Whitby, North Yorkshire, Y022 4BH
Check-in 3pm, Check-out 10.30am
Prices start from Room priced at £85-£135 B&B per night depending upon day of week and time of year.
Opening and closing times: Open daily from 12pm all year round.
+44 1947 604857
whitehorseandgriffin.com