The King's Head, Beverley – Restaurant Review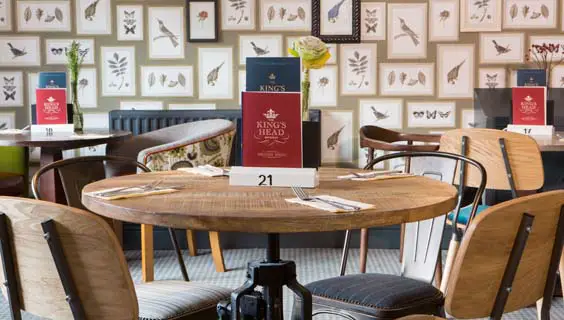 The King's Head, Beverley
Restaurant Review
by Roger Crow
"You ate all your steak. That's rare," says my partner Rachel, oblivious to the puntastic set up. "It's actually medium to well done," I reply, emphasis on the 'well done'. And not in a cremated way.
We're at The King's Head, Beverley on one of those idyllic Sunday lunchtimes usually reserved for Richard Curtis movies. 'The season of mists and mellow fruitfulness' is upon us, as Keats once wrote in his classic 'Ode to Autumn'. There's no mist but it's not long before my fruitfulness is feeling very mellow thanks to the ambience.
The 17th-century Grade II listed coaching inn has more history than a box set of Time Team, so little wonder it's popular. It's been a couple of years since I last pottered around town, when the market looked like it was half way through a Grand Designs build. We've passed The King's Head a few times in the past but never felt the urge to cross the threshold, probably because of former roadworks detracting from its appeal. It now looks out onto a superb market square.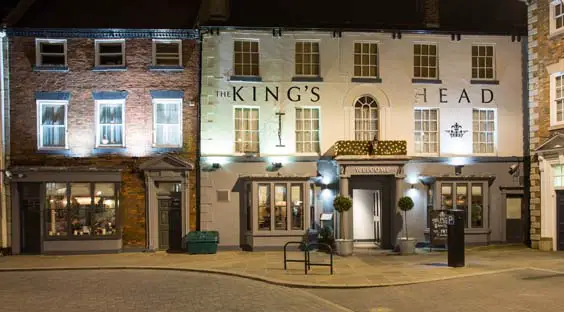 "Beautifully decorated"
A revamp to the establishment itself a couple of years ago has ensured locals and visitors keep coming back for more. I can see why. After a warm welcome, we're shown to our window seats where the sun is streaming in. The place is beautifully decorated, and it's a pleasure to watch the world go by from our vantage point.
Of course Beverley has been a magnet for moneyed types for centuries, and has produced its fair share of stars, including Poldark's luminous Eleanor Tomlinson, who grew up here, and film director Ken Annakin. He made a string of fine movies before passing away in the area allegedly inspired by his birthplace, Beverly Hills. (Nice place Hollywood, but they can't make a decent cuppa to save their lives).
Back to a more affordable reality, and The King's Head menu offers plenty of goodies. There's the obligatory Sunday roast, which is tempting at a reasonable £10.95, but I can have that in my local, a bit like the assorted burgers. Okay, I'm sure their versions are terrific, but will have to wait for another day.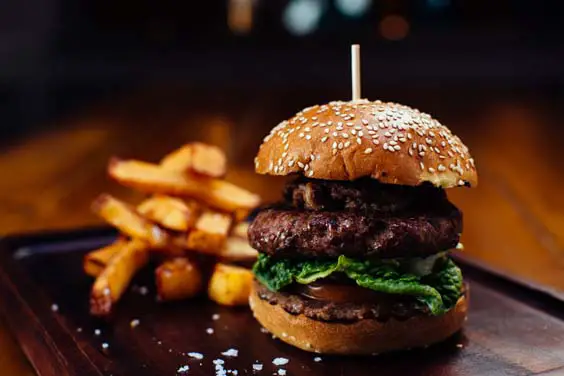 "Work of art"
We've travelled 21 miles for the experience, so want something special. I opt for the 28 day aged 8oz fillet steak. It's one of those dishes that can be a culinary minefield and a gamble at £22.95. Memories of an aching jaw from previous steaks elsewhere had left me swerving it as a choice. But our waiter Caradoc does a great job of selling it, so I take the plunge.
Rachel and I share his homemade nachos for starters, and expect standard chips and dips at £7.95, but these are something else. Tasty, well cooked tortilla triangles deep fried but not greasy. They're so moreish with sour cream, salsa and Monterey Jack cheese, I have to stop myself from devouring the lot.
We don't have long to wait for the mains. The steak itself is a work of art and worth every penny. It's perfectly cooked with a great peppercorn sauce, delicious chips and a side of onion rings with sesame seed batter which raise the dish to another level. I usually avoid tomatoes (one of my least favourite things in its original form), but these are sweet and delicious.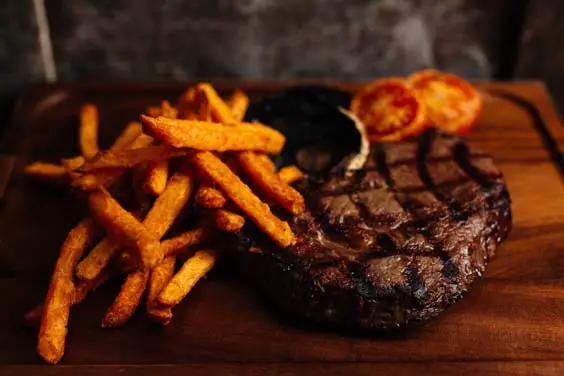 "Outstanding"
Rachel's Marmite-glazed leek mac and cheese (£7.95) is also a triumph and perfectly cooked. The pasta is delightfully al dente and the Italian hard cheese, parsley, brown butter breadcrumbs and garlic baguette complement one another beautifully.
A great aspect of our stay at The King's Head is the staff, especially Kora, Shelley-Ann and the aforementioned Caradoc. Unlike some restaurants where employees seem to go through the motions, our waiting team are outstanding. Chatty, well informed, amiable and efficient. Some eateries can be spoiled with hovering waiting staff, but this is one of those places where none outstay their welcome.
Great food is obviously essential for any eatery's success, but likeable employees make the difference between a good dining experience and one you talk about for months to come.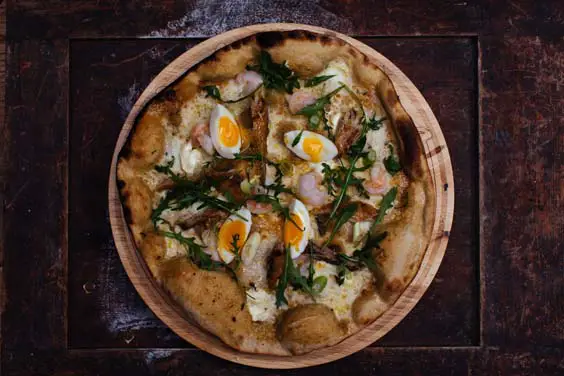 "Great atmosphere"
We round things off with a shared sundae – a glass filled with cream, ice cream, waffle and popcorn generously slathered in sauce. Together with cappuccinos, it's a perfect epilogue to a fabulous culinary story.
I can't guarantee sunshine if/when you go, but judging by the great atmosphere from other punters, I know the amazing food and welcome service wasn't just for us. For a couple of hours we felt like royalty.
My well worn acid test for any review: would I return as a paying customer? In a heartbeat… or at least once I've let this feast settle.
The King's Head, 37-38 Saturday Market Place, Beverley, East Yorks, HU17 9AH
Opening times:
Mon-Thurs 9am – 11pm
Friday 9am – 1am
Saturday 10am – 1am
Sunday 11am – 11pm
01482 868103
kingsheadpubbeverley.com