The Cockpit Cafe, Beverley – Review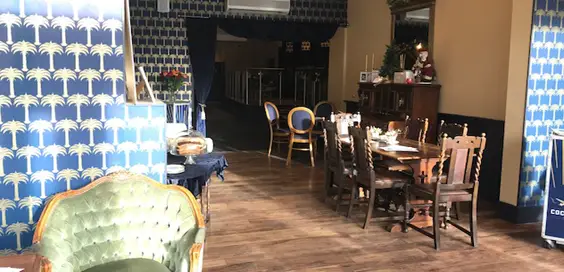 By Roger Crow
In a world where generic chains offer overpriced coffee and food, I'll always gravitate to a themed cafe if done well. The food doesn't just have to be great, but the place also has to have the courage of its own convictions.
Thankfully The Cockpit Cafe in Beverley has a great USP – a glorious splash of fun on a winter's day. It indulges my passion for vintage aviation, and then some. I've been looking forward to this visit since it opened in early December 2017. Now, in one of the most depressing weeks of the year, it's just the helping of escapism my partner and I need.
Thankfully the drive from Howden to Beverley is a joy on a freezing Saturday morning; parking a few minutes' walk from the venue is easy and relatively cheap, and the place itself is easy to find. I love the exterior with its gorgeous graphics and welcoming facade. The interior is equally terrific with vintage suitcases for tables and elegant booths at the rear of the cafe.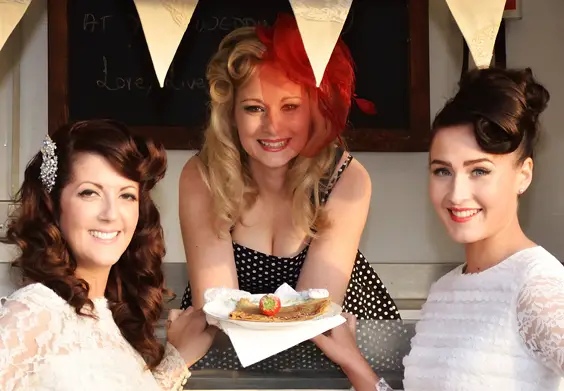 "Winning mix"
It's a pleasure to meet former air hostess-turned entrepreneur Lucie Mountain. The brains behind the operation, she drew inspiration from the 1950s, and with a passion for travel, that winning mix of great food, drink and ambience has customers packing out the venue for our 90-minute stay.
Serving food and drink from all over the world, it's a treat to see a simple but effective menu which offers some of my favourite dishes and drinks. And with waitresses naturally in airline attire, it's that essential touch which helps keep the aeronautical fantasy aloft.
The day is so icy when we arrive, it demands something to warm the cockles. I go for hot Kentish Pip Firespice Ginger Cider, while Rachel has a Bailey's Hot Chocolate. As it always reminds me of our honeymoon in New England, I opt for the seafood chowder with garlic toast. At £7.50, you certainly get your money's worth. I'm used to some chowders being a starter, but this is very much a main, filled with delicious fresh ingredients. The toast is deliciously crisp and the flavour avoids being overpowering.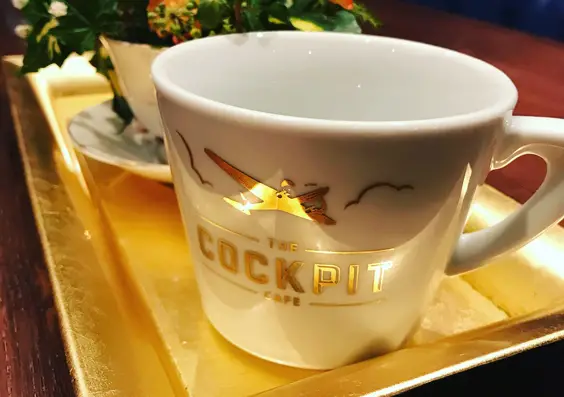 "Goes down a treat"
Rachel chooses Baked Frittata (£5.50) – spiced sweet potato, caramelised onion frittata, with yoghurt, honey and poppyseed dressing. "The flavours are nice and it's cooked to perfection, but the portion of dressing is too generous," she remarks. "In that case less would have been definitely more."
We split a delicious Chocolate Terrine, and I savour a cappuccino, complete with plane (rather than plain) biscuit, which goes down a treat.
I was sold on The Cockpit Cafe from the minute I walked in, probably because it's just the sort of place Beverley needs. A break from the norm and a reminder of that golden era of world travel.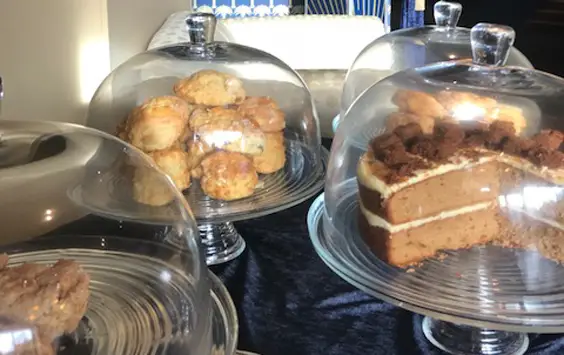 "Great idea"
"I wanted to create something completely unique to other food and drink venues in Yorkshire," remarks Lucie. She's certainly done that, though I'm itching to see a huge 1950s propeller revolving fan-like from the ceiling. I'd also love to see a merch stand with the beautiful coffee cups (I'd have bought one on the day). And the delicious Chocolate Terrine is begging to be renamed "Chocs Away". But that's just me. Some touches are perhaps too obvious.
Yorkshire needs more entrepreneurs like Lucie, who's done a wonderful job of taking a great idea and making it fly. I can't wait to return and sample more of the menu, perhaps on an evening when there's live music.
Well worth a look, and best of all, you won't need your passport.
The Cockpit Cafe, Wednesday Market, Beverley, East Yorkshire, HU17 0DG
Opening Times: 11am – midnight, daily
07421 225900
facebook.com/cockpitcafebeverley