Mad Hatter's Afternoon Tea, Hallmark Hotel, Hull – Review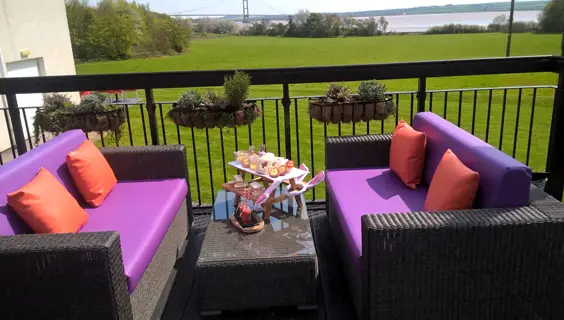 Mad Hatter's Afternoon Tea, Hallmark Hotel, Hull
Review
by Rachel Howard
We all love our mums, don't we? We like to show them some appreciation and spend quality time with them on Mother's Day if we can. But how often does that end up being a last-minute bunch of daffs from the local supermarket, if she's lucky!?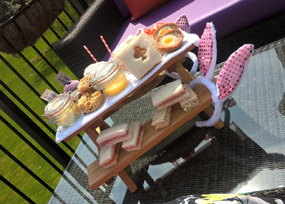 Well this year, think outside the box and take a leaf out of Lewis Carroll's book and treat her to a Mad Hatter's Afternoon Tea at the Hallmark Hotel in North Ferriby, on the outskirts of Hull.
Never one to pass up the opportunity to treat my Mum, we arrive at the hotel eagerly anticipating our 'Alice in Wonderland' experience. We are led through to the lounge, which shows off the hotel's unique selling point – the view. With a location on the banks of the River Humber, the Hallmark enjoys some of the best views of the river and the Humber Bridge in the area. We are lucky enough to be there on a sunny day and it really helps to set the scene for our magical afternoon.
"Real showstoppers"
As we take our seats at a table strewn with playing cards, and with two sets of bunny ears for us to wear, we realise this isn't any ordinary afternoon tea. While we take some obligatory selfies (ears included, obviously!), two glasses of fizz are brought over. We opt to have hot drinks later on, so we spend some time chatting and enjoying the view – and the bubbles of course!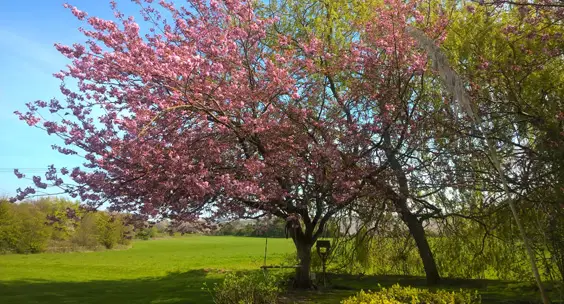 The main event arrives soon after – and in true Lewis Carroll style – is displayed on a miniature picnic table with nods aplenty to the original story. We start with a selection of sandwiches – prawn, ham, smoked salmon and egg – all with a heart-shaped cut out – made by the Queen of Hearts herself presumably! These are followed by delicious scotch eggs, and two delectable 'toadstools' ingeniously made from tomato and egg. We dutifully follow the 'drink me' instructions on two mini bottles of berry juice, and pour ourselves a cuppa from the country-cottage teapot.
Although we are starting to feel full, the sweet treats left on the picnic table are too good to leave for long. We devour the meringue mushrooms (crispy on the outside, chewy on the inside – Mary Berry would be proud!) and the strawberry cupcakes. With instructions to 'eat me', they are real showstoppers.
"Take a trip down the rabbit hole"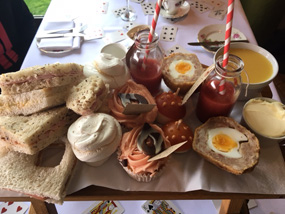 All that remains are two scones of gigantic proportions, accompanied by clotted cream and lemon curd – or jam if you'd prefer. Unfortunately, our eyes are bigger than our bellies, so our waiter boxes them up for us to take home to the men in our lives – we can't leave them out, can we! Another cup of tea rounds off our treat perfectly and leaves us both grinning like the Cheshire Cat.
Even without the excuse of Mother's Day, as the Hatter himself said: "It's always tea-time". So take a trip down the rabbit hole and enjoy your own fairytale of an afternoon – delicious food and drink, quality time with someone special and spectacular views of Yorkshire's very own Wonderland.
As part of 2017's City of Culture, head to the Hallmark Hotel Hull to experience their quirky take on the classic English tradition. The Mad Hatter Afternoon Tea features a selection of assorted finger sandwiches and wraps including Ham & Pickle, Cucumber & Cream Cheese, Cheese & Chutney & Egg Mayo & Rocket, freshly baked Scones and Strawberry Jam, Lemon Curd & Devonshire clotted cream, Home Made Mushroom meringues, Savoury Scotch Egg and Boiled Egg/Tomato Toadstool, Eat Me popping candy cupcake, 'Drink Me' strawberry syrup complete with pot of tea or coffee.
Hallmark Hull Mad Hatter Afternoon Tea: Price £17.50 pp
Hallmark Hull Mad Hatter High Tea (served with glass of bubbles): Price £22.50 pp
hallmarkhotels.co.uk