Cardamom Spice, Snaith – Restaurant Review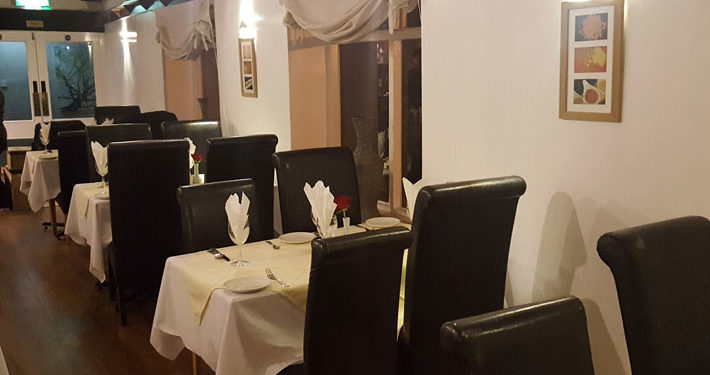 By Sophie Goodall
Forget the usual tried and tested Indian dishes you might find in a supermarket dine-in-for-two meal deal, or the standard curries on the menu from your local takeaway. Sure, Cardamom Spice does a sumptuous range of traditional curries favoured by Brits, but your palate will definitely be enticed by the many various original dishes on display, which include a selection of regional Indian varieties and traditional Bangladeshi fare.
There's a whole spectrum of tastes and flavours available, from dishes that are packed with meaty and savoury flavours, to sweet and sour ones. There are hot and spicy curries, light, buttery cheesy ones, and some that are creamy and fruity. There's a large range of heat on offer too, as the menu ranges from delicate makhanis and modhus, to full fiery madras.
Abs, who runs Cardamom Spice, walks past our table with platters of Afghan lamb chops, vegetable Biriyanis served in big cast iron platters, and meaty Keema Indias in shiny silver dishes. After much debate and discussion, my boyfriend Ryan and I opt for the Sunday buffet, which comprises poppadoms and pickles, any starter, any main, and a choice of rice, naan or chips (seafood excluded) for £9.95pp. Abs firstly brought us out the pickle tray, which included crisp poppadoms, ripe to be dipped into the accompanying sauce selection, consisting of a sweet and creamy variety, a sour pickle, a hot sauce and a dish of sliced onions and herbs. After we cleared every last drop and crumb, our starter arrived.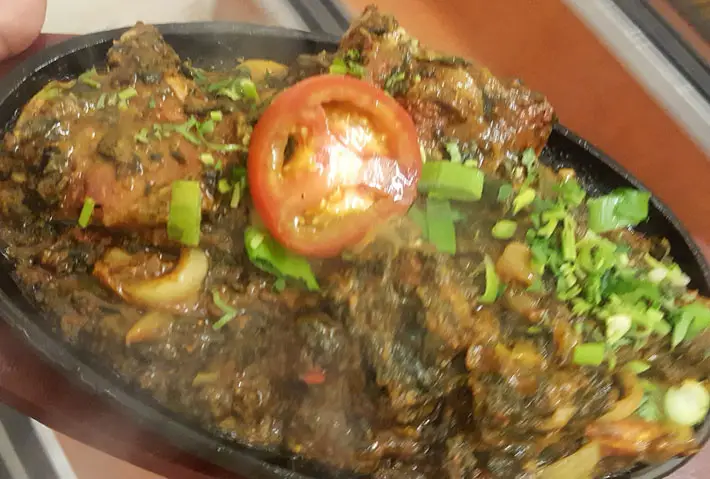 "Packs great flavour"
My chicken pakoras looked delicious, as four, lightly crisply battered strips of fresh and juicy succulent chicken was placed in front of me, with a fresh side salad and a lemon garnish. Ryan tucked into his starter, the tandoori platter, which consisted of lamb, chicken and sheek kebab, and he was pleased to report that the meat was tender and seasoned well.
We cleared our plates, hunger abated but not stuffed, as our curries arrived at the table. I had selected the butter chicken makhani – a creamy dish, topped with sliced cheese and a hint of tomato, layered over strips of tender chicken. This curry would be a great choice for anyone who prefers a sweet and mild dish, but it still packs great flavour. I chose a slightly unusual accompaniment – a keema rice, which is a rice dish brimming with mincemeat, fried onions and spices – yet it works well together.
Ryan ordered his favourite, the jabbar. It's a curry dish that contains chunks of charred, flavourful and tender lamb. The sauce is a melting pot of fresh bullet chillis and mustard seeds, giving a strong kick rather than a red-hot all over heat. But the real pièce de résistance of the dish is the chunks of cauliflower thrown into the mix, which just melt in the mouth. The curry is topped with fresh slices of tangy tomato, and Ryan pairs it with a garlic naan. Cardamom Spice even ace their naans – they're big, soft, crispy and cloudlike.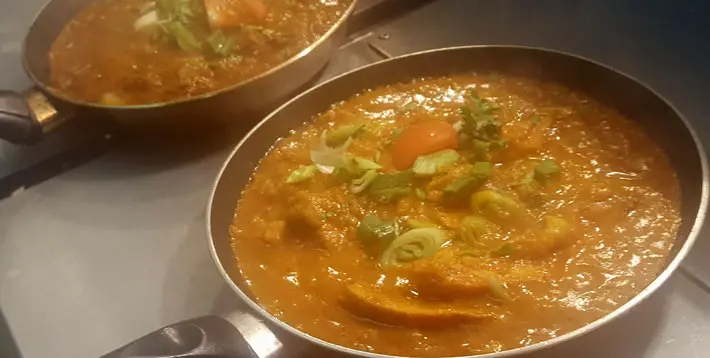 "Cooked exceptionally well"
We agree that the portions are definitely generous, and I'll let you into a secret – I'm a Cardamom Spice veteran, and my favourite part of the meal is that Abs and his staff will happily parcel up your leftovers for a late night snack if you so wish (or for breakfast, if you're that way inclined). In fact, I don't even need to ask – and Abs doesn't even need to ask us – as with any expert restaurateur who has taken the time to get to know his loyal customers, our regular choices are ingrained into his mind.
That's what makes this place exceptional. The service is fantastic, the food is speedy yet is cooked exceptionally well, and there's a plethora of choice to tempt your tastebuds with, meaning nobody will struggle to find something they will enjoy. Why pay out for a traditional Sunday carvery when you can visit the beautiful town that is Snaith, order Cardamom Spice's Sunday banquet and then visit one of the six surrounding drinking establishments for an after curry pint.
Cardamom Spice, 15 Market Place, above the Downe Arms pub, Snaith, DN14 9HE
Open 7 days a week – 5:30pm-11pm
01405 860938
facebook.com/snaithgoole