The Hart's Head, Giggleswick – Restaurant Review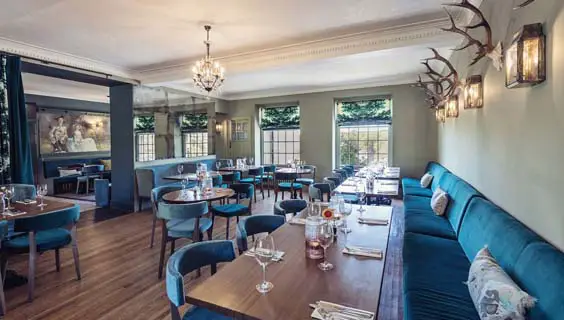 By Roger Crow
How far would you go for a good meal? I'll admit 80-plus miles is stretching things to the realms of ridiculous, but as it's a beautiful sun-kissed Sunday, and I've never been to Giggleswick, my partner and I head off with high hopes.
The region has become synonymous with much missed celebs like Russell Harty and Richard Whiteley, while Star Wars veteran Anthony Daniels also has ties with the area. It's also a stunningly beautiful region whether you're out for a ramble or, like us, an epic Sunday drive.
The Hart's Head is described as "the perfect place to relax in the heart of the Dales", and it certainly does that.
After a two-hour drive I'm glad of the rest and a chance to recharge those batteries. As ever, Sunday lunch is a chance to reset the clock before facing another exhausting week. We're soon shown to our table, and soak up the view and setting.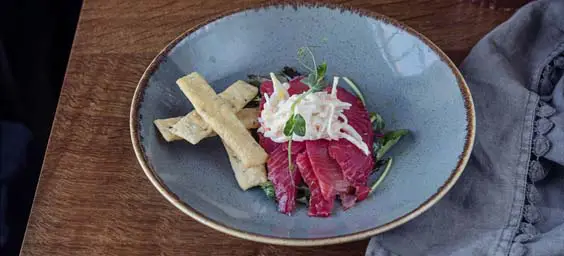 "Batter is outstanding"
As it's our first trip, we have no point of reference before the recent refurbishment of the kitchen, bar and restaurant, but it's a good looking place, and the menu certainly has plenty of goodies to engage us.
Rachel opts for Cauliflower Fritters with a curry mayo. They're beautifully cooked. Not too soft to be mushy and not, like vegetables I've attempted in some restaurants, shown a pan of water but essentially raw. These hit the spot so effectively, the tempura batter is outstanding and the curry dip a delight, I wish I'd gone for them myself.
Not that I have any problems with my Smoked Salmon starter. The crusty sourdough toast is a fine yin to the excellent salmon's yang, and the scallops are equally delicious with rapeseed mayo. Thanks to the kitchen and Claire, our superb waitress, we don't have to wait long for our main.
My Yorkshire Pork Fillet is melt-in-the-mouth tender; the mash is creamy and delicious and the sprouting broccoli with cider jus rounds out a nicely balanced meal. Okay, the dish almost demands a side of carrots, but I'll know for next time.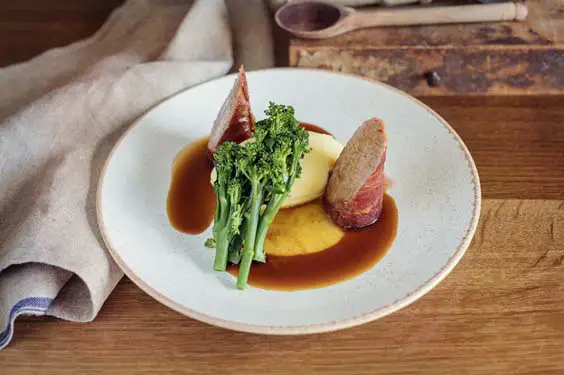 "Good palate cleanser"
Rachel's Wild Mushroom Ravioli is equally on point, with a creamy mushroom sauce, sautéed spinach and roasted celeriac. Her side of Beer Battered Onion Rings are among the best I've tasted; again the tempura batter is splendidly crisp.
Toward the end of our meal a bus load of visitors rocks up and the bar area is soon thriving. I realise how big the place is when I nip to the loo. It has a Tardis-like quality, though I'm amazed more don't settle in for dinner. Given the quality of food and service, it's a terrific selling point.
I round things off with a White Chocolate Mousse with fudge (strawberries are usually included but I opt out). The mousse is a good palate cleanser and not sickly sweet. For that, a few chunks of fudge give me that sugar hit I need to face the long drive home.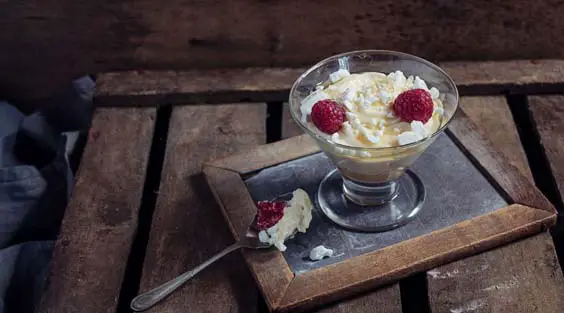 "Without a weak spot"
When Rachel's Apple and Winterberry Crumble with a small saucepan of vanilla custard arrives, she's in heaven.
If we lived in the area we wouldn't have much trouble becoming regulars. However, I like a reliable pub/restaurant for a stopping off point while heading to or from the Lakes, and the Hart's Head has now happily become our default commute eatery.
It's rare to have a meal without a weak spot, but manager Dean, head chef Mat and the kitchen team have done a fine job ticking so many boxes.
Virginia Woolf once wrote: 'One cannot think well, love well, sleep well, if one has not dined well'. After a meal that good, little wonder we sleep like proverbial logs that evening.
The Hart's Head, Belle Hill, Giggleswick, Settle BD24 0BA
01729 822086
hartsheadhotel.co.uk