Grosvenor Casino, Sheffield – Restaurant Review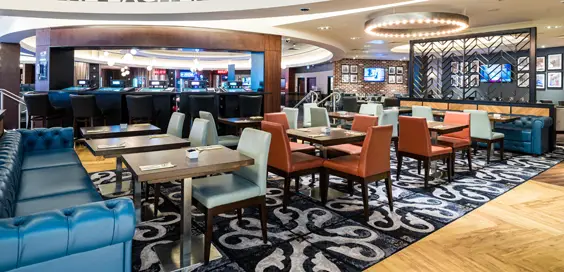 By Richard Jones
For me, delicious food and lavish casinos have always gone hand in hand. After all, why wouldn't you want to splash out on a tasty meal, as well as trying your luck on the tables?
However, this marriage of cuisine and casino has not always been a classy affair, particularly in the world's gambling capital Las Vegas, where five-dollar all-you-can-eat buffets, giant greasy burgers and cheesy loaded fries used to dominate the menus.
Thankfully (for good food lovers anyway), most of Sin City's leading resorts have ditched the fast food in favour of some of the best restaurants on the planet, and the only chips you'll find in the five-star hotels are the plastic variety with numbers etched into them.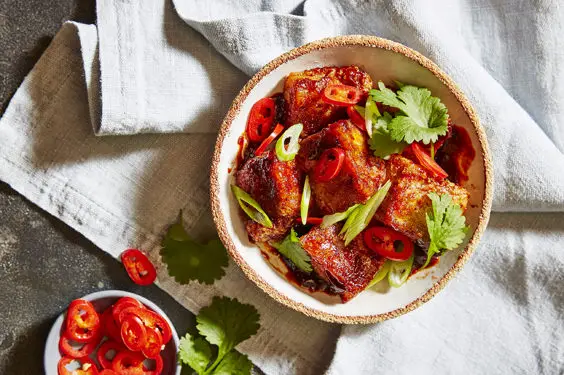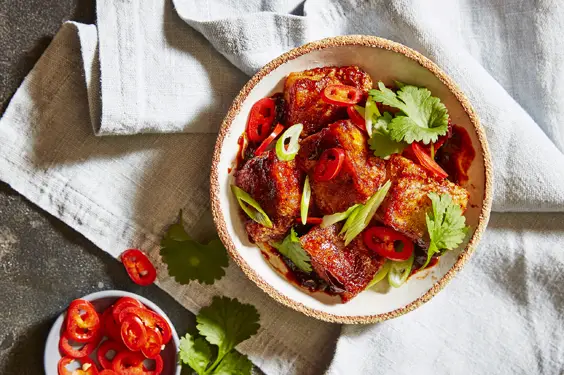 And now it appears the concept of a sitting down for top-class meal before or after you pull up a stool at a gambling table has made its way over the Pond. Recently, Grosvenor Casino Sheffield was transformed into a modern leisure destination after a massive £1.5million refurbishment. As part of the revamp, the owners wisely decided to overhaul their in-house restaurant and menus, thus providing patrons with a classy eatery to enhance their experience at the city's leading casino.
My wife Rachel and I popped down to Duchess Road on a summer Saturday evening to sample their six unique menus before trying our luck in the casino.
Following a drink at the bar, we took our seats in the stylish new dining area which is now hosting a massive selection of globally-inspired food. Presented with the menus, we were immediately struck by the extensive choice on offer and, to be honest, it took us a while to decide what to go for.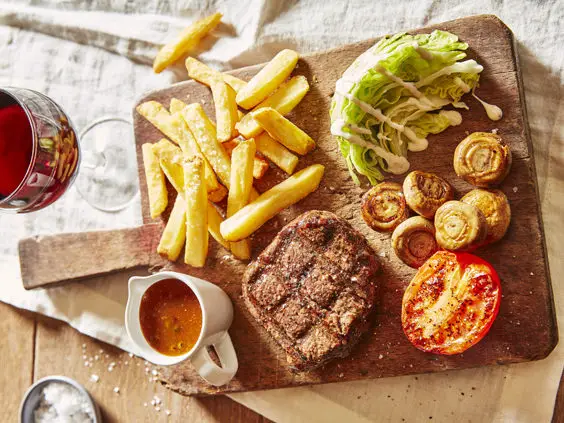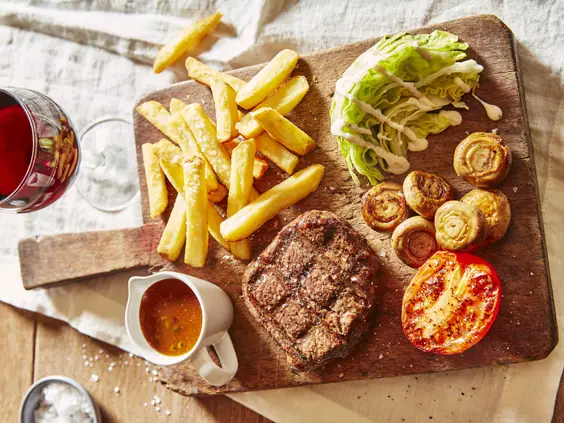 "Authentic curry flavours"
First up, the eclectic Kitchen Bites menu consists of hot and cold nibbles that are ideal if you are just having a drink or a gamble. Alternatively, they are perfect as shared appetisers, and we opted for a trio of small plates from its three for £12 section – crispy pork belly fries in Oriental sauce, dusted deep fried calamari and cheese, salsa and guacamole nachos.
Grosvenor's main menu is split into four parts. Firstly, if you fancy a (winner winner) chicken dinner, Absurd Bird, the cult London-based brand, offers tasty tenders or crispy wings served with a range of dips from just a fiver. They also have a tempting selection of 'Bird Burgers', including the Buffalo Burger and the Big Rooster. Alternatively, if Indian food is your thing, then the award-winning Holy Cow! brand has brought some spice to the menu.
After choosing from chicken, prawn or roasted cod loin, diners then personalise their dish with one of their authentic curry flavours, including the mild Delhi Tikka, the medium Managalor Malabar or the hot Madras Chettinad.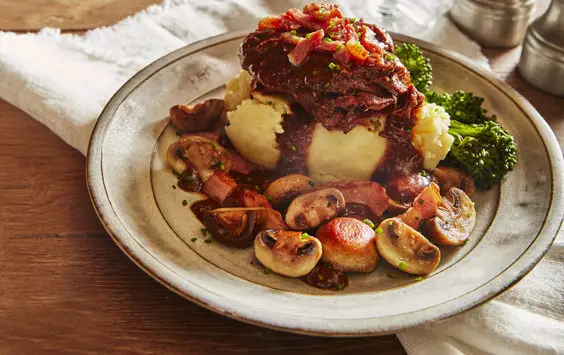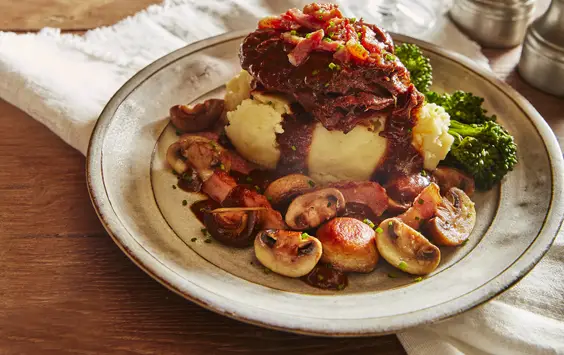 In addition, all are served alongside a range of staple Indian sides – rice, naan bread, sweet mango chutney and salad.
Vegetarians needn't feel left out, and they can get a mix of fresh vegetables and chickpeas cooked in one of the aromatic Holy Cow! flavours. Hand-crafted stone-baked pizzas are brought to the menu by Italian specialists Barrel & Stone. They range from Simply Salami, a 12" classic favourite, to The Works, a concoction of smoked speck ham, Italian Napoli Salami and fennel sausage, seasoned with cracked black pepper.
Despite salivating over these sections, Rachel and I eventually opted for entrees from the Grosvenor Casinos' very own classic menu, Field & Fin, which serves up fish and beef dishes, with a modern twist.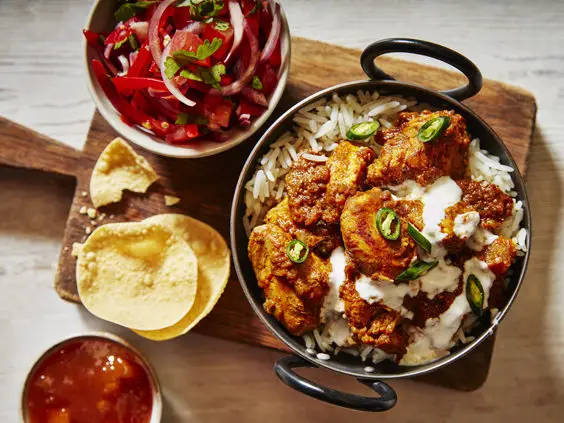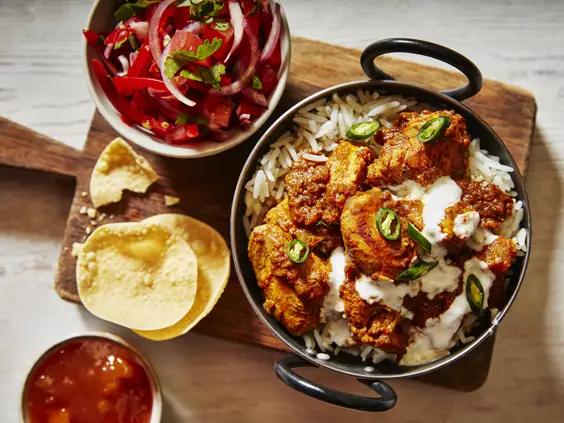 "Colourful and crunchy"
I opted for the juicy rump steak, accompanied by a roast plum tomato, sautéed button mushrooms, skin-on fries and iceberg lettuce drizzled with Caesar dressing. To complete my surf 'n' turf, I complimented the steak with three additional crispy torpedo prawns.
Meanwhile, Rachel chose the salmon with wok-fried noodles – a colourful and crunchy combination of fish, Korean BBQ sauce, Chinese cabbage, garlic, carrots and peppers.
Both entrées were unbelievably good, and although we were both bursting afterwards, Grosvenor's new Good Pud dessert menu was too good to miss. I indulged in the dark chocolate and orange torte with Chantilly cream, while Rachel savoured the baked vanilla cheesecake drizzled with raspberry coulis.
Price-wise, the food is certainly reasonable, especially when you bear in mind the Grosvenor is a leading city-centre casino. For three shared appetisers, two entrees and two desserts, the bill came in at just over £50 – a relative snip. These fair prices will leave diners with a few extra quid to splash on the slot machines or casino tables.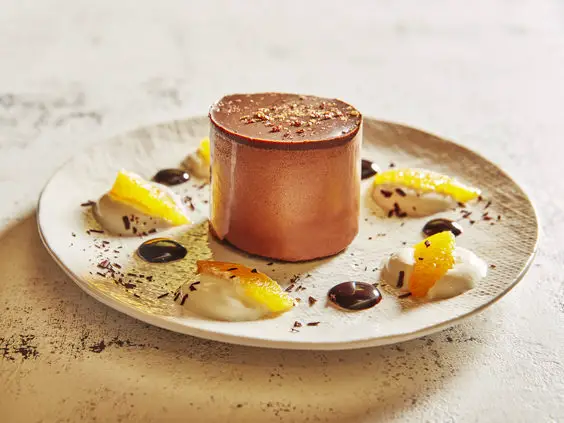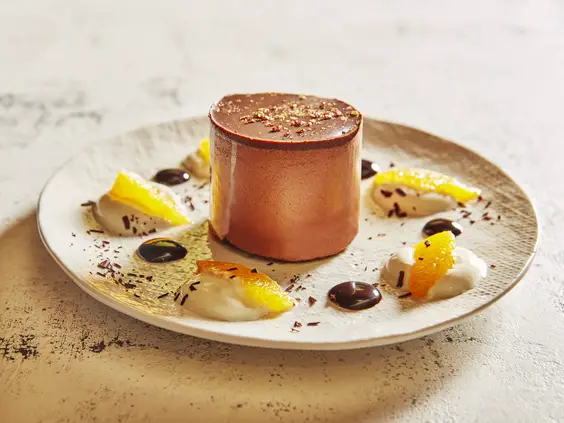 Although Rachel and I didn't win big on the night, we came out slightly up playing roulette in the arena and on the tables. Throw into the mix a live performance by tribute band The 80s Theory, and it added up to a great evening of entertainment.
Regardless of its impressive shiny overhaul, the majority of people heading down to Grosvenor Sheffield will just want to take a gamble in the casino. Whether or not they pocket a few quid, is anyone's guess, but one guaranteed winner is the food in its restaurant.
And if you choose to take a seat at one of those tables, your luck will definitely be in.
Grosvenor Casino, 87 Duchess Rd, Sheffield S2 4BG
Open 24 hours
0114 275 7433