Wazwān, Sheffield – Restaurant Review
By Helen Johnston
Friday night curry just got a major boost with the opening of the Wazwān restaurant in Sheffield's Leopold Square.
It was packed to the rafters when we visited, filled with diners celebrating the end of another working week in noisy fashion.
As we stepped out of the cold night we were greeted by the welcoming warmth of the delicious smells of Kashmiri cuisine. The mainly mountainous region of Kashmir is in the north-west of the Indian sub-continent, with different areas controlled by India, Pakistan and China.
Wazwān, which means a multi-course meal in Kashmiri cuisine with up to 36 courses, is seen as the ultimate in generosity and hospitality.
The business has been created by Yorkshire brother and sister Yousef and Hibah Mahmood, whose grandparents Mohammed Sabir MBE and Fazilat Sabir moved to Yorkshire from Kashmir and founded the award-winning Aagrah restaurant group in 1977 in Shipley. Fazilat's recipes are included on the Wazwān menu and she still works with the chefs on new dishes.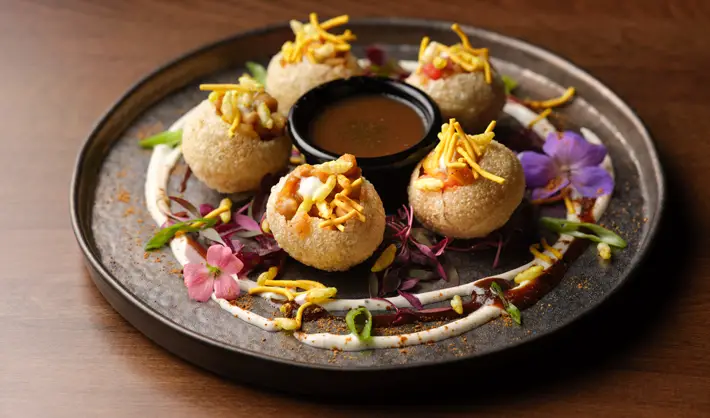 "Presented beautifully"
Local suppliers are used, with meat from Sheffield, fresh fruit and vegetables from Ahmed Foods in Bradford, and seafood from Warners in Doncaster. The house beer and draught lines are brewed in Kirkstall near Leeds.
Our first stop was at the well-stocked Hungāma bar for some pre-meal drinks. The drinks menu provided an excellent variety and from the Dry Drinking section we selected The Cartographer, which was a mix of mango, ginger and apple, and a Masala Gimlet, which was Kashmiri tea with apple and lemon and foamy egg white to give it body. Both were deliciously refreshing and went down a treat.
The food menu has a mouth-watering array of dishes, from 'small plates' starters to curries, 'little bites', sundries and vegetarian sides.
We started with the pakora (similar to onion bhajis) and samosa chat, crispy samosas with saucy chickpeas and potatoes with a yoghurt dressing. They were presented beautifully and were spicy enough to have me reaching for the water (I have sensitive tastebuds).
Restaurant manager Tom recommended the Hyderabadi Chicken curry for our main, which can be tailored to your own taste. We ordered one mild and one 'as it comes' but when our order arrived there had been a hiccup and both were mild.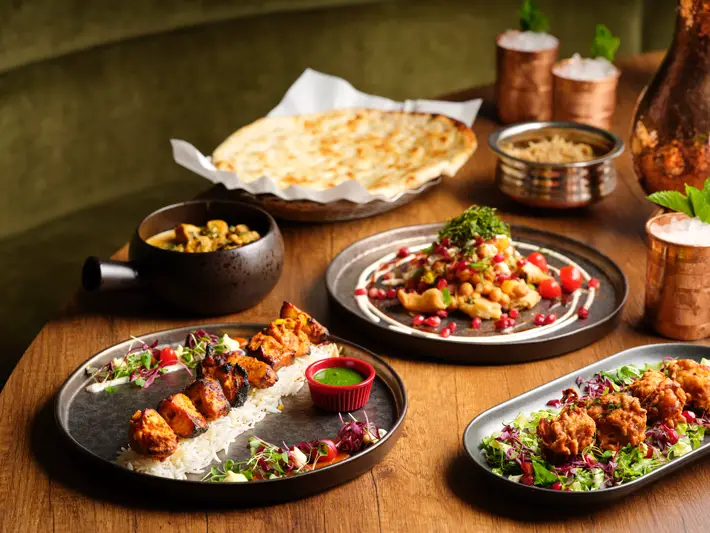 "Warm and welcoming"
Mine was just the right mix of garlic, ginger, fresh coriander and poppy seeds for my tastebuds. The generous serving was in a bowl ready for us to transfer what we wanted to our plates, perfect for dipping with the paratha, a lovely thin and crispy alternative to a naan.
We also had a green dāl salad of red onion, tomatoes and green uraad daal, which was crisp and refreshing. All of this was washed down with the smooth Hungāma house red.
The food and drinks were excellent and the décor was warm and welcoming. Just be aware that it's a very busy restaurant with 200 covers and the noise levels match that so this isn't somewhere for a quiet chat.
But if you're looking for that perfect Friday night curry, Wazwān is definitely a contender.
Wazwān, Leopold Square, Leopold Street, Sheffield, S1 2JG
0114 279 5577
facebook.com/wazwansheffield
Editor's note: In June 2022, Wazwān announced via Facebook that were closing the Leopold Square venue and moving to another location