We Don't Die of Love by Stephen May – Review
By Sandra Callard
Stephen May's fifth novel is a mass of contradictions. It is both gritty and sentimental, sad and funny, and defies category or genre. The book's leading character, Luke Greenwood, is a middle aged, thirty years married, unexceptional man. He runs a back street café peopled by the oddities of life, and has an energetic and clever wife. Luke's peaceful life is overturned when his wife suddenly announces that she is leaving him for a much younger man, his business is at the mercy of gangsters, and his children are in danger.
May parades these sudden and unlikely disasters as fairly normal occurrences, which Luke and his assorted array of friends, staff and family manage to overcome with totally unexpected aplomb. The book is written entirely from Luke's perspective and gives a unique view on the male psyche and masculinity as it veers between violence, hope and tenderness.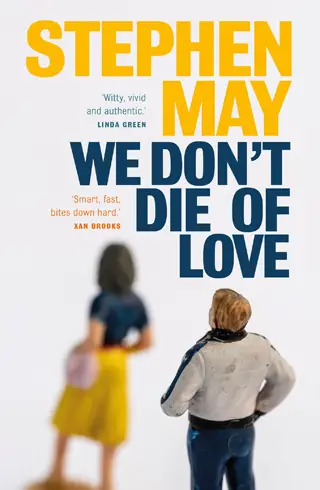 The characters are drawn in three dimensional detail – nobody is all good or all bad, and each personality, whilst certainly leaning towards the extremes of normal behaviour, eventually shows some redeeming points, however slight they may be. Amazingly this does not blur the characters or lessen their impact, and it is quite refreshing to find that it is just as absorbing to read about characters who are not extreme, as it is to read about those who generally are. May's characterisation is outstanding and the personalities, strange though some of them are, are easily assimilated by the reader.
"Satisfying and unexpected"
From amongst these disastrous happenings emerges a man in shock and disbelief at his marriage's disintegration, and the further multiple shocks which engulf him. The way in which Luke deals with them is both bittersweet and triumphant, and the author produces a finale that, although teetering on the edge of believability, is nevertheless both satisfying and unexpected.
The book is set in the North of England, and many areas are recognisable to those of us who live there. I could quite easily put names to the various areas of Yorkshire that touch on the life of Luke, although fictitious ones have obviously been used. This raised a wry smile now and again, with a nod to Stephen May for its authenticity. His writing flows with an ease that enabled me to read the book in two sittings, and each scenario is easily envisaged.
The only thing I don't like about this book is the title. We Don't Die of Love is a very clumsy, under-whelming and somewhat pointless statement and annoys me no end. I feel it lets down an unusual and cracking book, and may stop people reading it who have not read Stephen May previously. Books should deserve their title and this one falls way below that which the contents of this book deserves.
'We Don't Die of Love' by Stephen May is published by Sandstone Press, £7.99 paperback