Rudy's Pizza, Sheffield – Restaurant Review
By Helen Johnston, July 2022
Pizza is one of those ubiquitous foods that can easily be overlooked on a menu, so it was nice to be reminded that when it's done well by specialists, it's still a great meal.
Rudy's Pizza specialises in the Neapolitan variety and having eaten pizza in that region of Italy, I was hoping it would live up to expectation. I needn't have worried. I was accompanied by my teenage student son, a pizza connoisseur, and he gave it the thumbs up. Praise indeed.
Rudy's is one of those comfortably informal dining experiences, the cutlery (including a pizza cutter) in a jar on the table, simple tables and chairs and bar stools. There was music and chatter and a friendly feel to the place which had a mainly young crowd in on the Saturday we visited.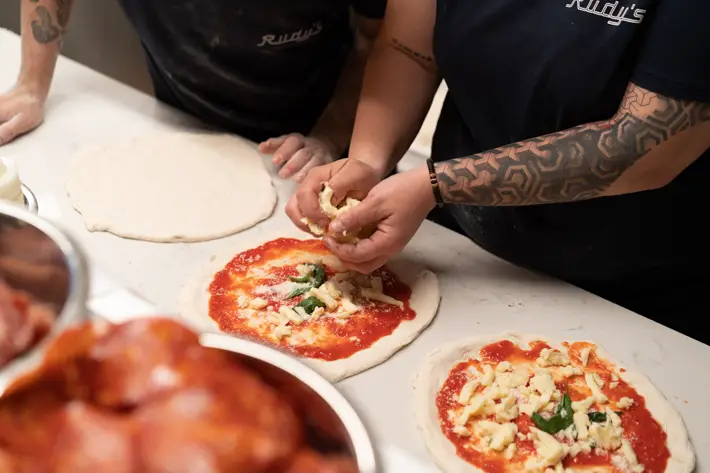 "Intrigued"
A chalked message on a blackboard reveals that the dough is made on site every day, takes 24 hours to double ferment and 60 seconds to cook, leaving it soft, light and fluffy. I've always preferred thin pizza bases rather than the chunky and loaded crust varieties, so this was fine for me. The recommended way to eat it is to fold it and eat it with your hands, but the knives and forks are there as a back-up.
As you'd expect, there's a large choice of pizzas and I was intrigued by one on the specials board featuring pears, walnuts and honey. Pear and walnut on a pizza? I had to try it. The pears were sliced very thinly and arranged on top of a thick layer of gorgonzola cheese which was delicious. There were just enough walnuts on to provide some crunch and a drizzle of honey that ensured it wasn't too sweet.
My son had the tonno (tuna) which also featured San Marzano tomatoes, green chillies, red onions, roquito peppers and parmesan and, as I've already mentioned it, it went down a treat. He added a chilli honey dip which came in an individual lidded plastic pot which was a bit disappointing in these days of trying to reduce single plastic use. Hopefully they're recycled.
It was glass bottles though for the Pago cloudy apple juice we ordered which was the nicest I've tasted.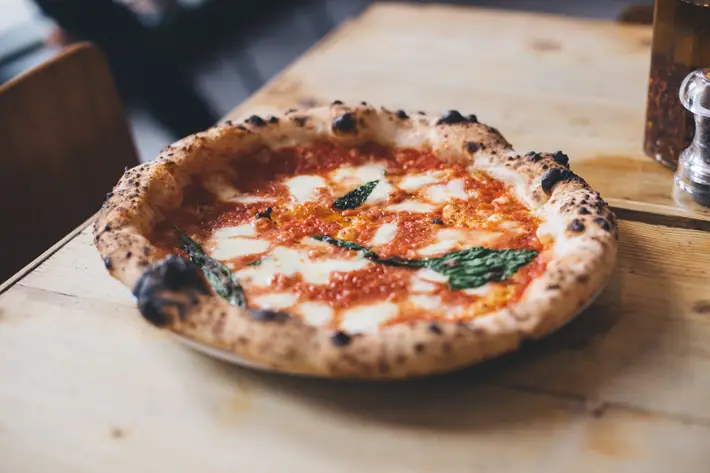 "Nice feel"
We both chose a salad to accompany our pizzas too, one caprese which featured tomatoes and mozzarella, and one parmesan and rocket. This had a lovely saltiness to it which really brought out the flavours. It's fair to say we were both stuffed by the end of the meal and took some pizza away in a box. But you know what it's like when you're asked if you fancy dessert…
I'd already seen on the specials board that Sheffield Forge Bakehouse brownies were on the menu, and it would have been rude not to. They were dense and chocolatey and were served with a generous scoop of vanilla ice cream, perfect for the hot weather.
There was a nice feel to Rudy's with its industrial décor, big jars of olive oil and tinned tomatoes on shelves, movie posters on the wall and an open kitchen, which is always a good sign. It's reassuring to see how the food is prepared and fascinating to see how deftly the chefs handle the pizza dough.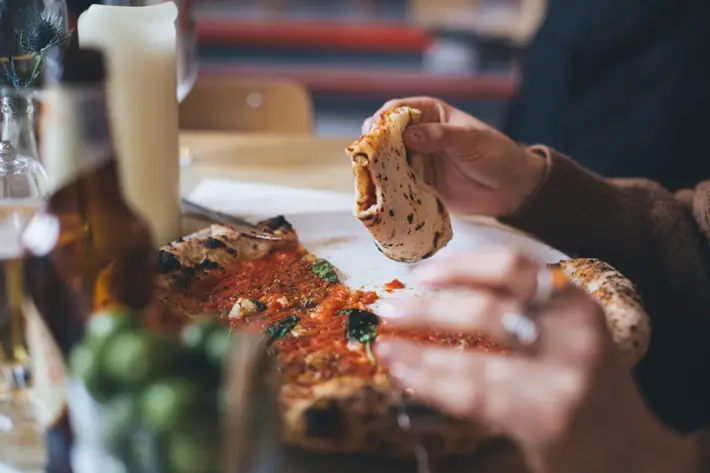 "Pleasant and friendly"
There were some minor glitches, our salads didn't arrive at the same time, and we had to wait to catch a waiter's eye to get our dessert order taken, but it was busy, and the place had only been open two weeks so systems were probably still bedding in. The waiting staff were all pleasant and friendly and apologised for the delays.
We visited on the hottest weekend of the year and some people took advantage of the pavement tables outside, but we opted to sit inside where it was cooler. I was thankful that the air con was at just the right temperature rather than turning the place into a fridge or blowing straight down the back of our necks.
Sheffield's pizzeria is the latest in the Rudy chain as the company continues its expansion across the north since first opening in Ancoats, Manchester in 2015. It also has restaurants in London, Leeds, Liverpool and Birmingham and is clearly already building a following in Sheffield.
With the heatwave and Italian-standard pizza, who needs to go to Naples? Sheffield was looking just as good in the sunshine.
Rudy's Pizza, 40-44 Division Street, Sheffield, S1 4GF.
rudyspizza.co.uk