Protecting Your Wine in a Heatwave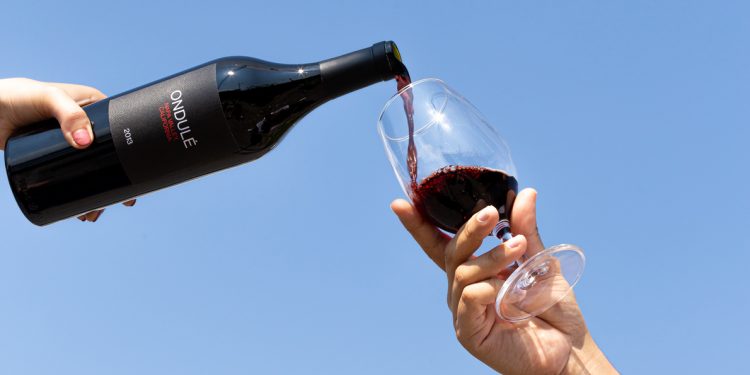 With the hottest day ever recorded in the UK last week and climate change experts telling us that we can expect this level of heat every three years it may be time to take your wines out of the wine rack and consider protecting them properly in a wine fridge.
More and more people are making the choice to purchase a wine fridge even if their everyday drinking wines are not exactly the finest Bordeaux or Burgundy wines. Even mid-range wines (and especially mid range wines actually) can spoil, seep or generally go bad if left on a hot wine rack.
Today we're going to look at why a heatwave, or any prolonged exposure to heat or sunlight can harm wine and what you can do to save your bottles from premature ageing, spoiling and seepage.
Why does really hot weather hurt wine?
Going back millennia, even to Greek and Roman times, they knew that leaving your wine exposed to heat or direct sunlight was going to spoil the wine. They kept their wine underground or in caves as the very best Chateau all around the world still today. Whilst you may not be able to afford to cellar your wine in a grand Chateau there are other options; enter the wine fridge.
Wine is, at its core, fermented grape juice. It's a natural, organic product and even though wine comes with its own protective properties of tannin and acidity, sunlight and heat are going to cause faults to develop in your wine. You may think, well, it's only some £20 Pinot or Riesling but actually, wines that haven't undergone much extraction will be the first to prematurely age. Unless you buy wine and drink it within a week of getting it home, you may well benefit from a wine fridge, especially as temperatures climb.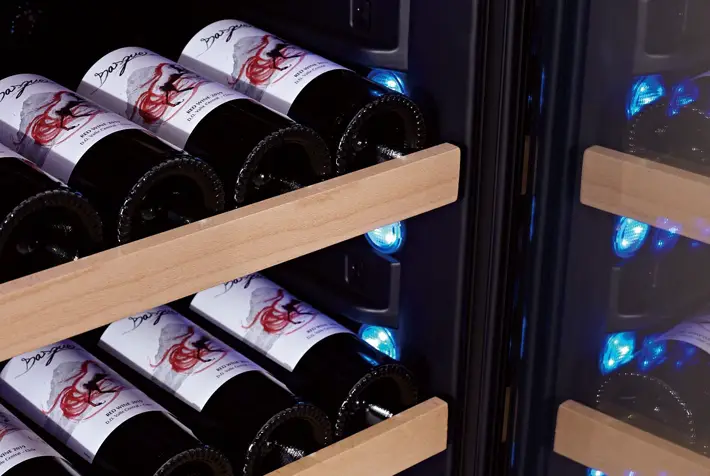 How do wine fridges protect my wine?
All wine fridges and wine cabinets guard against the four horsemen of the wine apocalypse that can spoil your best bottles of wine; heat, light, vibration and humidity.
Every wine cooler will guard against heat, that's the very purpose of them. They all have digital temperature controls that you can programme to a temperature that works for you either for long term storage or wine service. Some are dual zone wine coolers which have two individual compartments where one half could be used for storage and another service or both for service of red and white wine.
All wine fridges will also protect your wine from sunlight with either UV protected, double or triple glazed glass doors or solid doors in the case of wine cabinets.
All wine fridges minimise vibration from their compressors and the outside world by having rubber mounted bearings or using softwoods internally to dampen vibration.
All wine coolers benefit from automatic and monitored humidity within the unit, with the humidity levels between 55-85%. This humidity level is ideal for wine and stops corks or labels from drying out.
Which wine cooler is right for me?
This depends on what kind of wine drinker you are and what kind of space you can allocate to your wine fridge.
What type of wine do I drink?
For those with a large and expensive wine collection who want it to mature over the years then the clear choice is a wine cabinet. These are large units and are frequently kept in outbuildings, garages or conservatories due to their large size and the limited space in most modern homes.
Those who drink red and white wines young would benefit from a dual zone wine fridge.
Those who want partial service and partial storage should also go for a dual zone or a multi zone that will allow you to use part of the wine cabinet for service and part for storage.
Where do I want to put my wine cooler?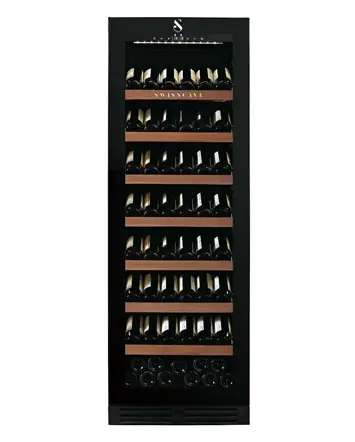 If you don't have the space in your home and need to keep your wine in an outbuilding then we recommend the Climadiff Reserve Range, these come in 185, 225, 275 and 300 bottle capacities and offer superb value for money. They have a wide ranging ambient temperature setting which means they can cope with the highs and lows of British weather.
If you do have space in your home and want to keep your wine in the kitchen as part of a fitted kitchen then you can choose from either integrated wine coolers or under-counter wine coolers.
Integrated wine coolers are lifted off the floor, much like an integrated oven, whereas under-counter wine coolers sit under the counter like a dishwasher. The only limitation of these wine coolers is they typically can't fit more than 50 bottles of wine.
If you want to place the wine cooler somewhere else around the home then a freestanding wine cooler is the best way to go. These don't need to be part of a kitchen and can hold anything from 16 to over 300 bottles of wine.