Rudy's, New Station Street, Leeds – Restaurant Review
The newest pizza in town has hit Leeds. And Rudy's is making a strong promise to the people in West Yorkshire about how good their eats are.
As soon as I heard about this place opening up, I had to get myself down to New Station Street and check it out. It's fair to say my friend and I have a fondness for a good pizza, so we got ourselves booked in on a Wednesday tea-time.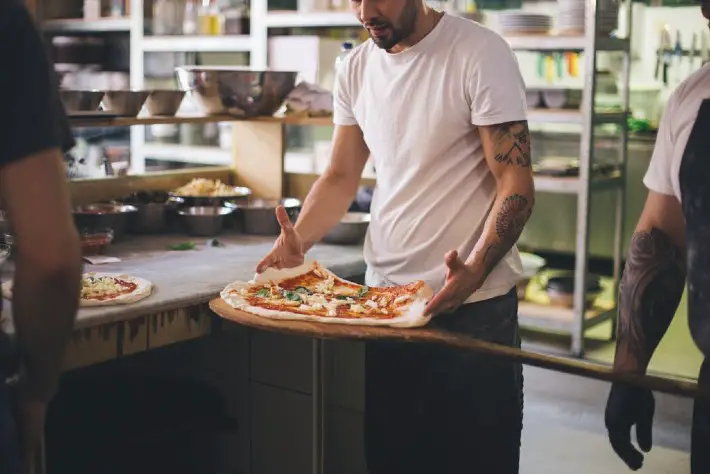 "6:30pm, and already the restaurant was full"
We rocked up to Rudy's at 6.30pm, and already the restaurant was full. How the reputation this place has built up so quickly is fascinating. We headed for the bar, and and ordered a pint of lager and a pint of lager shandy. But no lemonade = no shandy. Which was a surprise, as the bar has a good range of spirits and we'd have thought lemonade would just be a standard offering. So, it was two pints of lager instead. And as we grabbed them, we were introduced to the bright and smiley Megan, and led to our table.
Megan was upbeat, and fitted in to the vibe of Rudy's perfectly. She explained the options behind us on the blackboard as she handed the menu over to us, and gave us a bit of time to mull over what we fancied this evening.  And what lept out at us immediately were the prices of each dish. For a place that claims to serve up the best pizza in Leeds, and have won awards for the 10th best pizza in the world, the prices look like great value. And the choice looked great too.
To start things off, we liked the sound of sharing the Campana (£7.90). So we went for that, and took a glass of mixed olives (£3.50) to go alongside it. I picked the Calabrese pizza at £8.20 for my main course, and my friend went for the Carni pizza at £8.90. I was tempted by the Portabello veggie option too, but I didn't want to be greedy.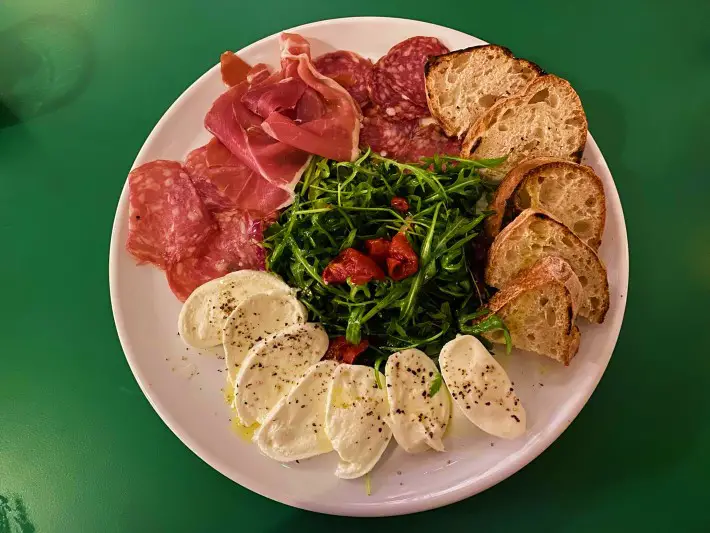 "That was a real touch"
I always take a bit of time when I'm checking out a restaurant to see how others are enjoying their night. And this place had a happy table pretty much everywhere. And as we waited for our starters, a bit of soul disco music added to a great buzz in the air. It didn't intrude on conversation, but was a big hit to my ears. "Did they know you were coming?" my friend asked, as Shalamar got my head bopping at the table.
The mixed olives arrived, as did the Campana. And wow. That was a real touch.  A well presented sharing plate, containing buffalo mozzarella, prosciutto crudo, salame napoli and wild boar salame. It came with wild rocket, radicchio, semi-dried tomato salad and house baked bread. It tasted even better than it was presented, and that's saying something. We weren't expecting something so good, and we polished that plate off without any hesitation. The mozzarella and the wild boar salame were both particularly tasty.
Big bonus to our visit too. We'd been sat in the window at the front, and for people watchers/nosy buggers (delete as appropriate) like us this was great. Watching the working masses heading home from a hard day at work, or the Wednesday party people back out to the Leeds social scene; Rudy's is situated on a street with a hefty footfall. You get all walks of life passing by, and it adds a little extra to the experience.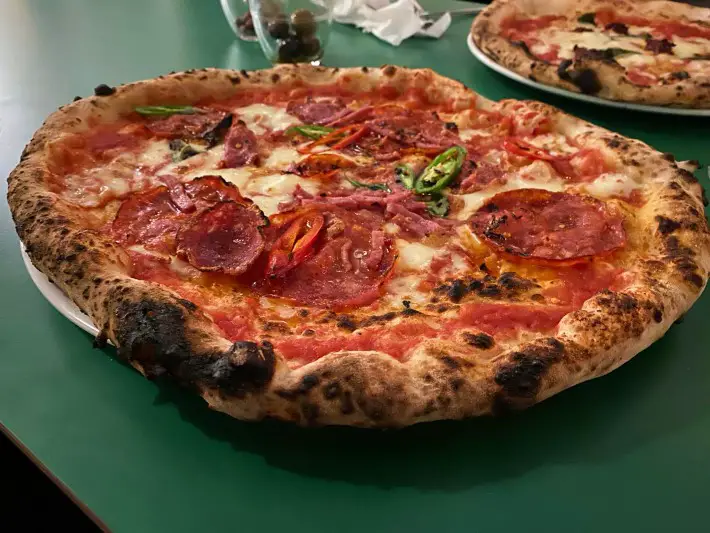 "A kick to the tastebuds"
That experience did risk taking a downturn though, as our pizzas came to our table separately. And there was a good three or four apologetic minutes between each one arriving. They should have arrived together, and I wasn't comfortable starting my food whilst my friend had nothing infront of him. That said, this was a small blemish because the food we were about to devour was nothing short of immense.
Both pizzas looked sensational, and they were huge. My Calabrese came a close second in the most attractive looks contest, but I couldn't fault the taste. Made up of Tomato, fior di latte, basil and spicy n'duja sausage, it carried a kick to the tastebuds, with a light and fresh taste. Stonebaked, and lifted clean off the plate – I was really happy with my food, and so was my stomach. I purposefully took my time with the pizza, simply to make it last longer. We all do that, right…?
The Carni that arrived across the table was the one with the instagrammable profile though. It was topped with Tomato, fior di latte and parmesan. Then some salame napoli, salame picante, and wild boar salame. With red and green chilli, chilli flakes, basil and e.v olive oil to top it off, I know my friend savoured in his indulgment of this one. He rates a pizza place in Horsforth very highly but he struggled to seperate this one from that. High priase indeed, and we were both really impressed with our choices.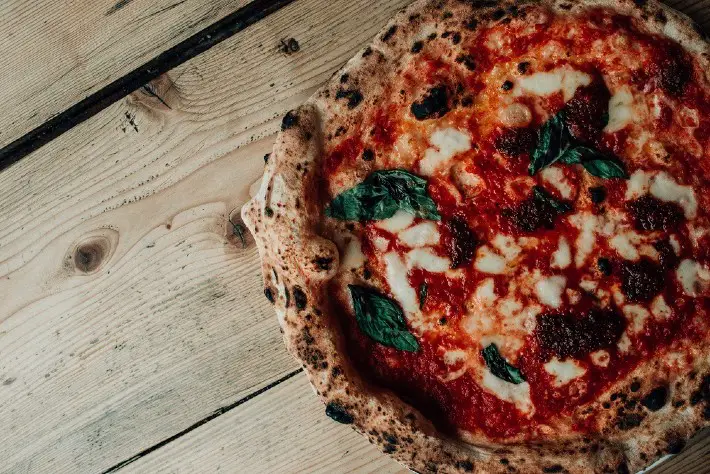 "Rudy's is your spot"
That unpleasant experience of finishing a good meal and realising there's nothing left hit both of us. And it was whilst mulling over what to have for dessert that we discussed coming back again soon.  And again, the desserts are reasonably priced, and although not on the huge size, are a welcome way to finish a great evening off. My friend opted for the Tiramasu, freshly made each day at £4.00, and I took Megan's advice on going for the Tartufo – an amaretto ice-cream with a texture and a surprise of a slightly gloopy chocolate in the centre. At only £2.90, her recommendation was absolutely spot on, and she'd ensured we rounded off our visit perfectly.
Rudy's is nicely done out in that minimalistic and industrial style that many eateries are plumping for nowadays. It's an upbeat place to be, very informal, but with a high quality cuisine offering that's going to keep people happy and coming back for more.  If you're heading for a casual night out with friends, and want to start your evening with a bit of nice food in a great atmosphere, this is your spot. In fact, whatever the occasion, Rudy's is the next place to tick off on your list.
Rudy's Pizza, 2 New Station Street, Leeds, LS1 5DL
Opening times:
Monday – Thursday – 12.00pm – 10pm
Friday – Saturday – 12:00pm – 10:30pm
Sunday 12.00pm – 9:30pm
0113 834 9697
rudyspizza.co.uk/leeds/