Bishop's Bar and Bistro, Howden – Restaurant Review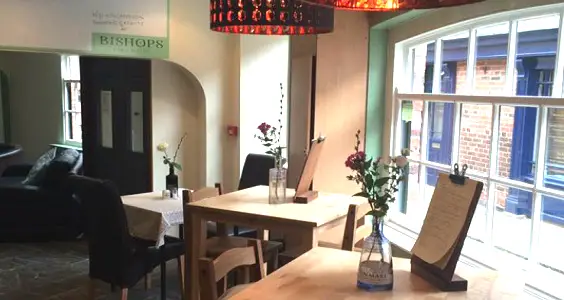 By Roger Crow
I rarely had traditional Sunday lunch when I moved to Yorkshire in the early 1990s, unaware of how vital it was to resetting my mind, body and soul. These days I know differently. So Team Crow occasionally decamps to Bishop's Bar and Bistro in Howden for a 'small' carvery.
As my partner is vegetarian, there's no trouble getting her a decent meat-free version, and we never go hungry with the 'small' option. Quite the opposite; there's usually enough sides to ensure we don't need an evening meal. Their Sunday lunches are sublime at a price that won't break the bank. Little wonder we usually have to book a table as it's so busy.
Today it's a different story. Friday. Pay day at the end of arguably the bleakest month of the year. A restorative dinner is called for, but something different to our usual menu. I've tried their pizzas, sliders, quesadillas, and green Thai curry. Now I want fish, and not just any old sort.
"Serious food"
It's an impromptu visit, and the place is heaving, but it's not long before we're feeling more human. My starter is a delicious chicken skewer with sweet chilli sauce, elegantly served on slate, with garnish. Rachel has creamy garlic mushrooms, which is easy to get wrong if there's too much garlic, oil or both. (The best form of marketing for any dish is that expression a face makes after one mouthful.)
The balance is well judged. I get a hit of garlic without the overpowering flavour that might linger like an unwelcome party guest. One mouthful and the week's tension leaves my body like someone opened a pressure valve. I don't need an excuse to go back for a couple more mouthfuls. The slivers of fresh bread are also a perfect size. There's some serious food to come so none of that bulking up at this stage.
Rachel's new fondness for posh gins is a natural fit for Bishop's; it's their latest speciality in the drinks department. A gin night is planned for the future, and Sami, our waitress, does a superb job of talking us through the best. The first is a strawberry-based tipple similar to the Silent Pool that Rachel usually opts for.It's served with a Mediterranean tonic that's a little fruitier than the usual T (of the G and T), and enhances the flavours. The rhubarb gin, new this week, is especially excellent, served with a different tonic to counter the tartness of the fruit. Okay, drinks lesson over, back to the food.
"Something a little different"
For the main I go for red snapper (a first for me) with tiger prawns, creamy lemon sauce and a side of vegetables. The fish is deliciously different, bone-free and expertly cooked. The zesty sauce accentuates the flavour admirably. The prawns are on point; creamy Dauphinoise potatoes complement them both, while al dente carrots and beautifully cooked broccoli round it off perfectly. (The amount of American restaurants I've been to where veg is shown a pan of boiling water but often tastes undercooked – so I always appreciate it when done right).
Rachel wants something a little different to the specials menu, so she asks the chef to surprise her with a bespoke dish. A short time later she's enjoying a bowl of pasta with goat's cheese and tiny tomatoes. "The strong flavour of the cheese is counterbalanced with the sweetness of the baby tomatoes." Her words, not mine. Though I heartily agree. The tagliatelle is also rather good.
We've been to many uninspired eateries that either have no clue about decent vegetarian food, or don't care, but no such problem here. As a veggie for 10 years back in the day, I have no problem opting for a meat-free dish, or appreciating when chefs have made the effort to do something other than a generic Quorn version.
"Goes the extra mile"
Usually by this stage we're loosening belts, and having dessert at home, but we split a mint chocolate torte with cream. It's a palate cleanser and chocolate hit in a few glorious mouthfuls. Some choc can leave my mouth sore, like it's been scoured with sandpaper, but this is spot on. From tortes to a tortuous chess analogy. Bishop's always makes us feel like a king and queen, and the latest visit is another (k)night to remember.
Jo and Isaac do a terrific job in the kitchen, while Lily, our other waitress goes the extra mile to ensure we have everything we need. Unlike some eatery reviews which are based on a couple of hours of research, from experience I know this is the case here week in, week out.
Great food, a friendly atmosphere and an affordable price is all you need for a successful restaurant, and boss Rebecca and her team tick those boxes with a flourish.
Bishop's Bar and Bistro, 11 Vicar Lane, Howden, Goole, East Riding of Yorkshire, DN14 7BP
Mon – Sat: Food served 12 – 8:30pm
Sunday: Sunday lunch 12 – 3pm, Normal menu 3 – 7pm
01430 432924
bishopsbarandbistro.co.uk