18Fifty5, Copthorne Hotel, Sheffield – Restaurant Review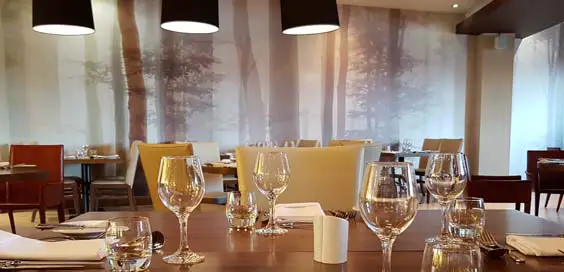 By Richard Jones
If you've ever been to a football match, you'll never forget that distinctive matchday smell of frying burgers, hot dogs and pies wafting outside the ground. Indeed, unless you're in an executive box, sports stadiums are not the most obvious choice when you're on the hunt for a nice meal.
However, bucking that trend is multi-award winning restaurant 18Fifty5 at the Copthorne Hotel on Bramall Lane, which has managed to tap into Sheffield's rich sporting history and culinary traditions to create a experience that is unique to the Steel City.
Bramall Lane (the stadium, home to Sheffield United FC), held its first cricket match on 30 April 1855, hence the name of the restaurant. It proudly remains the oldest major stadium in the world that is still hosting professional football matches.
"Impressive reputation"
Next door to the ground is the sleek four-star Copthorne Hotel, which opened about nine years ago. Their signature eatery, 18Fifty5, has built up an impressive reputation for its fine Yorkshire and British cuisine, serving local and traditional flavours with a contemporary twist.
My wife Rachel and I arrived at the Copthorne on the evening of a Saturday matchday, and to be honest, we were a bit apprehensive about the timing of our visit to 18Fifty5, fearing that many of the 30,000 football supporters would still be milling around the hotel.
However, apart from a menu that I saw on the bar listing their matchday dishes, there was no real sign that a big football match had taken place a couple of hours before. After being shown to our table, we ordered our drinks, and they arrived within seconds.
"Tempting"
In fact, the service at the restaurant was first-class all evening – the staff showed great knowledge of the food and drinks on the menu, and struck up the perfect balance between asking if Rachel and I were satisfied with the food and striking up conversation, but without ever being too obtrusive and overpowering.
Eventually, after a good look at the menu, we chose our starters and main courses. I went for the duck Scotch egg, while Rachel chose the wild mushroom soup with warm rustic bread.
Then for the main course I had a succulent 8oz sirloin steak served with chunky goose fat chips, watercress and portobello mushrooms. Rachel chose the roasted duck – this time with crunchy vegetables.
The exquisitely presented food felt both homely and sophisticated, and although we were full, the dessert menu proved far too tempting to resist. I found room for the warm sticky toffee pudding, while Rachel liked the look and taste of the cheesecake.
"Welcoming"
Despite being hidden away in a modern hotel adjacent to a football stadium, 18Fifty5 proved to me that it is one of South Yorkshire's best restaurants.
Whether you're enjoying a break in the centre of the Steel City, unwinding after work or entertaining important clients, their welcoming contemporary surroundings and hearty Yorkshire-inspired food is surefire winner.
The Copthorne Hotel's 18Fifty5 may not be around for 160-plus years like the sports stadium it is named after. But for now, it is a match for any restaurant in the region – even on match day.
18Fifty5 Restaurant, Copthorne Hotel, Bramall Lane United Kingdom S2 4SU
Opening times:
Monday-Friday : 6:30am-10:00am, 6:30pm-9:30pm
Saturday: 7:30am-10:30am, 6:30pm-9:30pm
Sunday: 7:30am-10:30am, 6:30pm-9:30pm
0114 2525480
millenniumhotels.com/en/sheffield/copthorne-hotel-sheffield/18fifty5-restaurant/