Boisdale of Belgravia, London – Restaurant Review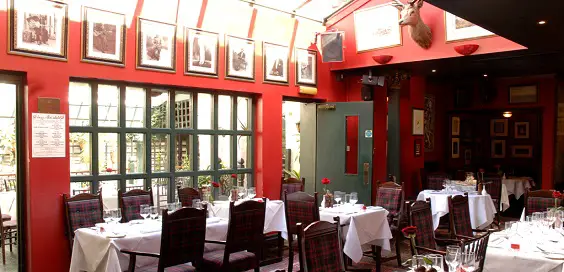 Boisdale of Belgravia, London
Restaurant Review
by Roger Crow
'The man who can dominate a London dinner table can dominate the world', wrote Oscar Wilde once.
A good job I've no plans for global domination, because as I'm shown to my table at Boisdale of Belgravia, I feel as conspicuous as a ringing mobile phone in a darkened theatre. It's 10.25pm, and my partner Rachel and I have rocked up at one of the hottest eateries in town. I feel out of my comfort zone, but that's just me acclimatising to London life after the relative calm of East Yorkshire.
Popping in for dinner at a time when most Yorkshire restaurants are shutting for the night feels like a world of wrong. And with a band in full swing, we can barely hear the waiter when he asks what we'd like to drink. Through a mix of lip reading and pointing at the wine list, we go for a house red (the 2016 Vinas DelVero Cab Sav Merlot is spot on). We order starters from the impressive menu, and take a breather.
Having hot footed it from Howden with little chance of a comfort stop between King's Cross and now, I head off to find a loo and take in the Scots-themed decor on the way. It's an interesting mix of red walls, dark wood, and tartan. Plenty of tartan.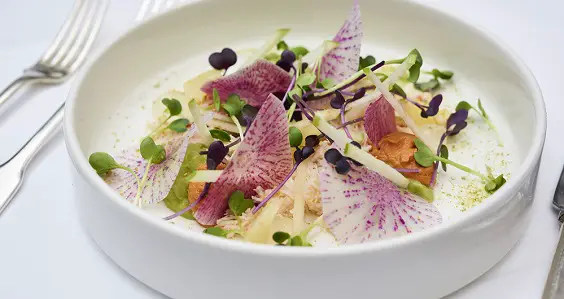 "A little different"
The place is a regency townhouse that was never intended to be a restaurant. However, the owners worked their magic, and the basement kitchen soon started turning out fine foods, with an emphasis on Scots produce. It has that mix of history and tradition that overseas visitors no doubt find intoxicating. I just like the fact it's something a little different.
The band squeezed onto a compact stage at the entrance is one of the many selling points, though they'd be fine without the speakers. I bump into Restaurant Manager Glen King, and he gives me a whirlwind tour of the residence, from the smoking terrace to the private dining area. It's a compelling history lesson, and this is just a quarter of the Boisdale culinary empire, with branches at Canary Wharf, Bishopsgate and Mayfair.
The company magazine offers an insight into the Boisdale lifestyle. Imagine GQ edited by Guy Ritchie with a welcome hint of Arthur Daley's cheek and Gerard Butler's macho charisma. It's a pretty good read too, but one thing it doesn't capture is that electric atmosphere which soon envelops us.
By the time I return, my mouthwatering smoked salmon starter is waiting. With the addition of shallots and capers, and a squirt of muslin-wrapped lemon, I'm soon a lot more relaxed. (Rachel's spinach and lentil salad isn't bad either).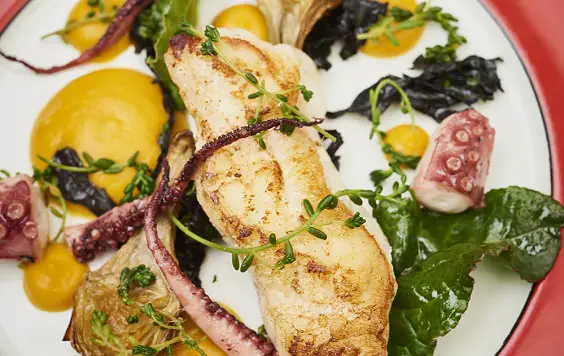 "An incredible night"
Obviously a glass of the Merlot helps enormously and the pressures of work and travelling 200-plus miles soon start to melt away. It's a bit of a squeeze at our table, and the intimacy of the restaurant reminds me of how expensive residences in the area must be. Thankfully the menu prices are pretty reasonable.
Before long, the amount of customers thins out; the band takes a break and our waiter suggests the turbot as a main. I'm sold, but as it's unfilleted (my fault for not checking), I don't enjoy it as much as I'd hoped, despite the fact it's beautifully cooked.
Rachel's mushroom tagliatelle is expertly prepared and the portion size is perfect. It's a little oily, but I have no problem scoffing a few mouthfuls. It's not long before the band's back on stage; the Merlot has worked its magic, and suddenly we're having an incredible night.
It feels like I've crashed a wedding as a few tables are moved and diners start dancing. The atmosphere is extraordinary, as is my baked vanilla cheesecake with pecans and foam. Rachel's apple and plum crumble looks terrific, but as I rarely eat fruit, she doesn't have to worry about me scoffing the lot for "research".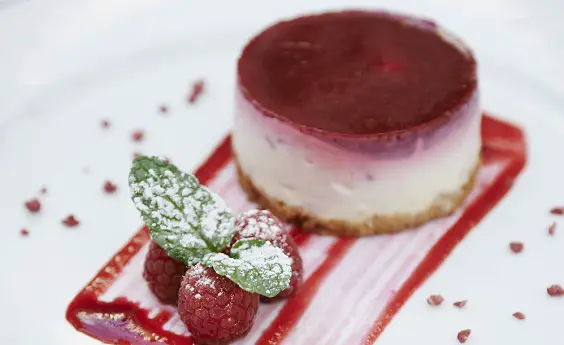 "Near perfect"
Great food, wine, music and company. It's the four 'legs' essential to make any great table of a night stand up. It's rare that I dance, but clearly the mood hasn't been right in previous places. That perfect mix of wine, food, atmosphere and frankly not caring kicks in and I'm suddenly channelling John Travolta, though more in Pulp Fiction than Saturday Night Fever.
We've rarely felt this welcome in such a short space of time, and suddenly we're immersed in a new tartan-themed comfort zone.
Though I'll opt for filleted fish next time I visit, the kitchen don't have to change a thing about that stunning starter and incredible dessert. It's apt that singer Wayne Hernandez and the band performs 'Lovely Day' at one point. The last few hours have certainly been that. (I'm in heaven when they give us their take on a few Bob Marley classics).
By 1am, as things wind down, we collect our case from reception and potter off to our hotel a mile away at St James's Park. As we merrily watch a car more expensive than our house get pulled over by the police, I'm reminded that life is pretty good.
We'd hoped for a near perfect start to our short stay in London, and enjoyed a couple of hours we'll never forget. Take a bow team Boisdale. You played a wee blinder.
Boisdale of Belgravia, 15 Eccleston Street, Belgravia, SW1W 9LX
Monday – Fri 12pm – 01:00am
Saturday 6pm – 01:00am
Sunday closed
020 7730 6922
boisdale.co.uk