Cosmo Luxe, Leeds – Restaurant Review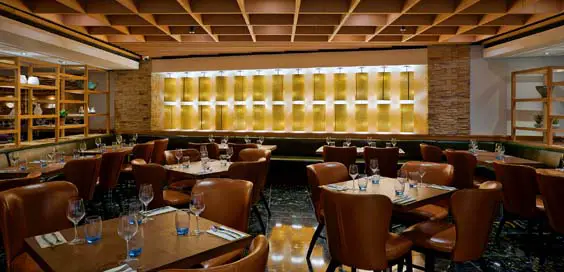 By Kerryn Duckworth
There are not many 'all you can eat' buffet restaurants around Leeds, but when you think of them the idea of quantity over quality springs to mind. Cosmo Luxe is out to rejuvenate the buffet experience and change those opinions, bringing quality over quantity to the Leeds City Centre venue.
As I walk in from street level on Boar Lane, a sleek and smart welcome area awaits and I place myself at the bar and order a drink. The music is lively, and the black and cream hues create a relaxed vibe; a great welcome to wait for my friend who is currently fighting against the rush hour Leeds traffic… and losing.
I spend the next 20 minutes waiting for said friend, but thankfully the tables against the window are prime people watching spots. I watch the world go in the dreary autumnal weather and sit in the cosy warmth knowing that a feast awaits.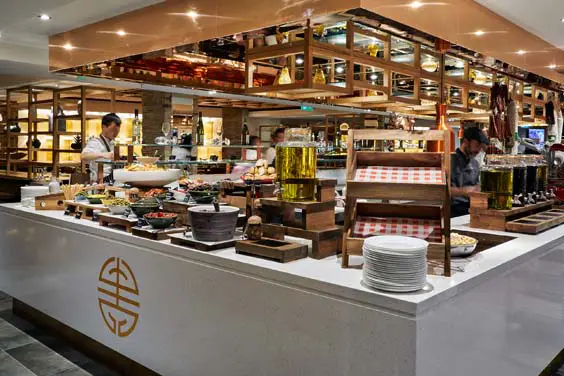 "Not sure where to start"
With my companion finally in toe, we're escorted down the stairs into the grand restaurant. With marble effect flooring and rich black and orange decor, the resulting effects speaks luxury and splendour. We're presented with the cocktail menu and start the dining experience with a Pornstar Martini and a Rum Soaked Mojito (£7.95)… it's a Tuesday, why not!
There's no explanation on how Cosmo Luxe works, so you need to figure this out for yourself. In the room is a rectangular service area, creating a journey through world cuisine with cooking stations at the back. We don't just grab a plate and dig in, we do a loop and take the time to peruse the food offerings laid out in front of us. There really is something for all tastes and palates and I'm really not sure where to start!
I decide on the deli area. I fill my plate with olives, hams, pickles and bread, whilst my friend tastes the sushi. As a lover of tapas and nibbles, this is my heaven and I'm in my happy food place –and this is just the beginning.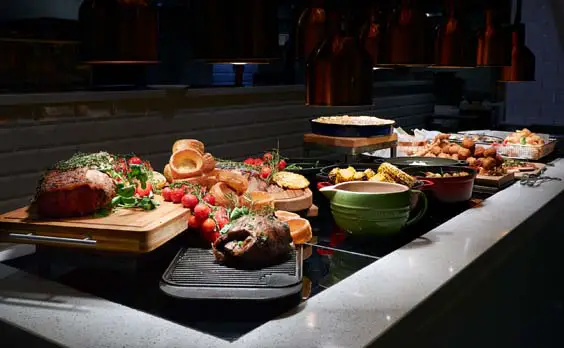 "Appealing and fresh"
Unaware of the windy Leeds weather outside and above, my friend and I spend the next few hours catching up and continuously revisiting the never ending supply of tasty food. We return to the food stations at least another five times!
Creamy curries with rice and poppadoms are rich and smooth and the generous and friendly staff even bring over a whole new dish to the table for us to try – a vegetable jalfrezi. Not the usual follow up, but next I dig into a roast dinner. Medium rare beef is juicy and complemented by roast carrots and of course a Yorkshire pudding. On the food stations there are British classics such as lamb shank, there are Chinese treats and there's teppanyaki cooked fresh for the table. As much as they all look appealing and fresh, the deli, curry and roast are filling my stomach, so we move on.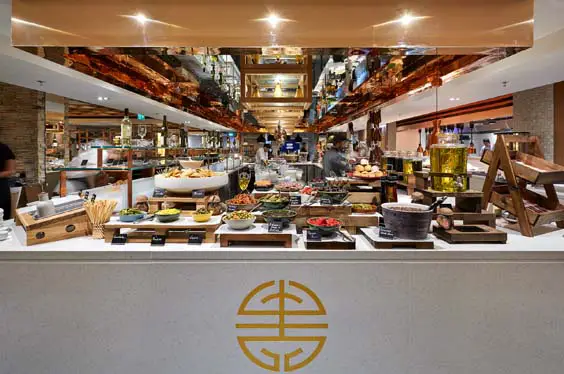 "Passionate"
Next up some cheese; samples and tastings of some tangy and rich varieties from various regions are supplemented by pickles. then, to finish off the evening, some bite size desserts of chocolate brownie, tarts and cheesecake. The staff are relaxed and attentive and offer additional items such as the aforementioned curry and some ice cream with the dessert.
Three hours later and I'm fit to bursting. This isn't your normal 'all you can eat' buffet restaurant. The chefs are clearly passionate about the food with the quality obvious and the venue itself is stylish and sleek. Couples, friends and business people dine at the tables and the variety and quality of food on offer at Cosmo Luxe really does cater for everyone. Good company, good food and a great venue; we really did eat our money's worth.
52 Boar Lane, Leeds, LS1 5EL
Opening Times
Lunch:
Saturday 12:00 – 16:00, £16.99
Dinner:
Mon – Thur 17:30 – 22:30, £21.99
Friday 17:30 – 23:00, £21.99
Saturday 17:00 – 23:00, £23.99
All Day:
Sunday & Bank Holidays 12:00 – 22:00, £21.99
0113 2186 200
cosmoluxe.co.uk