Ferrari F8 Tributo – Review
By Liam Bird
In 2014, I wrote a piece about the Ferrari 458 Spider and called it, Do You Remember the First Time?
After much pestering on my part – all very polite, you understand – Ferrari's UK press office had finally relented and agreed to lend me one of their cars. At the time the 458 Spider wasn't the most current incarnation of Ferrari's two-seat berlinetta coupe, but I cared not a jot: It was Ferrari, and for a long weekend its keys were mine. I drove it everywhere; I was tempted to sell tickets for passenger rides in it. I wrote my article, and thought to myself, that's it. Ferrari had at last allowed me to scratch that most specific of itches and I genuinely thought that was both the first and the last time they would.
It turns out, fortunately, I was wrong. Since that first foray into Ferrari custodianship – a long weekend with one seems now to be the norm – I've driven another four; three of which can trace their roots directly back to the 458. All are memorable.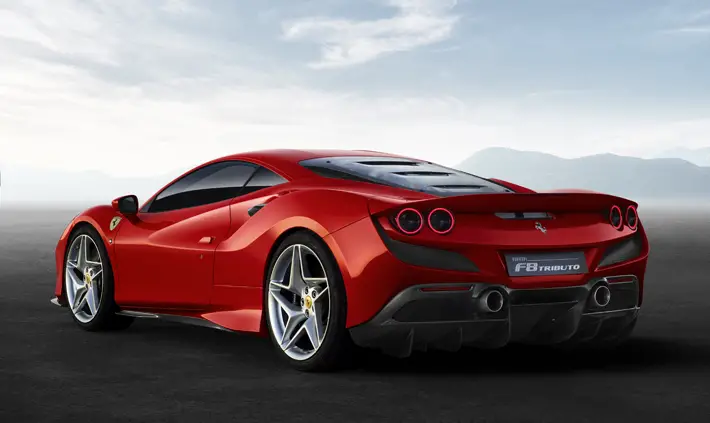 "Grand finale"
Now, if I was to give this review of the F8 Tributo you see before you a title, Do You Remember the Last Time? might actually be appropriate.
I hasten to add I've not done anything, to my knowledge at least, to offend Ferrari and thus prevent me from borrowing something else from their press fleet (I currently have my eye on a Roma), but rather that this might be the very last time we'll see a twin-turbo V8 Ferrari berlinetta.
The F8 Tributo, as its name implies, is a homage to the most powerful V8 in Ferrari history, a celebration if you will, of the past 40-odd years of the firm's mid-engined V8-powered berlinettas. In addition, as I write this, the Ferrari 296 GTB, a V6 hybrid powered 2-seater coupe very much in a similar vein styling-wise, if not mechanically, to what's gone before, is already is all-over the internet, not to mention many a motoring magazine's front cover. Is this really the grand finale of Ferrari's multi-award winning V8?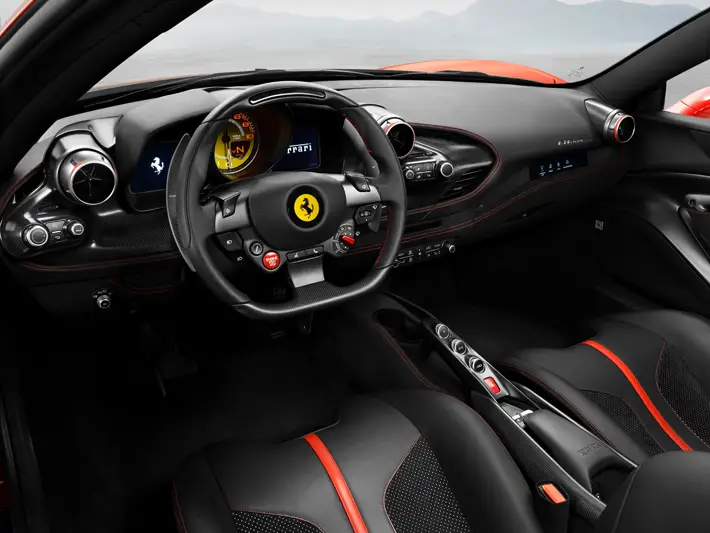 "Extra downforce"
We'll see… However, if it is, then oh my! It's an incredibly good one.
It's as if Ferrari have taken all the best bits from their previous mid-engined V8s and put them all on one car. The F8 Tributo might at first look instantly recognisable but closer inspection reveals just how distinguishable it is from its brethren. Apart from the roof and the doors, all the body panels are new – many of them riffing on Ferrari's back catalogue. The F8 Tributo gets quadruple round rear lights – just like a 288GTO, and the slotted Lexan rear-screen-cum-engine cover is pure F40. Up front, there's the scooped-out S-duct front panel from the 488 Pista, it provides extra downforce, and apparently the new front and rear bumpers help save overall weight by nearly 40 kg.
The chassis comes from the F8 GTB, so it's more road-orientated, even when fitted with optional and super sticky Michelin Pilot Sport Cup 2 tyres (£2880), than some previous F8 variants; the suspension is more compliant too. You'll still need to press the bumpy road button (I kid you not) to help soak up the worst of the British B-road bumps though. Brakes, of course, are carbon-ceramic.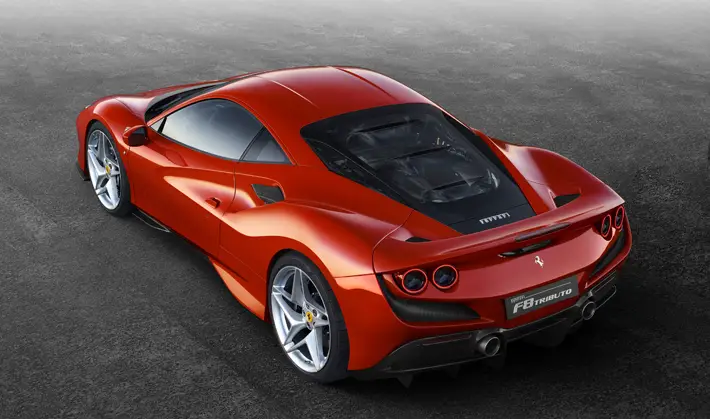 "Sublime"
And the engine? Well, as mentioned before, it's a twin-turbo V8, which thanks to the fitment of titanium con-rods, Inconel manifolds, and titanium-aluminium turbo turbine wheels is now 18kg lighter than it once was. It produces 711bhp.
Performance therefore is blistering: 0-62mph despatched in a whisker under 3 seconds, and the F8 is said to be capable of 211mph. Quite where, I'm not sure. Nevertheless, what I do know is just how accessible and how controllable all that performance feels. It goes without saying, that you can overtake just about everything you care to, but F8 Tributo is not just some straight line rocket-ship you squeeze the throttle in before trying to hang on to with all your might. It feels so direct, so alert, so willing to flatter its driver. The steering feels so immediate, the view over the wing tops helps you place everything precisely where you want it, and Ferrari have given the F8 Tributo something called Side Slip Angle Control.
Just by twisting the little manettino switch on the steering a couple of clicks to the right can make the F8 Tributo dance. The electronics will allow you to slide the rear end just enough to have fun, but not enough to get into trouble. Further elec-trickery blips the throttle as you change down, so you sound like a heel-and-toeing pro – even though there are only two pedals, not three. It's just sublime.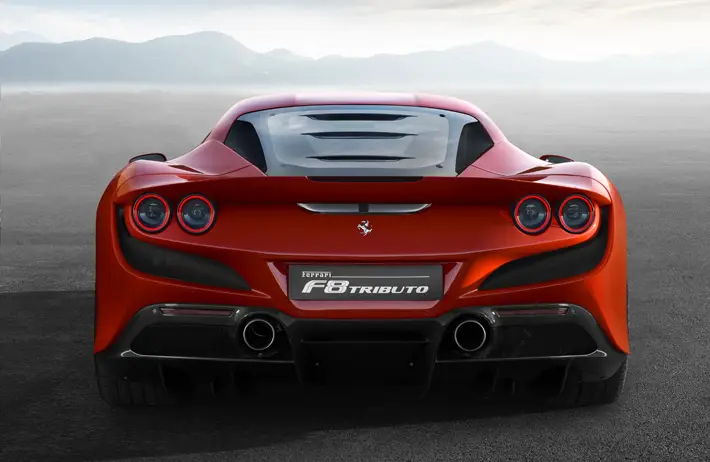 "Eye-watering"
And when you're not in the mood for sliding sideways between apexes the F8 will pootle through town at 30mph in 7th gear without any fuss. Usually you think of a Ferrari as something to be used sparingly and on special occasions, but if you had the means and you're prepared to travel relatively light, the F8 Tributo will happily play the commuter or GT role just as well as it does the supercar one.
It doesn't come cheap, mind. Prices start at £203,516, and after options (of which there are myriad) Ferrari's press demonstrator rang the tills at an eye-watering £325,042. What they spent on carbon fibre alone would've bought a nice Porsche 911. But questionable add-ons aside, there's no escaping the fact that in five years from now you simply won't be allowed to make a car like this. Personally, I think that's a crying shame.
I'm also of the opinion that the F8 Tributo proves we don't really realise yet how much we're going to miss such things.
Ferrari F8 Tributo
Engine: 3,902 cc, V8 Cyl, 48V, twin-turbocharged, petrol
Transmission: 7-speed F1 dual clutch with E-diff3, F1-Trac, and SSC 6.1
Power: 711 bhp @ 8,000pm
Torque: 568 lbft @ 3,000 – 5,250 rpm
0-62 MPH: 2.9 Sec
Max Speed: 211 mph
CO2: 292 g/km
MPG: 21.9 (combined)
Price: from £203,516 (car driven £325,042)