Rudding Park, Harrogate – Spa Review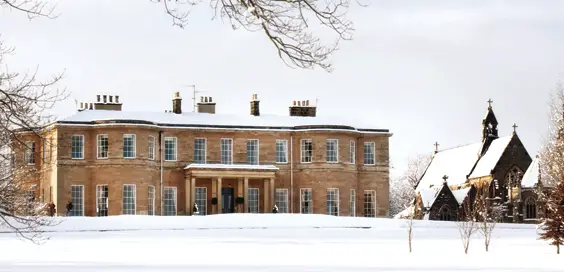 Rudding Park, Harrogate
Spa Review
by Julia Paddon
The spa at the luxurious Harrogate destination Rudding Park has had more than a facelift, it's had a full body makeover. Launched in May 2017 the new Rudding Park Spa has been winning awards left, right and centre. My colleague and I felt duty bound to go along to see where they're going so right and report back. I know, we're selfless – you're welcome.
Firstly, Rudding Park Spa is beautifully done. The tiling is particularly impeccable and to be admired, running in pleasingly straight lines with all symmetry and balance respected. In addition, the carefully collected and positioned artworks add a huge amount to the ambience. Stunning, proportionate and at times quirky, the work adds genuine soul and character without even a hint of cliché or sense, – as is often the case – of the art being an afterthought (or worse, bought in bulk at the end of a project to fill the blank wall/floor space in one fell swoop).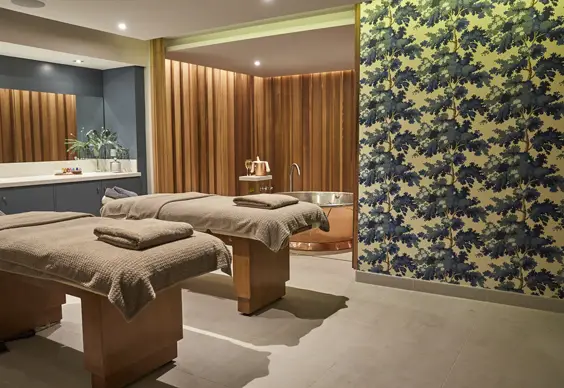 "Revelation"
So I applaud the designer, interior team and the project manager for creating genuinely attractive and well-thought-out spaces.
We were welcomed and shown through to Horto Café for a warm drink and sweet or savoury nibble before being led through to the Spa. Changing rooms are fabulous and again very well presented. Individual, well stocked showers, a large communal dressing table space for hair and make-up complete with hairdryers, straighteners, cotton buds, tissues and a Dyson fan (nice touch for those of us who overheat easily). All robe and flip flop sizes are catered for, so if your feet are as small as my colleague's, just ask and a pair of teeny-weeny pixie-sized flip-flops will be all yours.
Treatment and relaxation rooms are downstairs. The treatment tables are heated and something of a revelation. In fact, just lying on them inspires deep relaxation.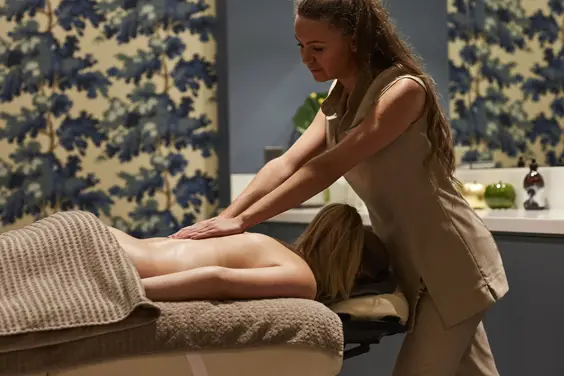 "Blissful"
I experienced the Vitality Body Ritual. A luxurious, blissful and relaxing combination of exfoliation and massage concentrating on the back of the body and expertly done. I can imagine talented therapists from across Yorkshire falling over themselves to work at Rudding Park.
One slight oddity… at the end of a Spa treatment you are always offered a glass of water, sometimes a glass of something detoxifying or refreshing such as lemon water to bring you round. Rudding Park offer you a glass of Kombucha cordial – so far so normal – however, and here's the odd bit, it's accompanied by a chocolate brownie bite! Neither me nor my colleague consumed ours and we both remarked on how unusual it was. A sweet gesture, for sure – but perhaps a bit too sweet?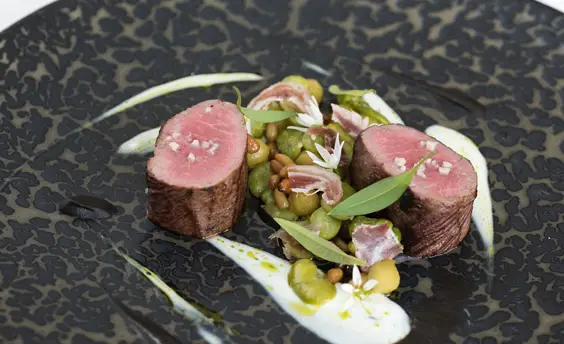 "Comfortable"
After our treatments we are taken to the mind and sense zones, again a beautifully planned set of rooms that cater sensitively for those who want quiet and those who want to relax and chat. We made ourselves very comfortable in a booth, drank lots of lovely minty lemony water and generally put the world to rights.
If you book a Spa day a two course lunch at Horto Café is included. We enjoyed lunch very much. I'm not sure burger and chips followed by sticky toffee pudding is the most appropriate post-treatment and pre-Spa lunch but it was certainly delicious. My will power needed a little more 'guidance' to make a better choice, although looking around the room so did quite a few others. I can't blame Horto, there were healthier and good-sounding options available, but none could compete in my mind with skinny fries!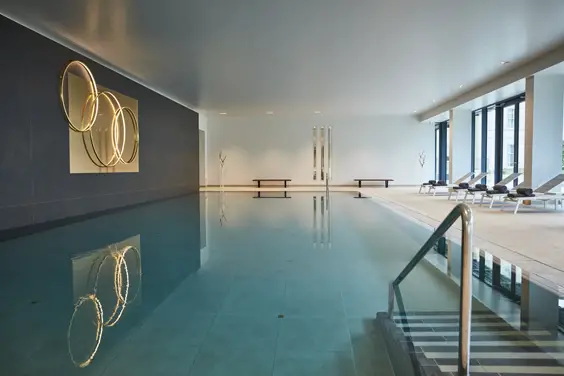 "Design-led"
After lunch we explored the Rooftop Spa – the sauna, steam rooms and tropical showers were all marvellous – although we spent most of our time bubbling away in the steaming hot outdoor hydro pool as powdery snow fell gently around us. It was like we were in a fairy tale Christmas snow globe.
Finally, a mention for the boutique gift shop Retail Therapy. Design-led and stocked with really well chosen pieces across a broad price range, it's a lovely little shop and well positioned for an after-spa browse. I hope it does well.
You can visit Retail Therapy and Horto without visiting the Spa. You can, but I'm not sure why you would… I mean, if you're going to be a few steps away from one of the best spas in the UK you may as well treat yourself and go in.
Rudding Park Hotel, Follifoot, Harrogate, North Yorkshire HG3 1JH
A one-night stay at Rudding Park starts from £189 per room per night or a one-night spa break starts from £177 per person including half board, a 50-minute treatment and access to the spa. Access to the Roof Top Spa and Garden is £35 for two hours.
01423 844 840
ruddingpark.co.uk