The Harrogate Spa, Majestic Hotel – Review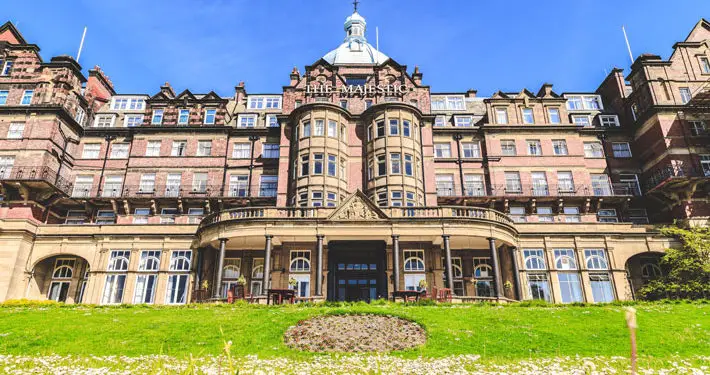 The Harrogate Spa, Majestic Hotel
Review
by Rachael Popow
The Harrogate Spa may seem like a fairly straightforward name for a spa in Harrogate, but it's actually a bold statement. After all, Harrogate is a spa town and boasts the beautiful, restored Turkish Baths, which date back to 1897.
However, for anyone who likes to relax in more modern surroundings, The Harrogate Spa could well become a go-to destination.
Not that it doesn't also come with its own helping of Victorian splendour. It's located in the Doubletree by Hilton Harrogate Majestic Hotel, which definitely lives up to the Majestic part of its name. Opened in 1899, this beautiful building is close to the city centre, which is handy for shopping or a night out, but looks like a grand country pile. It's impressively imposing as we pull up – and also very busy – although luckily the very welcoming reception staff are ready to help when we initially struggle to find a parking space.
As we arrive in the evening, we drop our bags off in the room and head straight to dinner in the hotel's Carter's Champagne Bar and Grill, where we choose from the reasonably priced three-course set menu.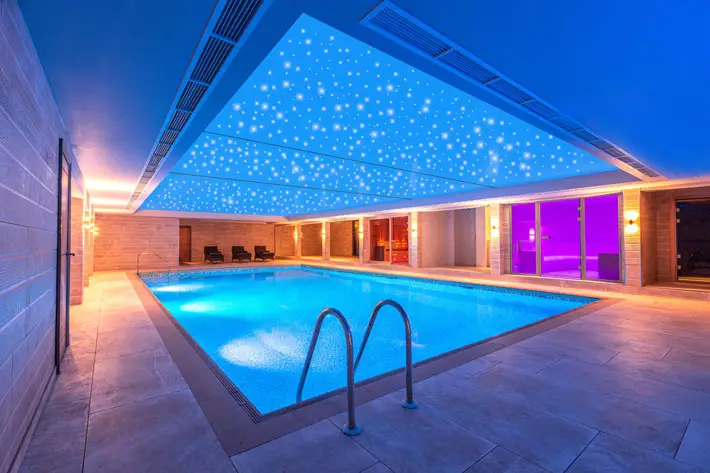 The service is friendly, if a little slow. (Clearly, the slowness isn't the norm – our apologetic waitress refuses to accept our tip). Luckily though, the restaurant is somewhere you want to linger. Portraits of Queen Victoria and Albert, chandeliers and elaborate floral displays give it an air of 19th-century opulence befitting such a huge, high-ceilinged room, while the velvet upholstery adds a cosier touch.
There are also champagne cocktails to sip, and when the food arrives, it's worth the wait. I opt for Yorkshire salami, which comes with a generous helping of hummus and a very tasty chilli jam, followed by pan-fried salmon with crushed herby potatoes and green beans. It's delicious and not so filling that I can't fit in a dessert.
I'm intrgued by the pina colada panna cotta, despite thinking it may be a little sickly. Luckily, when it turns out to have a tartness to it, as well as some added granola and fruit to give it texture, I know I've made the right choice.
Meanwhile, my friend is equally impressed by her parsnip soup and lamb shank, but chooses to order a cheese board from the a la carte menu rather than go for a dessert. She believes that most cheese boards fall down on their cracker to cheese ratio (not enough of the former, rather than too much of the latter – can you ever have too much cheese?) but this one meets her high standards.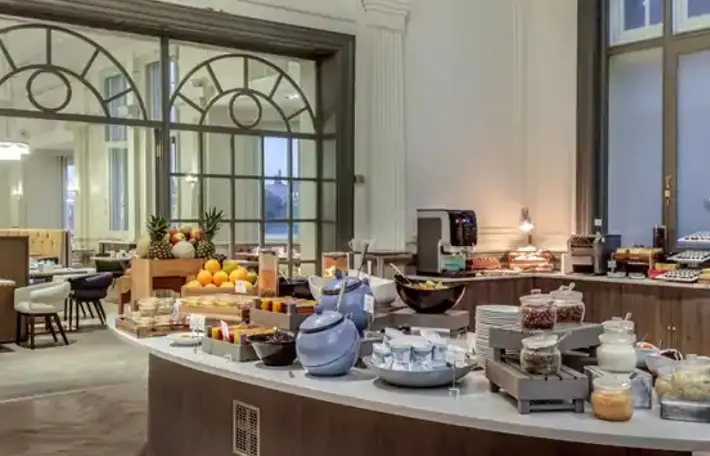 "Bright and modern"
After that it's time to get a better look at the room, as we only got a glance earlier. We're in a superior king that's spacious, comfortable, elegantly decorated and also smells lovely thanks to a fragrant, but not overpowering, diffuser. The real selling point though is the fabulous – and huge – bathroom. It boasts a big walk-in shower, a roll-top bath (with an armchair next to it so you can wait for it to fill in comfort) and floor tiles that leave my friend wishing she'd also picked grey for her own recently renovated bathroom.
Luckily, decor envy didn't stop us from getting a good night's sleep. We wake up in the morning ready to return to the restaurant for a very hearty breakfast, complete with hash browns and fried eggs with runny yolks – always the marks of a quality breakfast buffet in my eyes. Also, as a nod to the fact that is Yorkshire in November, there's parkin loaf, as well as slivers of lemon drizzle cake which feels delightfully decadent.
Then it was time to use the spa. Guests can still access it up until 5pm after checking out, which is very handy for anyone like me who is only staying one night and arriving after work.
While the rest of the hotel is full of period charm, The Harrogate Spa is bright and modern. There are even subtle twinkly lights in the ceiling above the pool – so subtle, I only noticed them on my third dip.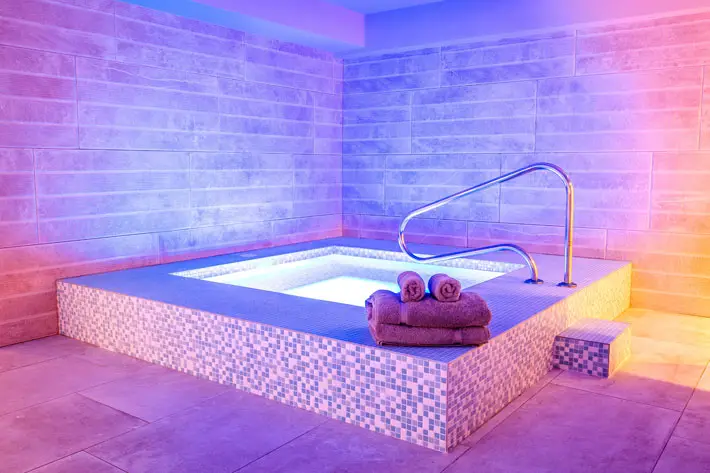 I had my first swim before relaxing in the Himalayan salt spa, and then braving the cold experience shower (there's also an ice fountain, but, full disclosure, I wasn't quite brave enough for that). But while I might have balked at getting too cold, I was happy to sit in the steam room, where you can work up a sweat with minimum effort.
Then, after another cold shower to shock my pores, it was into the spa bath for a Jacuzzi experience.
In-between swims, soaks and steams, there are loungers by the pool where you can unwind with a book, or you can sit in the relaxation lounge. The courtyard wasn't particularly tempting on a rainy November Saturday, but would be lovely in the summer – and there's something quite nice about looking out on a cold, dreary day when you're wrapped up in a fluffy bathrobe, knowing there's a steam room on hand.
If you're getting a treatment in one of the rooms off the spa (or next to it, if you go for a rasul mud treatment), it's probably wise to book it for later so you can still make the most of the spa facilities. I overheard one woman saying she was going to sit in the spa bath 'like a praying mantis' to preserve her new nails.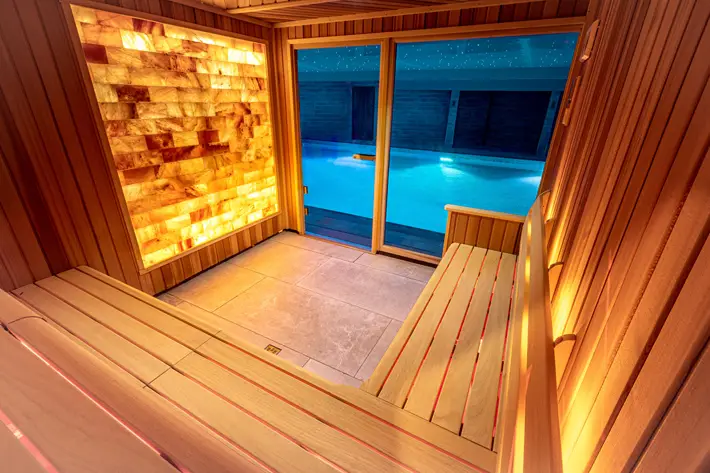 "Very soothing"
I opted for the 50-minute Inner Beauty facial as my complexion, and possibly the rest of me, is looking a bit tired at the moment. The beauty therapist kindly reassured me that I do have nice, if slightly dehydrated skin and asked me to choose one of the products I wanted based on smell. The fact I was drawn to a product that is for combination skin, which is how I'd described mine during our consultation, is apparently a sign that our bodies instinctively know what we need.
I didn't really know I needed this treatment until I had it. My skin felt softer and looked brighter afterwards, but it was also very soothing to simply lie on the heated bed and be pampered. The treatment also included an arm and shoulder and head and scalp massages from a beauty therapist who was very friendly and full of good advice, but also instinctively knew when to just let you quietly space out.
So, I left The Harrogate Spa feeling considerably more relaxed than when I arrived, which is the main thing anyone can ask from a spa break. By mixing the up-to-date with the traditional, it really is a great Harrogate experience. And you can have cake for breakfast.
DoubleTree by Hilton Harrogate Majestic Hotel & Spa, Ripon Road, Harrogate, HG1 2HU
Facilities include: 184 guest rooms, 6 treatment rooms (two of which are double), 12.5 metre indoor pool, spa pool, Himalayan salt sauna, steam room, Rasul, experience shower, ice fountain
01423 700300
doubletree3.hilton.com