Feversham Arms Hotel & Verbena Spa, Helmsley – Review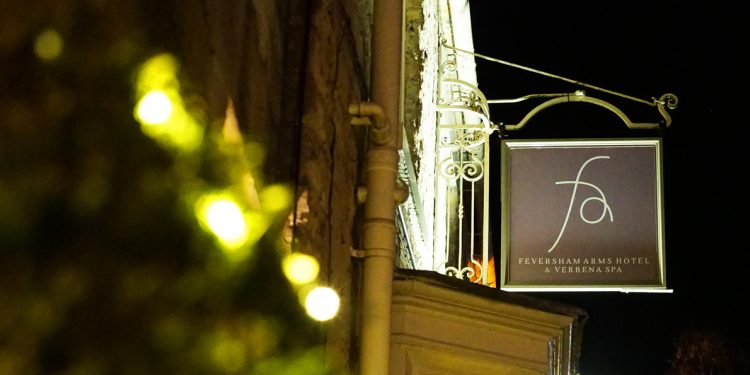 By Helen Johnston, June 2022
If it hadn't been for my sat nav telling me my destination was on my right, I probably would have driven straight past the Feversham Arms. This is not a showy hotel with brightly coloured logos and special offer boards, it's all creamy Yorkshire stone with discreet soft lavender signage. Class.
No plastic card room key either, I was handed a weighty brass key fob. The receptionist offered to show me the way, so I followed him outside, past the pool, round the hot tub and down a step to what looked like a cute cottage with, yes you've guessed it, roses round the door. Well, they weren't quite round the door, but they were near enough. Gorgeous pink blooms.
The receptionist unlocked the door and I stepped into an equally gorgeous living room with a wood burner fire, then into a gorgeous bedroom in soft pinks and greens, and lastly into a gorgeous contemporary bathroom with freestanding roll top bath. It was gorgeousness overload.
"Wanted to move in"
I knew I was going to an upmarket hotel, but I'd only expected a room, not my own mini poolside house with a patio complete with table and chairs. I immediately wanted to move in. These poolside suites have been refurbished recently by Philippa Martin of Pip Interior Designs in Helmsley, who said: "I wanted to truly embrace that carefree holiday feeling for the guests staying here."
I'd got a treatment booked in the spa and before that wanted to check out Helmsley, the only market town in the North York Moors national park, and meet up with my cousin, his wife and daughters who are lucky enough to live in nearby Kirkbymoorside. This area is in the district of Ryedale, of Calendar Girls fame, and is very picturesque.
Helmsley looked lovely in the sunshine, jubilee bunting still fluttering on some buildings, holidaymakers sitting on benches having a drink, leather-clad bikers taking a break in the market square. This is the kind of place where you can still find quaint independent shops, cosy tea rooms and traditional pubs, and a gentle stream to paddle in. Even the Co-op blended in nicely. I could feel the pace of life slowing down around me.
"Melted away"
So, I was already feeling relaxed when I headed back for my spa facial with the delicious-sounding name of Champagne and Truffles. It was listed as 90 minutes which I thought a tad long for a facial, but it turned out to be so much more than a facial. The Verbena Spa is part of the hotel so you can just pad along in your robe and slippers from your room, although there's also the option to change when you get there.
I was welcomed in with a drink and then my therapist Rachael took me through and explained that I'd be getting a foot and calf massage, hot stones massage on my neck and shoulders, body brushing, the facial, and then a hand and arm massage. Wow.
The form I filled in before the treatment gave me the option of being quiet or chatty and I chose quiet so I could just lie back and relax. Rachael was respectful of that and only spoke to check I was comfortable and warm enough. I've never had a hot stones massage before, and it was a revelation. The heat just melted away the niggles and aches I'd been feeling in my shoulders.
"Amazing treatment"
I haven't had a facial for years so I was really looking forward to my tired face being given a bit of an uplift and I could certainly see the improvement when I looked in the mirror afterwards. I'm not exactly in the first flush of youth but my skin definitely had a glow to it and a few problem areas had been sorted out. Rachael gave me the details of all the products she'd used and some skincare advice.
The whole experience was so lovely I could easily have fallen asleep but I managed to rouse myself and get off the couch and out to the sunny terrace where Rachael brought me a surprise of…champagne and chocolate truffles! The perfect way to end this amazing treatment which, because of all the different elements to it, is the best I've had in any spa. As I sat there sipping my pink champagne the sun was beaming down, children were splashing in the pool, people basking on sun loungers – I could have been on holiday in the Med.
The Med wouldn't have been able to offer the delicious menu on offer in the hotel's Weathervane restaurant though. Local seasonal produce is key with Yorkshire beef and lamb, East Coast seafood and scallops, and cheeses from the Parlour Made dairy at Sedgefield, just across the border in County Durham. Head chef Jon Appleby is a great believer in using local produce and has spent 20 years in the area so knows his onions, so to speak.
"Cooked to perfection"
Continuing the day's truffle theme, I chose a starter of walnut and truffle porchetta which had a salad of tiny, compressed rhubarb and pickled chicory, the perfect accompaniment to the delicately sliced meat. Before that arrived, I was unexpectedly treated to a tiny bowl of creamed spinach soup served with some slices of bread. For my main I chose the Pickering rainbow trout which was cooked to perfection and accompanied by ratatouille, smoked baby aubergine, bok choy, and a drizzle of lemon. This was all washed down with white wine and I was already stuffed by the time the inevitable question came: "Would you like a dessert?" This was, of course, followed by my inevitable answer: "I'll just take a look, thanks."
Somehow, I managed to make room for the dairy free strawberry mousse and herb sorbet, which was light and refreshing enough to make me feel that I'd justified my decision. I still decided I'd better walk it off though and set off for another stroll round Helmsley which was quieter now in the evening sun than it had been earlier in the day, the shops shut for the night.
The next morning, I swam in the heated outdoor pool and got chatting to Vicky, a local lady with a spa membership who swims in the pool every day before work, even in the midst of winter. She once swam when it was minus 4C. Rather her than me. She was full of praise for the Feversham staff, many of whom have taken the trouble to get to know her by name. "It really is a lovely place, and they make everyone feel welcome," she said. I agreed with her.
"Thankful for the experience"
I also sampled the hot tub and several of the other spa facilities. The aromatherapy room with its soothing scent, the salt inhalation room, the foot spa and the sauna. The spa opens at 9am and it was quiet at that time of the day, perfect for enabling a bit of meditation before I had to pack up and leave, rather begrudgingly. I didn't want to leave this haven of tranquillity and head back out into the real world.
As I pulled out of the car park in the shadow of the town church, I was thankful for the experience I'd had at this old coaching inn, rebuilt and renamed in 1855 by the Earl of Feversham. This is a charming top-class hotel and spa with charming staff. No wonder they don't need to shout about what they offer; quality always speaks for itself.
Feversham Arms Hotel & Verbena Spa
High Street, Helmsley
North Yorkshire
YO62 5AG
DBB from £268 in a Standard room (2 adults sharing)
Min prices from £160 BB in a Standard Double during high season
fevershamarmshotel.com
01439 770766