Halo Therapy at Ye Olde Bell Spa – Review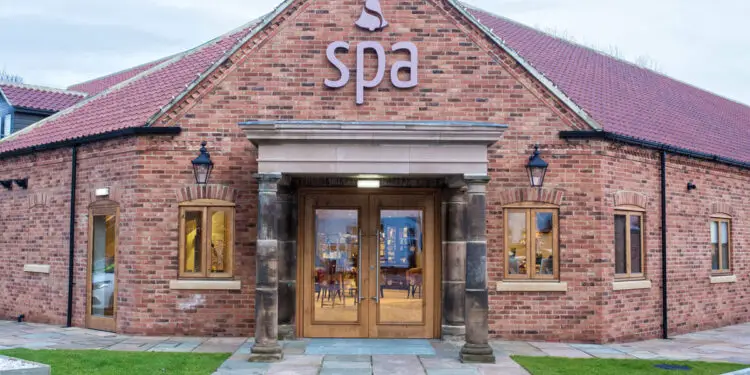 By Helen Johnston
Aaaaaand relax. I had almost given up on seeing the inside of a spa this year, so to find myself glowing in the UK's first Halo-IR therapy at Ye Olde Bell was the stuff of dreams.
Outside the fog was descending on another dark tier three afternoon, but inside all was warmth, soft lighting and soothing music. After nine months of being on the Covid lockdown rollercoaster this was a chance to switch off and leave the madness behind.
I shoved all the stresses and strains of 2020 into the locker with my clothes and wrapped myself in a big, fluffy robe ready to swap the real world for a few, luxurious hours in the timeless serenity of spa world.
"Menu of lights"
Halo-IR therapy (£35pp) is a new treatment which combines salt and light therapy. It arrived earlier this year at Ye Olde Bell and promises hidden benefits on everything from relieving congestion, to soothing joints and aiding digestion.
The therapy is delivered in what looks like a mini sauna in the middle of a double treatment room on the upper floor. It seats two people and there is a unit on the outside of the cabin called a Halogenerator which crushes salt into microscopic particles ready to be dispersed. Guests are supplied with a menu of lights to choose from, with details of the benefits each colour brings. Each colour of the spectrum is said to provide different effects.
We chose blue for its anti-inflammatory properties and yellow for improving skin. The recommended time for the treatment is 20 minutes and we were advised to either choose two colours for ten minutes each, or if we couldn't decide which colours to have, to let the system go through all of them. There is a switch on the side of the cabin light which allows you to select whichever colours you fancy.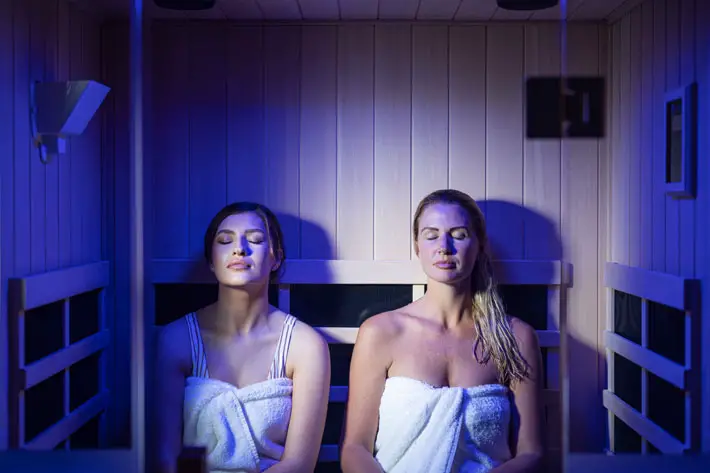 "Huge benefit"
The beauty of Halo-IR therapy is that you can choose for yourself how high you want the temperature to be. The cabin was at 27C when we got in and had gone up to 42C by the time we got out. This gradual increase in temperature was comfortable and gave us chance to adjust, a contrast to walking straight into a red hot sauna. There is a panel on the inside detailing the temperature and counting down the minutes, allowing for adjustments to be made by guests.
Did it work? I would say yes. It definitely acts as a decongestant because when we emerged from the cabin, I could smell a pleasant scent in the room which I hadn't noticed on the way in. Likewise with the herbal laconium in the spa – when we arrived I couldn't smell the herbs, but I could smell them when we went in after the Halo-IR therapy. My joints also felt easier. Certainly, I found sitting for 20 minutes relaxing in the light and heat was of huge benefit for clearing my mind and allowing me to relax properly.
Ye Olde Bell spa offers a range of hot and cold treatments which can be alternated as you walk round. We started with the laconium and then moved on to the stone bath. This was less intense than the steam bath where the air hangs heavy with moisture.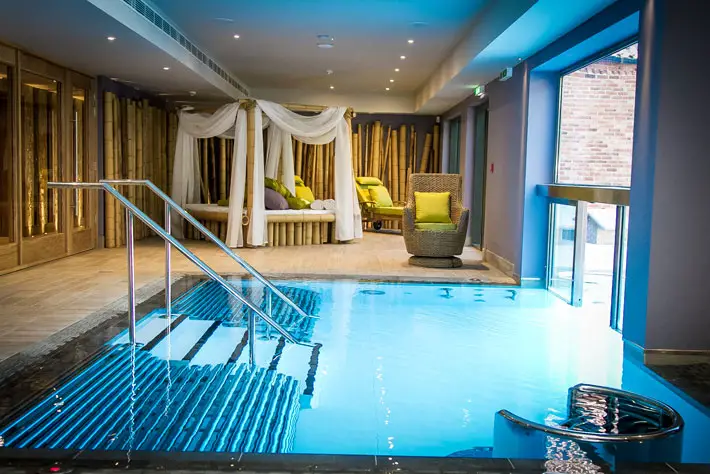 "Felt incredible"
The Alpine sauna is a scorching 80-95C, and I just about managed the recommended 15 minutes. The large glass windows look out on the courtyard where the lights decorating the log cabin seating area were twinkling in the gathering darkness, providing a touch of Christmas.
The dash through the snow walk made me gasp as the icy shower landed on my back, but the shower walk is a bit less of a shock with a mix of lukewarm and cold showers. The brave can pull a rope at the end to have a bucket of cold water dumped on them. I am not brave. After all that mix of hot and cold it was nice to get into the temperate air of the salt inhalation room to lie on a lounger and take stock.
One of the best experiences was the pool, which is part indoor and part outdoor, a sliding glass door separating the two halves. It was like stepping into a warm bath and it felt incredible to swim outside and yet not feel the December chill because of the heat from the water. There are various massage experiences operated by the press of a button and my favourite was the waterfall which is great for giving tense shoulders a good pummelling.
The friendly spa butlers kept us topped up with iced water throughout our visit and we finished off relaxing on loungers until it was time to get dressed and head next door to pick up our pre-booked takeaway. With our delicious steak and ale pie and vegetarian lasagne in hand we made our way home, rejuvenated and relaxed, to tuck in. Tier three can't keep us down.
Ye Olde Bell Spa, Barnby Moor, Retford, DN22 8QS
01777 705121
yeoldebell-hotel.co.uk/spa
We felt reassured by the Covid-safe measures put in place. These include:
Restricting number of guests by half to a maximum of 30
Guests can only visit with someone else from their social bubble
Time slot for arrival
Temperature check at reception
Sanitised lockers
More frequent cleaning of areas touched by guests
Hand sanitiser for guest use
Triple filtration system in pool with chlorination at level to kill Covid
Water checked four times a day.