Crash (1996) – Film Review
Director: David Cronenberg
Cast: James Spader, Holly Hunter, Elias Koteas 
Certificate: 18
by Sarah Morgan
'Sex and car crashes' reads the tagline on one of the posters for David Cronenberg's 1996 movie, arguably the most controversial entry on his often near-the-knuckle CV.
If you're a film fan of a certain age, chances are you'll remember the furore surrounding its big screen release. Some critics claimed its depiction of erotic acts and violence were distasteful or offensive, and there was even an attempt to have the movie banned in Britain.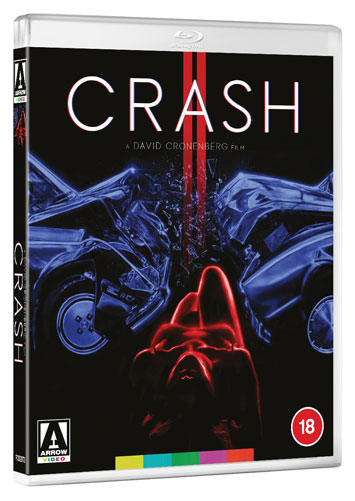 That probably drove more people to see it, allowing them to make up their own minds about its merits or otherwise. Almost a quarter of a century on, Crash still packs a punch and, you would imagine, modern audiences would continue to find it shocking.
"Pulls no punches"
The story is based on JG Ballard's 1973 novel of the same name and focuses on a movie producer (also called Ballard) who, after being involved in a serious car accident, becomes embroiled with a group of symphorophiliacs – they are aroused by car crashes.
Cronenberg pulls no punches in showing this in action via a series of unsexy sex scenes linked to automobile smashes. The viewer becomes a voyeur to the group's activities, and because the characters are so strange and the atmosphere so clinical, it's difficult to engage with them as people.
Perhaps the director never intended his audience to empathise with them – or maybe he felt they didn't deserve any sympathy.
James Spader heads the cast as Ballard who, despite being married to the beautiful Catherine (Deborah Kara Unger), is clearly lacking fulfilment, which he eventually finds via the group.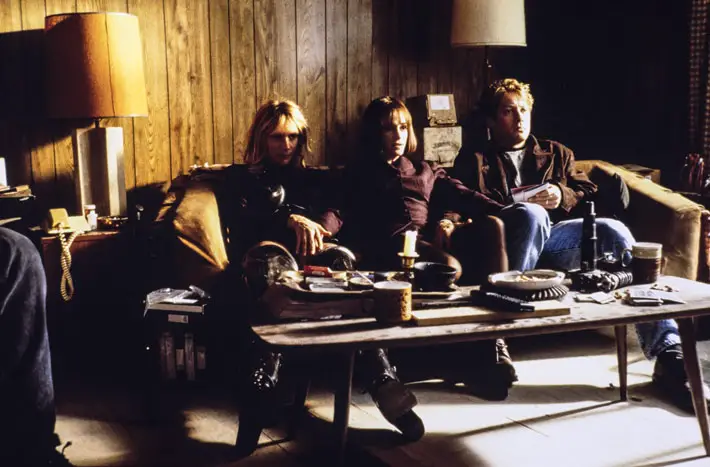 "Excellent adaptation"
Elias Koteas is as mesmerising as he is disturbing as Vaughan, their leader, who even re-stages famous car crashes – including the one that killed James Dean – as a pastime. Among his followers are Holly Hunter as the doctor involved in Ballard's initial accident and her acquaintance Gabrielle (Rosanna Arquette), who still bears the scars of an earlier incident and takes part in perhaps the film's most shocking scene.
JG Ballard thought Crash was an excellent adaptation of his work; I'm not as impressed. It fits into Cronenberg's fascination with body horror, but I prefer his earlier films Shivers, Rabid and The Brood. It does, however, provide a bridge between those cult offerings and his more accessible later works, including A History of Violence, Eastern Promises and Maps to the Stars.
There is, however, a plethora of special features to enjoy, including interviews with key crew members.
Blu-ray Special Features:
• 4K restoration of the uncut NC-17 version, supervised by director of photography Peter Suschitzky and approved by director David Cronenberg
• High Definition Blu-rayTM (1080p) presentation
• 5.1 and 2.0 Stereo DTS-HD Master Audio
• Optional English subtitles for the deaf and hard of hearing
• Brand new audio commentary with film scholar Adrian Martin
• Cronenberg Challenge – new interview with director of photography Peter Suschitzky
• Mechanical Animals – new interview with executive producer Jeremy Thomas
• The Shore Thing – new interview with composer Howard Shore
• License to Drive – new interview with casting director Deirdre Bowen
• 2019 Q&A with Cronenberg and actor Viggo Mortensen at TIFF
• 1996 Q&A with Cronenberg and source novel writer J.G. Ballard at the National Film Theatre in London
• Behind-the-scenes footage and contemporary press interviews
• Architect of Pain: The Cronenberg Project—brand new video essay by Caelum Vatnsdal on Cronenberg's use of architecture and location
• Crash! (1971, 18 mins)—short film originally broadcast as part of the BBC's Review series, starring J.G. Ballard and loosely adapted from his 1970 novel The Atrocity Exhibition
• Two short films inspired by Ballard and the novel Crash: Nightmare Angel (Zoe Beloff, 1986, 33 mins) and Always (crashing) (Simon Barker and Jason Wood, 2016, 14 mins)
• Two Cronenberg short films: The Nest (2013, 10 mins) and At the Suicide of the Last Jew in the World in the Last Cinema in the World (2007, 4 mins)
• Original Trailers
• Fully illustrated collector's booklet featuring new writing by Vanessa Morgan, Araceli Molina, Jason Wood and Zoe Beloff, and a reprinted excerpt from Cronenberg on Cronenberg
• Fold-out double-sided poster featuring original and newly commissioned artwork
• Limited edition packaging with reversible sleeve featuring original and newly commissioned artwork by Gilles Vranckx
Crash is released on Blu-ray by Arrow, £29.99