Morrissey – Live Review – Leeds Arena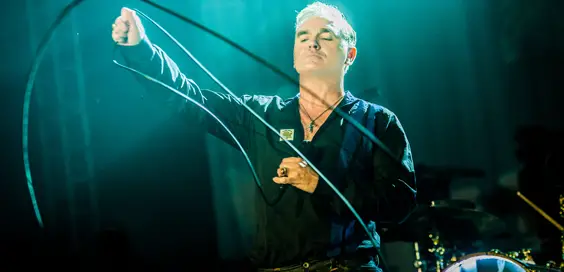 By Victoria Holdsworth, February 2018
This evening, Morrissey invites people to come and watch a video prior to his show. In other words he is too tight to have a support act. However, there is a huge screen erected on the stage with a giant photograph of the actor Peter Wyngard, and after having to look at it for about an hour, the crowd becomes a little restless. And there are two people thrown out for fighting before the night has even begun.
We are then entertained by a series of music videos by Mozza's favourite bygone artists such as The Ramones, Paper Dolls, Human League, James Brown, The Sex Pistols and Dionne Warwick – and then some forgettable ones like Tatu, who just happened to sample 'How Soon Is Now'.
After another hour, Morrissey finally takes to the stage, in front of a picture of Elvis and belts out Presley's 'You'll Be Gone'. Not quite what I expected, but after an acknowledgement of the crowd, the man of the hour says that it's an honour and a privilege to play in Leeds. [Naturally]
"Concerned"
'I Wish You Lonely', 'Suedehead' and 'Jacky's Only Happy When She's Up on the Stage' follow in quick succession as Morrissey ploughs on barely taking a breath – and all the while the backdrop flicks through faces of old movie stars…
'Home is a Question Mark' is a stand out tonight, and even though Morrissey seems to have a 'get on and off as quick as you can' agenda, I will give him his dues, his voice never falters and he sounds remarkable.
The large screen then changes to a sombre image of a plane wreckage on fire, and as Manchester's most famous son sings: 'We love them, we mourn for them, unlucky boys of Red,' the imagery is pretty ghastly and I cannot help thinking if Leeds is the right location to be playing 'Munich Air Disaster 1958'. Then, right on cue, there is more fighting in the crowd below.
He quickly moves on with the timeless 'I Started Something I Couldn't Finish' from the final Smiths album, 1987's Strangeways, Here We Come. 'Who Will Protect Us From The Police?' again sees the imagery on the screen change to depict scenes of extreme police brutality. Although we all see things like this in the news I am a little concerned that a large number of the audience are young children, there with their parents, and perhaps some of this is just a little bit too much. It continues through to the next song, a sombre 'World Peace is None of Your Business'.
"Continues to fascinate"
Later, during 'The Bullfighter Dies', there is gut wrenching footage of bulls being gored to death, which yes, does get a point across,. However, it is not something I really want to have forced upon me at a gig, whoever the artist is.
'Jack the Ripper' leads into the second cover version of the night, with a convincing rendition of The Pretenders' 'Back on the Chain Gang'. 'I Bury the Living' and 'When You Open Your Legs' show why Morrissey's material continues to fascinate. It's aged gracefully, but it's also very much of a time and a place, which styles it somehow to feel both comfortably nostalgic and daringly new at the same time.
Morrissey thrills the audience by including a few more Smiths songs in the set. The one that really had fans swooning is 'How Soon Is Now?' which draws an epic sing-along from the crowd. 'Spent The Day in Bed' urges the thousands of Mozzettes here tonight into a bouncing, quirky pop-rock sing along, to declare that they will 'Stop watching the news / Because the news contrives to frighten you'.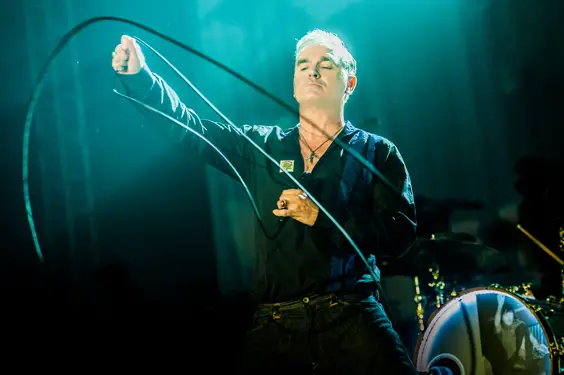 "Hilarious"
'Hold on to Your Friends' and 'Every Day is Like Sunday' pretty much conclude the night's set list, and the fans mill around expectantly for the encore. Five minutes later, the quiffed wonder returns, and races into 'Irish Blood, English Heart'.
As the last notes sound, Mozza rips off his shirt and throws it to the crowd. Hilarious, not because of his jiggling man boobs, bow legs, and middle age paunch, but because it looks like someone throws his shirt back at him.
While the crowds made their way silently out of the arena, into the freezing night air, I can't help thinking that it could have been so much better than it actually was. Looking around at some miffed Mozza fans faces, I realise just how hard it is sometimes to be a Morrissey fan. Tonight is yet another one of those nights.