71 Coltman Street – Review – Hull Truck Theatre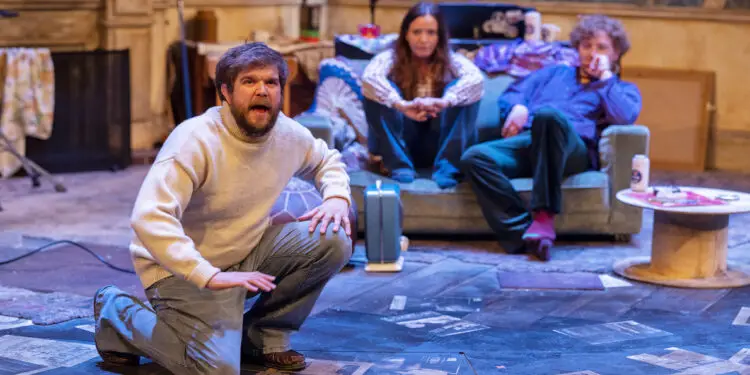 By Rachel Howard, March 2022
Ok, I'll admit it, I'm not always proud to say I'm from Hull. The dreaded question "where are you from?" often warrants a response along the lines of "er… East Yorkshire"; "hmm… not far from Beverley" or, if pushed, "the outskirts of Hull". Let's face it, Hull often gets a bad rap.
BUT… having lived here all my life, there are quite a few things I am happy to say I am proud of. The historical heritage of the city, the architecture of the Old Town, the community spirit, the live music scene and not forgetting the institution that is Hull Truck Theatre, which is currently celebrating its 50th anniversary.
It is with this celebration in mind that I set foot through the doors of the theatre to watch 71 Coltman Street, a production written by Richard Bean and directed by Mark Babych, charting the founding of the theatre by Mike Bradwell back in 1972.
71 Coltman Street (just off Hessle Road, or 'Essle Rerd' to the locals!) is the setting for the evening. A tired, dark, cold and stale-looking house is the rather unlikely backdrop to the story. But it is here that a group of wannabe out-of-work actors gather in the hope of creating an experimental theatre company. They want to create theatre for normal people – theatre that is "uncompromising, provocative, funny, tough, sexy…" But why choose Hull you may ask? Well, as Mike replies "…it's better than Stratford, because if you sign on there, there's a chance they will find you a job!".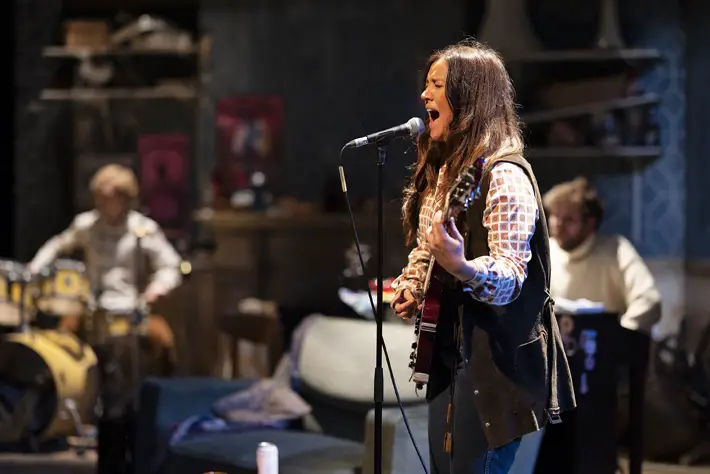 "Big laughs"
This self deprecating view of Hull is a recurring theme – and the one that receives the most laughs throughout the night. With (i'm guessing) the vast majority of the crowd being locals, it's fair to say we can all have a good laugh at our own expense, and Richard Bean's production gives us plenty of opportunities to do just that.
As you would expect from a Hull Truck production, the excellent cast are the powerhouses that really drive the show – and at 3hrs long this production relies heavily on that. But luckily the casting is stellar – headed up by an assured Kieran Knowles as Mike Bradwell. Completing the gang at 71 Coltman Street is Lauryn Redding as Linda, Laurie Jamieson as Stew and Hanna Khogali as Bea. But my personal favourite is Jordan Metcalfe as Julian – a loveable yet frustrated know-it-all who takes on the role of vicar in the group's first play. Superb comedy timing and a twinkle in the eye help to make Julian my star of the show – not to mention some seriously skilful drumming!
The big laughs of the night belong to formidable landlady Mrs Snowball, portrayed flamboyantly by the wonderful Joanna Holden, and Mrs Snowball's son, Our Seth, played by Adrian Hood. Mrs Snowball is a natural-born Hullensian if ever there was one – knowing laughs fill the room with her colloquialisms and humour. We've all known a Mrs Snowball and the portrayal is spot on.
The intimate nature of Hull Truck Theatre means the cast are literally amongst the audience at times, and there is even a spot of audience participation in the shape of a bingo game in the second half. All of which come together to make those 3hrs fly by.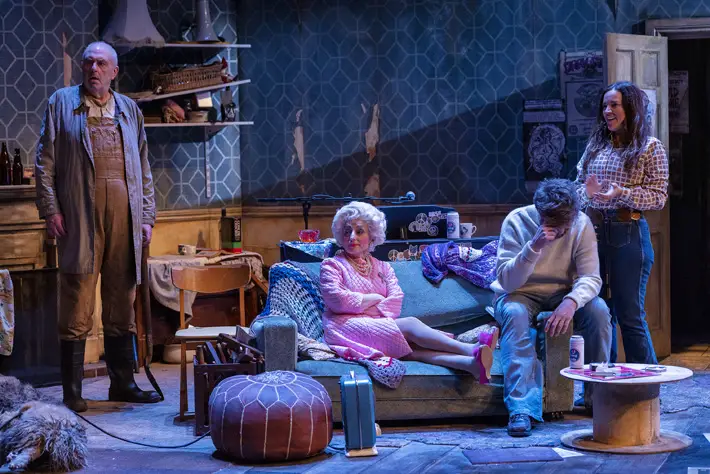 "Great production"
I am surprised by the number of musical numbers in the show – in fact I'm confused at times as to whether I am watching a play or a musical. But, nonetheless, they are used tactfully to inject humour and emotion into key scenes – and work as yet another tool to demonstrate the talent on stage.
It certainly wasn't an easy road to success for the founders of Hull Truck (named after the truck they used to travel extensively in the early days). In many ways, it's a wonder Mike Bradwell's dream took off at all. In a city about as far away from the bright lights of London's West End as you can get, you wouldn't have bet money on them selling out someone's front room, never mind a full theatre. But while watching the struggles, we (the audience) are safe in the knowledge that the theatre company did indeed make it to the big time. And not only that, but here we are 50 years on, celebrating the local institution with a show that is everything Bradwell and co had hoped for – "uncompromising, provocative, funny, tough, sexy…"
Congratulations Hull Truck, not only on a great production, but also 50yrs of bringing theatre to the masses. You're something we can all be very proud of. Here's to the next 50 – keep on Trucking!