Introducing: Carmen McLean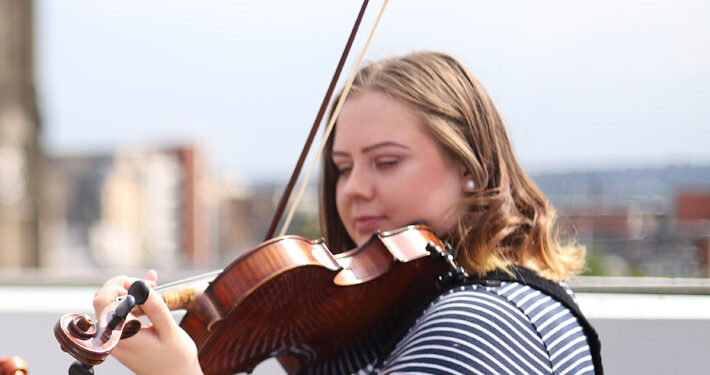 Gentle beauty from Leeds violinist and songwriter…
YOUR NAME: Carmen McLean.
HOW LONG HAVE YOU BEEN PLAYING MUSIC? 14 years.
ANY PAST BANDS OR COLLABORATIONS WE SHOULD KNOW ABOUT? No.
GIVE US 3 REASONS WHY WE SHOULD TRACK DOWN, LISTEN AND DISCOVER YOUR MUSIC?
What else are you going to be doing with your day during lockdown? Plus there's nothing quite like singing/ugly crying in the shower to your favourite bop, and I'd say this is a pretty good song to sing/ugly cry to! In all seriousness, the song was written in difficult circumstances, and I'm hoping it will give those who listen to it a sense of unity. In my single I talk about 'slowing down' – finding the time to learn new things and listen to new music. Perhaps this is a sign to take the time to listen to my single, who knows? It could be your new favourite. As a violinist, I have recorded the solo violin parts by myself, from my bedroom, during lockdown. In fact, the whole single was recorded by me and my partner in her bedroom! We worked remotely with a producer and drummer to pull this single together, and I am really proud of it.
WHERE DO YOU SOUND BEST – FESTIVAL, CLUB, BEDROOM – OR SOMEWHERE ELSE?
I sound best in the shower, but unfortunately that isn't a viable option. Aside from that, I sound best in my bedroom, recording with a cup of tea beside me. Having formed my band just before the lockdown was enforced, I have never performed with my band before, only by myself!
WHAT WAS YOUR FIRST RECORD?
My very first CD was Miley Cyrus's 'Breakout' which I bought with my pocket money at age 11 – shameful I know, but I think we all need these phases where we are perhaps listening to music which we one day won't enjoy listening to, I think it's part of finding your musical maturity and taste. My first download was Girls Aloud's Chemistry album – again not my proudest moment, but who can honestly say they aren't embarrassed by the music they listened to aged 8? At the time, I appreciated their catchy motifs and slightly inappropriate lyrics.
SO, WHEN IT ALL GOES RIGHT AND YOU'VE GOT A BOTTOMLESS PIT OF MONEY AND LONG QUEUE OF HANGERS-ON, WHAT WILL BE YOUR BIGGEST MUSICAL INDULGENCE?
I would absolutely love a pair of very fancy headphones. At the moment, I can only afford £15 Sony ones, but my friend has a pair of extremely expensive ones that sit in your ears and over your ears, and they personalise your sound. There is honestly nothing quite like it – it feels like you're listening to colour. I feel like I hear sound better in those headphones than I do with my actual ears! I'd also quite like a Stradivarius violin if I can afford it, though I think they start at £2 million, so realistically it's not going to happen.
SO, WHEN IT ALL GOES WRONG AND YOU'RE LEFT BITTER AND TWISTED AND CURSING THE MUSIC INDUSTRY, WHAT DO YOU FALL BACK ON?
I have always said if I wasn't a musician, I'd be a hairdresser or a detective – one of those two. I feel like with my nerves I wouldn't quite be suited to the high-thrill detective lifestyle so hairdresser it is! Saying that, I am also interested in therapy, so I would love to be a therapist and help people, mostly for the fancy armchair though. My mum is a great therapist, and seeing how hard she works to help her clients get to the deepest, darkest parts of themselves is very inspiring to me.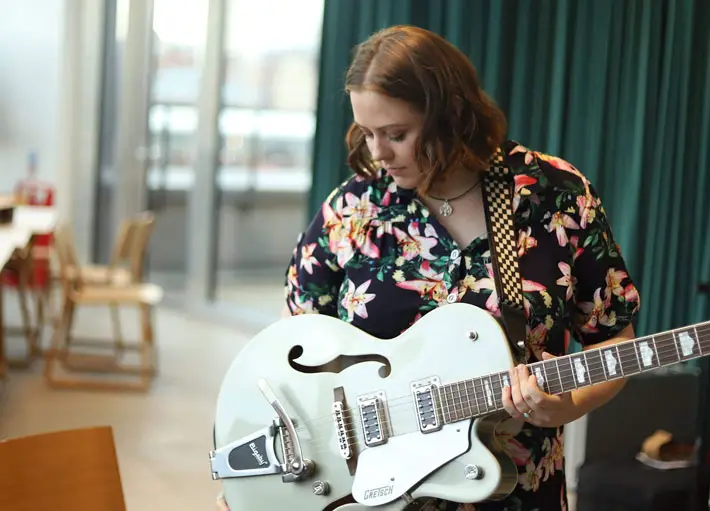 WHAT ARE YOUR MUSICAL GUILTY PLEASURES…
It depends on my mood, but honestly I love a bit of cheesy 2000's pop on a Friday night! Steps and S Club 7 get me bopping like nothing else. I've already confessed to my Miley Cyrus and Girls Aloud era so it can't get much worse. I'm also a sucker for a bit of jazz, though I'm not very knowledgeable, and it has to be with a glass of wine or else I get a headache.
WHO ARE YORKSHIRE'S FINEST IN CULTURE, SPORT AND MUSIC?
There are some great artists and bands in the north, I am particularly loving at the moment: Sunflower Thieves, BDRMM, Kairos and Green Gardens. I feel like the north is such a melting pot for great artists to come together, and we have amazing small venues to support that. Unfortunately I am extremely uncultured and have an aversion to sport, so that's all I can offer on that matter. Yorkshire Sculpture Park is great though.
NAME YOUR SUPERGROUP – WHO'S PLAYING WHAT, WHO'S ON VOCALS AND WHO'S YOUR BEZ?
I would have Hozier as lead guitarist/vocalist/all-round general great guy. Probably myself on violin, my partner Izzy on bass, Dave Grohl on drums and I'd stick Lady Gaga on keys for good measure.
GO SEE THIS FILM: American Beauty.
GO READ THIS BOOK: Eleanor Oliphant is Completely Fine.
GREAT LOST BAND/ARTIST: Sandie Shaw.
WOULDN'T BE CAUGHT DEAD SUPPORTING: Oasis.
LONDON, L.A OR LEEDS?: It's gotta be Leeds!
AND FINALLY… AS YOU LEAVE THE STAGE, WHAT ARE YOUR PARTING WORDS?
Thanks to all three of you who came tonight! Bye!
The debut single by Carmen McLean, 'Slow Down' is out on 1st July
For more info visit facebook.com/carmenmcleanmusic