Morecambe and Wise: Xmas at ITV – Review
By @Roger Crow
Though they were undoubtedly the kings of festive TV, the post-1977 Morecambe and Wise Christmas specials are a mixed bag. That said, Eric and Ernie making a film with an oblivious Frank Finlay is a lot of fun in one sketch.
Big name guest stars were never meant to be funnier than the main duo. They just had to show up and remember their lines.
Historically the most interesting edition is the 1979 festive offering, which is essentially a This is Your Life, hosted by David Frost.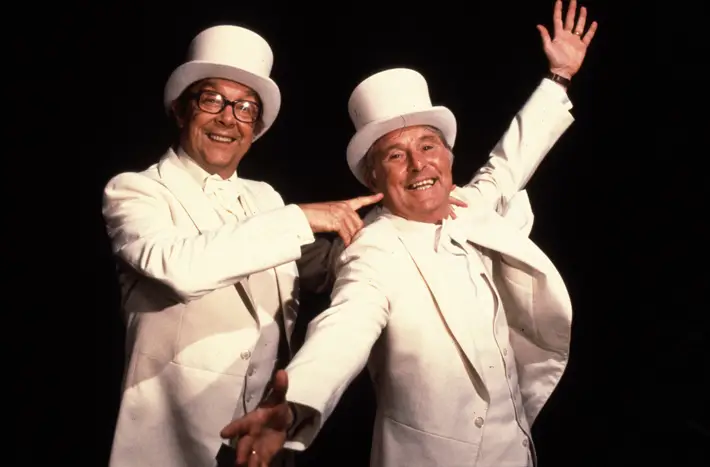 "Huge ratings"
Eric had suffered a heart attack months earlier, so whatever spectacular had been planned was scrapped for something far more sedate. Even a staircase routine at the opening of the show saw a double step in, though naturally Eric milked the situation for all it was worth and proved he was on the mend by running up and down said steps.
Inevitably stars such as good old Des O'Connor showed up, and we got a potted history of the duo, while many wondered if this was the end of an era. Thankfully it wasn't, but things were obviously a lot more relaxed from that point on.
The glorious Jill Gascoigne was rightly an overnight star in 1980 thanks to ITV drama The Gentle Touch, and that's exactly the approach used for her so-so police-centric dance routine.
With comedy tastes changing, and the threat of getting huge ratings hanging like a sword of Damocles over Eric and Ernie, their ITV Christmas specials from 1981 to 1983 were wisely slotted either side of December 25.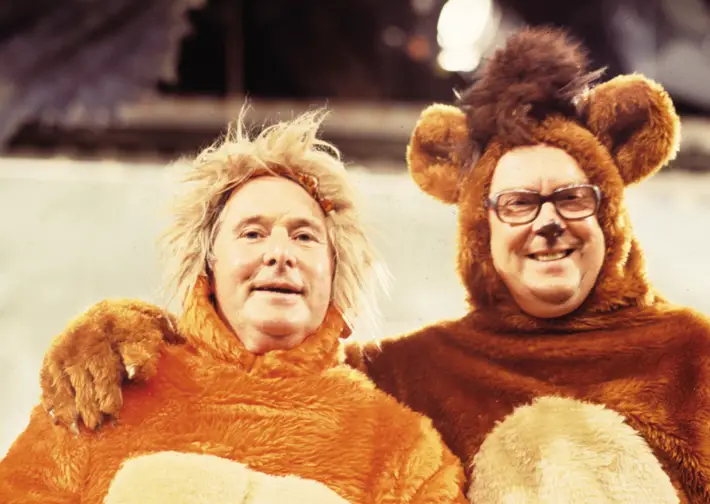 "So likeable"
Okay, a flat-based sketch from 1981 with Ralph Richardson is a tad laboured. Richardson's joke about "Tea Ern" is okay, but as it was a running gag that was more of an institution than a genuine rib-tickler, the overreaction from the rest of the cast, including Robert Hardy, is cringeworthy. (Ralph was far better in Time Bandits and Dragonslayer the same year thankfully).
However, the Julius Caesar sketch with Susannah York and Ian Ogilvy is a joy. Eric's timing really was second to none, as was his ability to recover from a fluffed line. It's often those mis-steps which made the duo so likeable.
Then there's the 1982 festive special when Eric sported a moustache. One so convincing that I suspected it was real, until Ernie ripped it off.
Guest spots by the likes of Denis Healey, Glenda Jackson and Andre Previn pep things up a little. But compared to the 1970s BBC masterpieces at Christmas, there was a real sense Eric and Ernie were sold short.
"Genius"
The pressure of crafting such ratings-pullers may have taken their toll, and those ITV offerings were deliberately a bit more low key. That 1983 Xmas edition is obviously all the more poignant now as Eric passed away the following May. Whether his heart attack was caused by the stress of TV is anyone's guess. Obviously we do know that he had a massive heart, and that's what made his decades in the business so successful. That and his ability to catch nothing in a paper bag and generate laughs every single time.
This two-disc set contains all six Christmas Specials made for Thames Television, half of them unseen since their original transmission.
We didn't know it at the time but nobody would come close to the genius of Eric and Ernie in the decades that followed 1984. Little wonder this stocking filler is all the more precious.
'Morecambe and Wise: Xmas at ITV' is released on DVD by Network, £17.99