Morecambe and Wise at ITV – Review
By @Roger Crow
In the history of great comedy double acts, there are the obvious ones. Laurel and Hardy, Vic and Bob, Ant and Dec, and arguably the best comedy duo to ever hail from these shores, Eric and Ernie. Not that they were hilarious from the word go.
Morecambe and Wise took years to hone the skills many of us revelled in during the seventies and eighties. And thanks to a mammoth collection of discs that arrive one morning, I get to relive all those classics, and a wealth of unseen gems from their early days.
Two of a Kind from 1962 is a fascinating collection of ATV shows in which Eric and Ernie do their comedy routines in front of an audience. It might be a show from early in their careers, but the magic is already there, even if some of the scripts are hit and miss.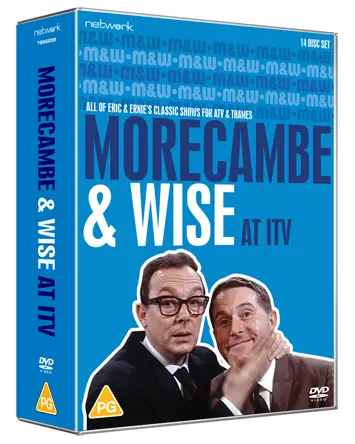 The chat is usually followed by a random musical act, and more comedy from the duo.
"No end of laughs"
Eric doing his Elvis routine is fun, and all the more interesting as his backing singers are writers Dick Hills and Sid Green, who previously penned glorious Anthony Newley saga The Strange World of Gurney Slade.
Not that the scripts matter as much as Eric's ad libs, which is where real magic is formed. It's intriguing to see that even at this point Eric was doing the invisible stuff dropping into a paper bag routine.
Eric gleans no end of laughs from a ventriloquist act, helped by the fact his head comes off in the first few seconds. The dummy's head that is.
Half the joy with these discs is wondering who will turn up next, such as the time in a 1964 episode when Ernie casually introduces The Beatles. The first track is forgettable, but then 'All My Loving' kicks in, and suddenly one of TV's greatest comedy double acts is overshadowed. Lennon seems to genuinely pose a threat to Eric for a split second, like a couple of showbiz behemoths claiming their place in the spotlight. It doesn't take long for Eric to regain the upper hand.
However, Ernie in drag during the following cooking sketch is a lot of fun, especially when Eric picks Ernie up over a fluffed line.
Those Beatles chaps return to close the show with 'I Wanna Hold Your Hand', which at the time must have been even more exciting than the sight of Ernie in a dress.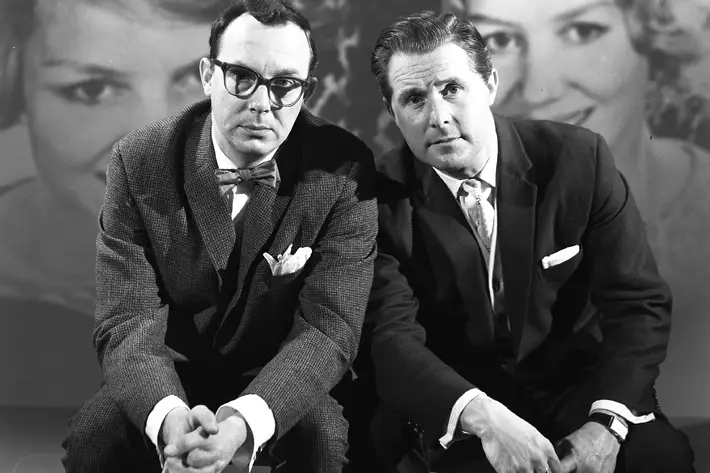 "Sense of joy"
Picture quality varies, but is not bad at all considering the age of the original transmissions. The fact they exist at all when so many classic hours of TV were wiped to save a few quid is remarkable.
It's a fascinating thing seeing the jump from 1964 to 1966 as Eric and Ernie presumably spent a chunk of 1965 making hit-and-miss feature films. In colour!
The films were okay, but the duo didn't really have the material they deserved.
By the time they return, there's a genuine sense of joy that they're back on the box. And the energy of the duo in their youth is also a delight.
This 14-disc set contains all 48 editions of ATV's Two of a Kind (plus many special features from that era) along with all 26 editions and seven specials of Thames TV's The Morecambe and Wise Show.
A must for those who remember the original screenings and those who have never seen these TV gems.
'Morecambe and Wise at ITV' is released on 14-disc DVD Boxset by Network, £70