The Constant Husband (1955) – Film Review
Director: Sidney Gilliat
Cast: Rex Harrison, Kay Kendall, Cecil Parker
Certificate: U
by Sarah Morgan
How ironic – Rex Harrison, a man who married six times, in a film called The Constant Husband. Was it life imitating art, or did Sexy Rexy get ideas about his private life from appearing in this delightful offering from British movie stalwarts Frank Launder and Sidney Gilliat?
Actually, by the time the film was released in 1955, Harrison had been wed just twice, although he'd had a much-publicised and scandalous affair with actress Carole Landis, and would go on to marry Withernsea's favourite daughter, Kay Kendall, two years later – she co-stars here.
"Case of amnesia"
Kendall plays Monica, who is thrilled when Charles, her husband of five months, returns home early from a supposed business trip. Unfortunately, her other half is suffering from a severe case of amnesia and has no idea who she is; he only turns up at all due to some smart detective work by Dr Llewellyn, an expert intrigued by his case.
Charles woke up with his memory gone and is relatively happy about settling back into life with the attractive Monica, until he uncovers a myriad of other identities he's adopted over the years, not to mention various other wives.
Charles then stands trial for bigamy, and his female barrister, Miss Chesterman, is determined to help him escape prison. However, on discovering that all the women with whom he exchanged vows would take him back in an instant, he decides that perhaps a spell behind bars would be preferable to freedom.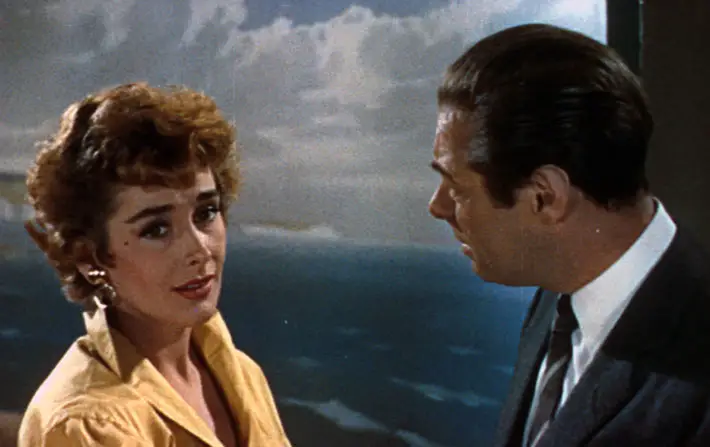 "Emphasis on fun"
It's all rather hokey, but there's a lot of fun to be had in watching Harrison, a natural comedian, cope with the slings and arrows thrown at him, becoming increasingly confused and bemused by the chaos going on around him.
Charles, or Bill, as he's later known, is horrified to find he's something of a dirty lowdown heel, rather than the upstanding man about town he assumed he would be. Some might say that it's rather un-PC to have women fawning and swooning in front of the man who's done them wrong, but that would be churlish indeed. There's no psychoanalytical approach to his ailment either – instead, the emphasis is placed purely on fun rather than science.
The fine supporting cast includes such familiar faces as Raymond Huntley, Michael Ripper, Sam Kydd, Michael Hordern, George Cole and Margaret Leighton; the latter plays Charles/Bill's legal eagle, who also isn't immune to his charms.
The Constant Husband is released on Blu-ray by Network, £17.99