Spider-Man: Far From Home (2019) – Film Review
Director: Jon Watts
Cast: Tom Holland, Jake Gyllenhaal, Zendaya
Certificate: 12A
by @Roger Crow
There was a time I'd have been there on the opening day for a new Spider-Man film. It was an event, like Christmas, but with so many of them since 2002, it's become something of a semi-regular occurrence. Every few years they roll another one out until the actors look too old or want too much cash, then they reboot.
However, in recent years Spidey has enjoyed something of a glorious renaissance. The sublime Spider-Man: Homecoming did a great job of relaunching the saga; boasted one of its best villains in Michael Keaton's Vulture, and Tom Holland settled into the hero role nicely.
Following a couple of terrific spin-offs, Venom and Into the Spider-Verse, the wall-crawler returned with an idea I'd long hoped for: Spidey outside of his native New York. For years it seemed the obvious choice to give Spider-Man a new lease of life by changing the city in peril. After all, six standalone films set in New York does tend to become a bit samey.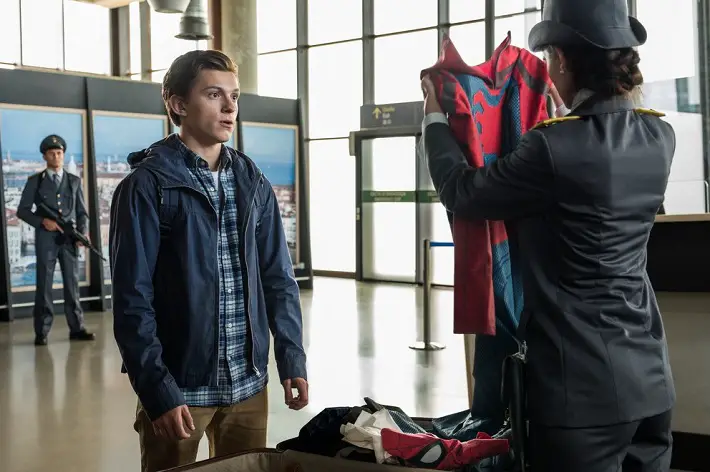 "Fills in the blanks"
Which bring us to Far From Home, a sort of National Lampoon's European Vacation. Only funny.
Following the teaser intro in which Nick Fury (Samuel L Jackson) and Maria Hill (Cobie Smulders) encounter otherworldly protagonist Mysterio (Jake Gyllenhaal), we launch into a terrific spot of exposition which fills in the blanks between Avengers: Endgame and this movie. The five-year gap caused by half of life in the universe being wiped out then eventually restored is brilliantly explained before we move on to Peter Parker's holiday in Europe.
He's besotted with MJ (a superb Zendaya), but has to pick the right moment to confess his feelings. Sadly attempts on the flight backfire, his best mate Ned (Jacob Batalon) gets loved up, and our hero winds up being awkward in Venice as bad things start occurring. When Mysterio shows up and defeats elemental bad guys, the scene is set for a spot of bromance. But there's more to the case than meets the eye.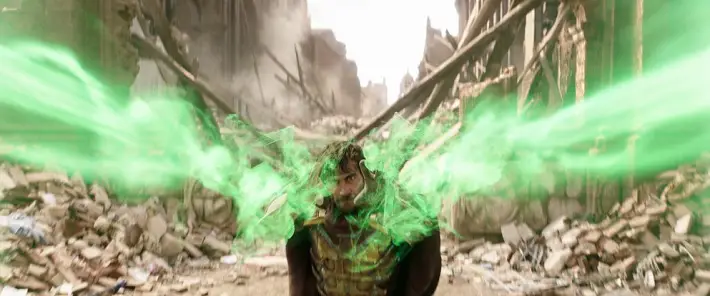 "Pacing is excellent"
If you can get over those awful scenes where masks once more appear out of thin air thanks to nano particles (aka, a bunch of CG jockeys digitally painting the masks on and off Spidey or Mysterio's face, to dreadful effect) the rest of SMFFH is outstanding.
The whip-smart dialogue is excellent; Jon Favreau and Marisa Tomei have a ball as the covert, loved up guardians Happy and May (she's still way too sexy to be Aunt May, but no complaints here), and the third act scene when Peter designs his own suit is lump-in the-throat, dust-in-the-eye brilliance.
The pacing is excellent and though the twist when it comes is inevitable and far fetched even for a Spider-Man movie, it's handled so well, who wants to argue?
Then there's Tom Holland, who has now proved his worth several times as arguably the best screen Spidey to date. His chemistry with Zendaya is perfect, and they play the whole "Will they won't they?" schtick beautifully.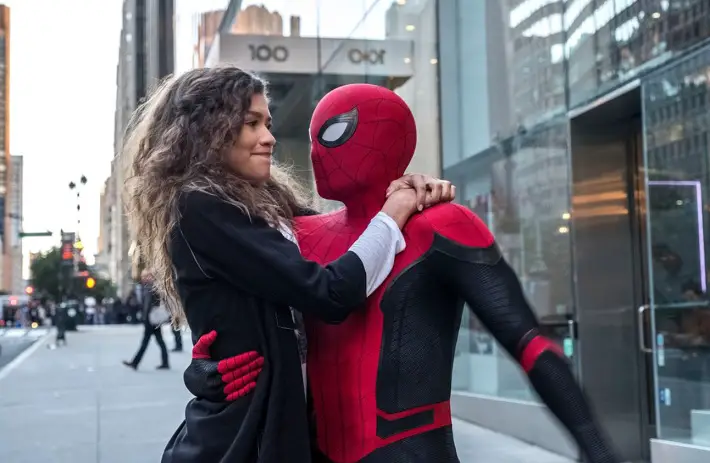 "Brilliance"
It zips along, features no end of gags ('Night Monkey' being an hilarious Spidey aka), and when Parker does suit up, its nice to see some of that awful CG mask work put on hold.
The fact I sat through this twice in a week is testament to its brilliance. And as someone obsessed with an Oscar-winning actor's portrayal of a certain character for the first time in 12 years, the best is saved for last.
Stan Lee would have been proud of how good one of his greatest comic/screen creations is right now. And as long as cast and crew don't drop the ball with that third Spidey 'Home' movie, for this life-long fan, that next adventure cannot come soon enough.
Spider-Man: Far From Home is out now