Jungle Fever (1991) – Film Review
Director: Spike Lee
Cast: Wesley Snipes, Annabella Sciorra, Samuel L Jackson
Certificate: 18
By Sarah Morgan
"She's gone black-boy crazy, I've gone white-girl hazy/We've got jungle fever, we're in love".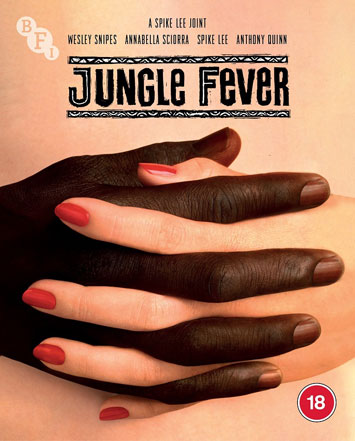 So sings Stevie Wonder on the soundtrack for Spike Lee's 1991 drama dealing with interracial romance. Wonder is summing up the relationship between married Flipper Purify, an affluent black architect, and his new secretary, Italian-American Angie Tucci. It's quite an upbeat, chirpy song, which is in stark contrast to the rest of the tension-filled movie.
"Escape route"
It was made during the early years of Lee's career, but he was on a roll, having already directed She's Gotta Have It, School Daze, Do the Right Thing and Mo' Better Blues; he would follow it a year later with the amazing Malcolm X. Lee was certainly well on the way to becoming the force to be reckoned with we know and admire today.
Wesley Snipes plays Flipper (it's a shame he has such a ridiculous name, however. It detracts from the seriousness of the storyline), who appears to be happily married at the start of the film, but can't resist Angie (Annabella Sciorra). His reasons for being tempted are a little hazy – his aggrieved wife suggests he's always been attracted to white women and fell for her because she was light skinned.
For Angie, it's more clear cut. She's been dating a local boy for years and has been taking care of her brutish father and brothers since her mother died; Flipper provides an escape route from her dull and miserable domestic set-up. But it seems that neither of them is prepared for the fallout their relationship will cause – racism rears its ugly head on both sides.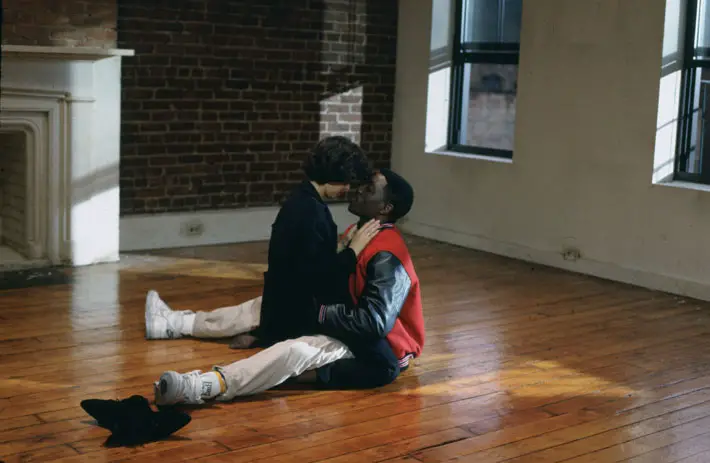 "Very special"
As well as teasing out fine, arguably career-best performances from his leads, Lee also has a superb supporting cast to call on. Samuel L Jackson is a stand-out as Flipper's crack-addict brother Gator; veterans Ruby Dee and Ossie Davis (whose religious character was, I suspect, inspired by the father of Marvin Gaye) are superb as their parents.
In her film debut Halle Berry plays Gator's girlfriend, while John Turturro is sweet as Angie's discarded boyfriend. Other familiar faces popping up include Queen Latifah, Brad Dourif, Anthony Quinn, Tim Robbins and Lee himself.
Even the smallest of roles is important as the writer-director weaves several entwined stories together to create something very special indeed.
Jungle Fever may be 30 years old, but it's still as relevant as ever. Lee once again proves himself to be a master storyteller, managing to cram in a variety of social issues into just over two hours of non-stop drama.
Special features:
· Presented in High Definition
· Newly recorded audio commentary by filmmaker and film historian Jim Hemphill
· The Independent Interview With Spike Lee (2009, 74 mins): as part of the BFI's season Fight the Power: Do the Right Thing in Context, Spike Lee was interviewed on stage at the BFI Southbank by politician David Lammy
· Archive featurette (1991, 8 mins): short film about Jungle Fever with contributions from Spike Lee, Wesley Snipes, Annabella Sciorra and John Turturro
· Top Deck (1962, 30 mins): a tale of love won and lost told through a changing, often jaunty, soundtrack, with location filming focusing on bus conductor Marlene and her African American boyfriend, US airman Johnny
· Original theatrical trailer
· Image gallery
Jungle Fever
is released on Blu-ray by the BFI, £19.99