Spider-Man: No Way Home (2021) – Film Review
Director: Jon Watts
Cast: Tom Holland, Benedict Cumberbatch, Zendaya
Certificate: 12A
By @Roger Crow
Has it really been almost 20 years since Tobey Maguire starred in the first of many blockbuster movies based on Marvel Comics' enduring wallcrawler?
Afraid so, and while that inaugural film was terrific, the follow-up was even better, a peerless sequel which still stands as the best of the bunch.
A shame the third flick was such a car crash, suffering from too many disjointed moments and that cringeworthy strutting Parker routine.
After a break, Andrew Garfield stepped into Peter Parker's boots as you know who. The first of his two films featured a stand-out scene involving cranes, and a rubbish villain in The Lizard. And after that sucker punch ending of The Amazing Spider-Man 2, Garfield was benched in favour of a younger model.
Many of those early Spider-Man epics featured loose threads which left fans hungry for more. The demise of key antagonists felt like they should be readdressed at some point.
"Little chance to catch your breath"
But superhero franchises using different actors as iconic protagonists rarely do that thing which Doctor Who has achieved over the years: have alternate versions of the time-travelling hero comparing notes with himself while tackling a threat.
Thankfully the presence of Doctor Strange means anything is possible in this version of the Spiderverse.
The plot picks up after the events of Spider-Man: Far From Home. Framed by Mysterio, and outed as Peter Parker, the teen is on the run from the authorities while dealing with the breakneck break up of Happy Hogan (Jon Favreau) and Aunt May (Marisa Tomei).
The first act, like many of the previous Tom Holland Spider-Man movies, feels like it was edited by someone with ADHD. There's little chance to catch your breath before we unpack bite-sized chunks of exposition and Spidey whisks girlfriend MJ (the sublime Zendaya) to safety.
All of this looks phenomenal at York Cineworld's IMAX screen. Those vast New York cityscapes are pin-sharp, and there's a real sense of immersion as our friendly neighbourhood teenager clashes with bad guys and attempts to get his fellow students into their college of choice. Bad press thanks to J Jonah Jameson's online scandal channel has made that almost impossible.
(So good to see JK Simmons back as an iconic character so watchable, I'd happily watch him just berating people for 90 minutes).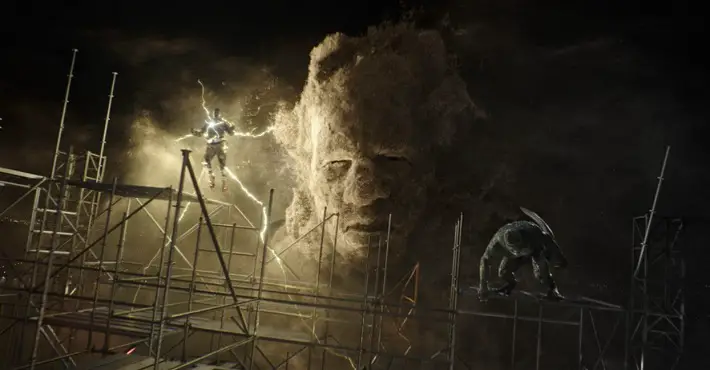 "Tear-jerking moments"
There are moments I want to just freeze the frame and soak up that epic scope, especially when Strange clashes with Spidey in that eye-popping scene involving folding cityscapes. IMAX doesn't always work for some films, especially a movie like The Suicide Squad, when the image seemed unintentionally grainy. In SMNWH, it's every bit as good as I'd hoped. And then some.
There is so much going on in the latest MCU epic that I'm glad there is time to catch your breath in the second act. And the ongoing irritant of hero clothes and masks appearing out of thin air thanks to nano tech is thankfully dialled down after a breathtaking first act showdown.
If you're a fan of Marvel's TV shows, it's great to see a cameo from a masked favourite. And for those who followed Spidey's movie adventures since 2002, there's a feast of Spider-Man: No Way Home in-jokes, subtle references to the Spiderverse, and a few tear-jerking moments that provide the necessary dramatic heft for the often gravity-defying hero.
Although impressive, that epic smackdown was a bit by the numbers. Falling heroes? Check. Industrial backdrop? Check. Things happening with whip-fast speed? Check. But if a formula ain't broke, why fix it?
On the plus side, Michael Giacchino does a fabulous job with his often rousing score, especially that emotional track at the finale.
Talking of which, the Capraesque elements are beautifully handled, not least because Holland and Zendaya are such an adorable screen couple. Jacob Batalon (surely a Pointless answer) is also back as Pete's BFF Ned, and after a cameo in Shang-Chi, Marvel regular Benedict Wong pops up as deadpan sorcerer, Wong.
Benedict Cumberbatch once more gives a superb turn as Strange, and soon there will be a sense of things going full circle as original Spider-Man trilogy helmer Sam Raimi directs the cocky sorcerer's interlinked sequel. That hits cinemas in a few months.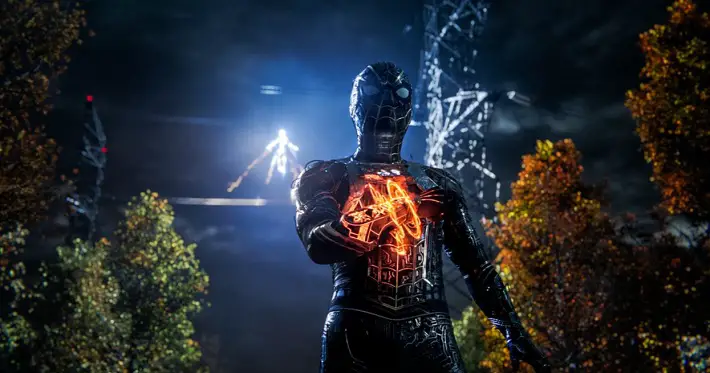 "Hidden gems"
Though it needed 10 minutes trimming from the end, this is still superb entertainment. Okay, it's not perfect. I'd like to have seen a cameo from TV Spidey Nicholas Hammond for those who used to love the 1970s/1980s series and TV movies which graced UK cinemas back in the day. Though cameos from the women in Spidey's lives are thin on the ground, one standout stunt offers a sense of redemption from an earlier movie.
I'd recommend either seeing director Jon Watts' latest offering in IMAX; Screen X (when certain scenes are projected onto three screens to fine effect), or a good old standard screen, as long as it's not just on your phone or tablet in a few months. The extra investment is worth every penny.
When it comes to swooping, soaring, touching, heart-lifting and heart-breaking spectacle, this is splendid stuff. Stan Lee would have been proud.
Oh, and if hidden gems are your thing, as is often the way with MCU movies, there's a couple of credit cookies, which are marred a little by the house lights coming up too early.
Just stay for the first one, a minute or so into the closing titles as the final Easter egg right at the end is just a glorified trailer which you can watch online.
Roger saw Spider-Man: No Way Home at Cineworld York