Venom (2018) – Film Review
Director: Ruben Fleischer
Cast: Tom Hardy, Michelle Williams, Riz Ahmed
Certificate: 15
by Roger Crow
I wasn't desperate to see this Marvel B-movie inspired by a Spider-Man story from back in the day. Given the fact Spider-Man 3 was so bad, and the alien symbiote at the heart of the piece was just a mass of tongue, teeth and attitude, I'm amazed a solo movie was given a green light.
But with Tom Hardy as Eddie Brock, the journalist consumed by the shape-shifting ET, things started to look more appealing, even if the generic advert didn't inspire much love. The appeal of the movie is the seemingly schizophrenic hero and his eternally ravenous alter ego. Hardy is a mass of neuroses; twitchy, awkward and utterly magnetic.
"Writhing mass of fun"
Good support comes from the ever reliable Michelle Williams, on top deadpan form as Brock's estranged girlfriend, while Riz Ahmed makes a fine Elon Musk-style bad guy.
The whole thing ticks over at a fair pace, and although the the effects are pretty poor in places, it matters little. Venom is a big writhing mass of fun. Yes, we've been here countless times before in films such as Akira and assorted manga epics, but Hardy plays the part just right. There's a little of the Mad Max craziness here and a touch of inspired lunacy, care of Zombieland director Ruben Fleischer.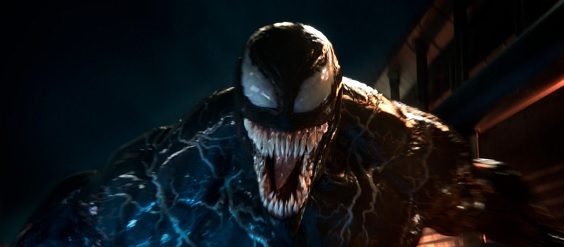 "Look forward to a sequel"
I felt underwhelmed by Black Panther and Avengers: Infinity War, and though Venom cost a fraction of their budgets, the latest Marvel offering achieved that rare thing in an age when superhero movies appear every few months: made me look forward to a sequel.
That's teased in the closing credits, so hang around for a bit as a familiar face pops up and hints at more Marvel-lous madness, as long as the box office returns warrant it of course. After all, the end of The Amazing Spider-Man 2 hinted at a Sinister Six spin-off that never happened, so fingers crossed Hardy can make this effort fly.
8/10