Mogul Mowgli (2020) – Film Review
Director: Bassam Tariq
Cast: Riz Ahmed, Anjana Vasan, Aiysha Hart 
Certificate: 15
by Sarah Morgan
On paper at least, as a white fortysomething woman with no interest in rap music, I'm not the target audience for this complex drama. However, I found myself hooked to Mogul Mowgli's short but multi-layered narrative.
The project was co-written and co-produced by Riz Ahmed, in collaboration with director Bassam Tariq, who was previously best known for his acclaimed 2013 documentary 'These Birds Walk', about a runaway in Karachi.
Initially, Mogul Mowgli appears to be a semi-autobiographical tale inspired by aspects of Ahmed's own life. Like him, the central character, Zed, is a rapper from Wembley, someone who, due to their life as a performer, spends a lot of time away from home.
"Mysterious visions"
But there (or at least one hopes) the similarities end. Zed is on the cusp of success; when we first meet him, he's just completed a tour of the US, which has boosted his reputation and helped land him a potentially lucrative spot as a support act for a far more successful act.
However, his private life is a mess. His girlfriend dumps him and he's advised to return home to recharge his creative batteries; he's always rapping about his roots, but seems to be avoiding them.
Zed hasn't seen his family for two years, and he's immediately irritated by their more traditional way of life. While struggling to settle back in, he's struck down by an auto-immune disease and undergoes an experimental stem cell treatment that may leave him infertile.
While slipping in and out of consciousness, he has a series of mysterious visions, forcing him to take a long, hard look at himself, his feelings, identity, connections and possible future.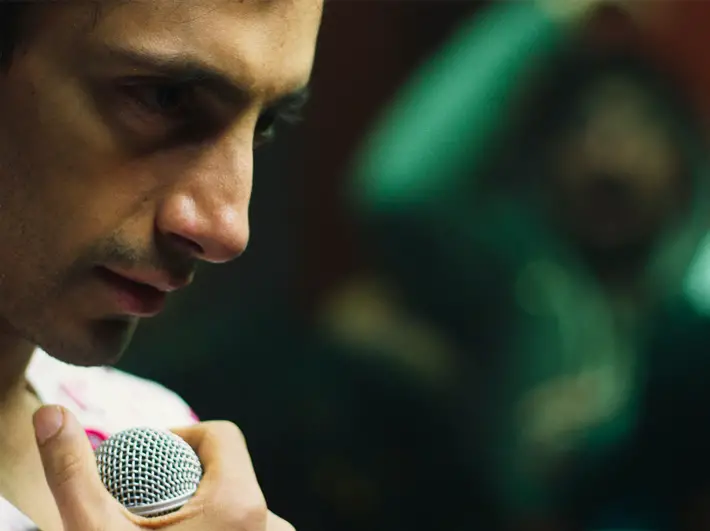 "Valuable lesson"
Tariq and Ahmed have crafted a tale that can be enjoyed on many levels and isn't afraid to throw in various cultural references that will be beyond many. Viewers can either accept them at face value, or investigate further.
At its most basic, Mogul Mowgli is a tale of a young man who learns a valuable lesson about the importance of family. The final scene, in which he performs one of his songs alongside his father, is both triumphant and incredibly moving – I felt compelled to punch the air with glee.
Ahmed is, of course, a star on both sides of the Atlantic thanks to his appearance in the Star Wars spin-off Rogue One. Those who have followed his career because of that role might not usually watch a film like this, but if it inspires them to do so, they will be richly rewarded indeed.
Special features:
· Presented in High Definition
· Feature commentary by Bassam Tariq and Riz Ahmed
· Mogul Mowgli LFF Q&A (2020, 20 mins): Bassam Tariq and Riz Ahmed talk to Elhum Shakerifar
· Deleted scenes (23 mins)
· Music videos for 'Mogambo' (2018, 3 mins) and 'Once Kings' (2020, 4 mins)
· Daytimer (Riz Ahmed, 2014, 15 mins): a boy skips school and his familial responsibilities to go to a daytime rave
· Illustrated booklet including a new essay by Elhum Shakerifar and Toba Tek Singh, Saadat Hasan Manto's satirical short story about Partition, along with notes on all the special features and full credits
Mogul Mowgli is released on Blu-ray by the BFI, £19.99