Like it says, Swedish melodic rock – but with a story – here's Simon 'Siirpo' Forsel from Pressure…
What's the title of your latest release, and what does it mean to you?
Our latest track is called 'What You See' and is about being true to who you are. There are so many things you have to consider in your life to fit in and most of them strive to suppress you and make you be a "normal" person! We in the band Pressure say that there is no such thing as a normal person. Everyone out there is unique with unique talents and an inner will to be true to their own self. The song 'What You See' is about daring to be yourself, even when life pressures you to be something you are not. This is something we strongly believe in and, being a musician, you often live a life that's somewhat outside of the normal jobs. Some people have even asked us "What are your real jobs?" but we do what we believe in the most. Playing music, writing and trying to help people with their self-esteem.
What was the hardest part about putting this release together, and why?
The hardest part is always the song writing. As a story metal band, we collect stories and emotions. That's the foundation of it all. But then you have to set the mood and do the music that really will tell the story you want to tell. So, when people listen, they should be able to get what the song is about just by listening. That's hard, and something you will continue to try to master your whole life. But it's also one of the most rewarding things.
Who produced the release – what did they bring to it?
Izzy Ander produced the song. We do all the recordings in our studio and send the audio files to Izzy. And Izzy transforms it into the hard-hitting story metal that there is today. Izzy helped us build our sound and we are very thankful for that! Very recommended!
What do you want the listener to take away from listening to your music?
We hope that they listen to the lyrics as much as they listen to the music. For us, the two are equally important! We want to help people with our music. We write music about all the pressures around us that affect and each and every one of us. We want them to use our music as tools to handle their life and find comfort, strength and unity in it. And they will, of course, also take away some great headbanging!
How does a track normally come together? Can you tell us something about the process?
It usually starts with me as I am the one collecting stories, and I try to listen to people around me and I try to dare to live life to experience things. When I get an idea, story or emotion that I need to write about I get into a state of mind that forces me to write the song. I usually do it in one take. Write the lyrics, and the music comes to me, I flow through it all and I record everything, drums, bass, guitars, vocals and after that I am totally exhausted. Then I show this to the band and if all agrees that there is something there, we continue on. Often, our lead singer takes over and works through the lyrics and melodies, and sometimes changes key, tempo or phrasings as well as some words. Then I get it back and re-record everything. After we have a working draft, we start to record it with the full band. When we are all satisfied with our work, we send it to our producer to get it evaluated and mixed and mastered.
What band/artists have influenced you the most since you started this project, and why?
There are a lot of artists who have influenced us. We love good music, and it's hard to mention just one or two. I would like to say that the most important influencers have been all the people around us that share stories, listen to our music and gives us feedback. We take our influence and motivation from that and because we in the band Pressure want to make a difference, we would like to dedicate our music and influence to our fans, our Pressures!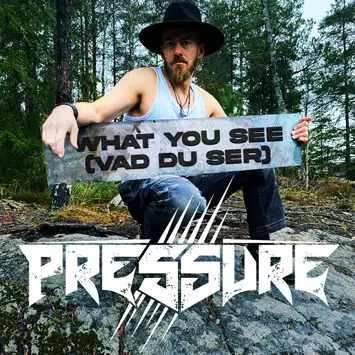 What countries would you like to tour? Are there any standout venues you'd like to play in?
All of them! Haha, well, yeah, we want to play for everyone on this planet. And some more planets as well! We love to play in small bars as well as a big stadium. They all have different charms. So, I will give you two venues. Give me Wembley and I will show you some guitar that has never been seen before. And give me a little hard rock club somewhere in the world with 40 people and we will connect with each and every one of them on a soul level.
If you could pick one track for our readers to listen to in order to get a taste of your music, what would you pick, and why?
Of the ones that we have released so far, I would say 'Ännu Mer'. I know it's in Swedish, but listen to it and tell us what you think it's about. 😊
What ambitions do you have for the band/your career?
To bring our music to as many people as possible! And to be able to leave a legacy!
Finally, as you leave the stage, what are your parting words?
Stay strong and true. Remember that there is a life after these hard times that the world is going through right now! Live music will return and come back stronger than ever. We miss being on the road and hope to see you really soon! Support your local bands, support yourself. Stay true and rock on as there is no tomorrow!
For more info visit: facebook.com/pressuresweden