Epic Escapes: Escape Room in a Box – Review
For anyone unfamiliar with the concept, an 'escape room' is a game in which a team of players are locked in a room together with clues to find and puzzles to solve in order to escape. These usually take place on dedicated premises in themed rooms and are popular destinations for occasions such as birthdays, team-building and work nights out.
With the distinct lack of opportunity to visit an escape room in person at present, Epic Escapes has cleverly decided to bring the experience into people's homes. Escape Room in a Box is a set of three of these games, each with a different theme and level of difficulty – Crime (Easy), Piracy (Intermediate) and Hijack (Hard). Each of the games can be played by two to six players plus a host who can then either take part by being the 'hint master' or make a sharp exit when play begins, as they see fit.
As a family of five currently running pretty low on ideas for things to do together other than eat, we jumped at the chance to get stuck into an Epic Escape and, whilst it might not have been my first choice for Valentine's Day, it turned out to be surprisingly helpful in creating family harmony and love.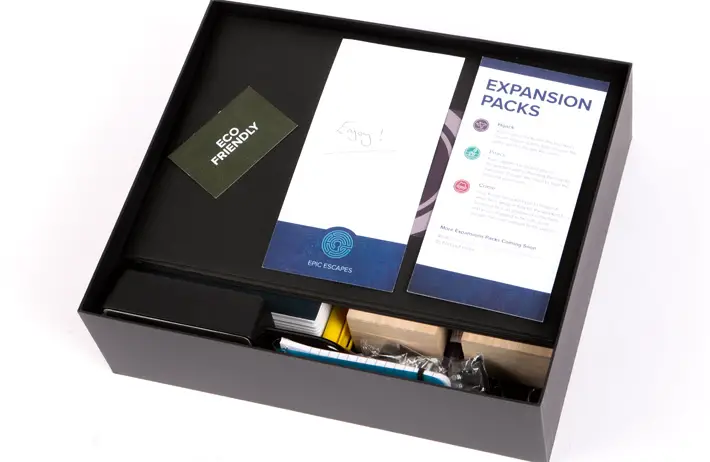 "Darting around the room"
The eldest was more than happy to set up the room and then slope off to be pale and interesting somewhere else in the house whilst the four of us (aged 10, 14, 45 and 47) all got stuck in. We chose the easiest one to begin with, not least because the only person to have done an escape room before was me and I am still technically locked in it, having been unable to solve the clues within the allotted hour.
The sight of an unknown huge, solid padlock on our dining room door knob and a screwed up piece of paper on the table immediately drew us all in and before you could say 'Open Sesame', we were darting around the room hunting for clues and solving puzzles.
The props that come as part of the set are of good quality and it was very easy to get caught up in the storyline. With plenty of clues to find and solve, the children could be generous with each other in taking turns which made for a very pleasant atmosphere.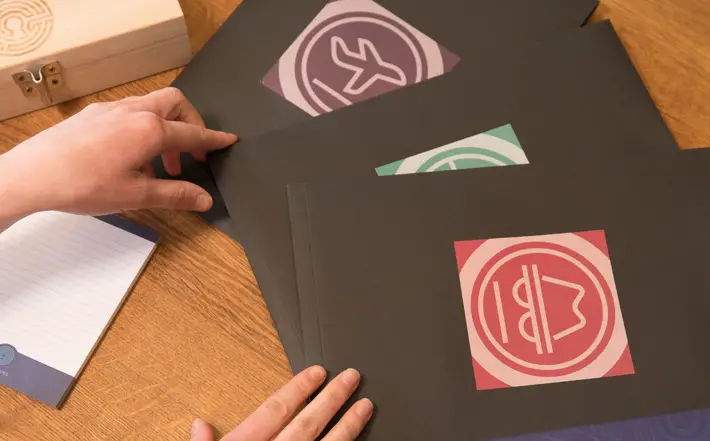 "Huge amount of fun"
There are a number of hint cards available to prod you in the right direction if you get stuck and, I must admit, we did turn a couple over which helped us to eventually earn our release. We had a huge amount of fun playing the game and it was a real treat to be absorbed together in something so diverting for a while (forty-four care-free minutes to be exact – not a record, I suspect, but then we didn't really want it to end).
Priced at £99, Escape Room in a Box might sound a bit steep but considering we would have spent more than that on a single visit to an escape room as a family and we get three 'visits' for this, it actually represents very good value.
There have already been requests to play the next game this coming weekend though the eldest wants 'in' after hearing the fun we had last time, so we'll be drawing straws to see who sets up the room. We have also decided to invest in one of the expansion packs that Epic Escapes has planned for 2021 which, having spent more time together than ever over the past twelve months, is the most glowing recommendation for this game that I could possible give.
Epic Escapes is £99RRP available from epic-escapes.games