Inner Sanctum Mysteries: The Complete Film Series (1943-45) Box Set – Review
By Sarah Morgan
If you thought that anthology series were a modern phenomenon, think again.
TV shows such as Inside No 9, American Horror Story, Black Mirror and Fargo have helped to popularise the genre in recent years, but its roots go back decades.
In 1930, publishers Simon & Schuster launched Inner Sanctum, a series of mystery-themed books. A decade later, several of its titles were then adapted for a hit radio series, which attracted such stars as Bela Lugosi, Boris Karloff, Orson Welles and Frank Sinatra.
In 1943, Universal Studios snapped up the rights to make several short B-pictures under the Inner Sanctum banner. All six are included in this boxset.
"Inventive direction"
Lon Chaney Jr appears in each of them. At the time he was desperate to break away from his image as a horror star (he played Dracula, Frankenstein's monster, the Mummy and the Wolfman during his career), and grabbed the opportunity to tackle a wider variety of roles offered by the series.
His acting skills have been criticised over the years, but he was a master of pathos, which he puts to good use here; he usually plays a man wrongly suspected of murder.
He's also helped by strong and inventive direction from Reginald Le Borg in the first three; it's rumoured that Chaney Jr was upset when the director, following a row with producer Ben Pivar, quit.
Le Borg's entries are certainly the best of the bunch. Calling Dr Death focuses on a neurologist who subjects himself to hypnotism in a bid to find out whether or not he killed his unfaithful wife, while Dead Man's Eyes tells the story of a blinded artist who, after receiving corneas from a murdered friend, can 'see' the killer.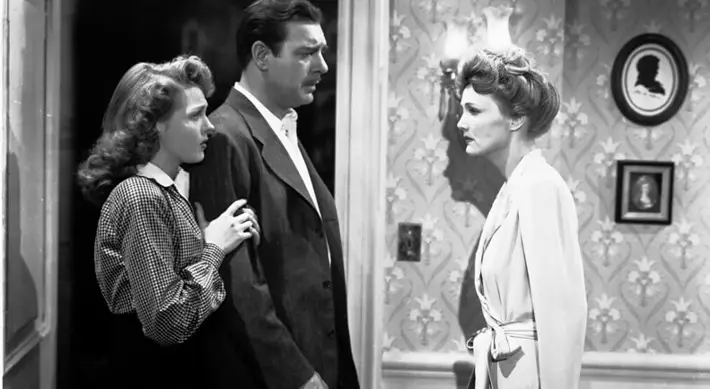 "Much to enjoy"
But my personal favourite is Weird Woman, an adaptation of Fritz Leiber's classic novel Conjure Wife, which was also turned into the cult movie Night of the Eagle in 1962. It's the tale of witchcraft and its impact on a college campus.
The other entries are The Frozen Ghost, which takes place in an eerie wax museum, revenge-thriller Strange Confession and Pillow of Death, involving a lawyer who may or may not have suffocated his wife.
Admittedly some of the stories, performances and effects are a little creaky, but anyone who loves horror movies from the same period will find much to enjoy here.
SPECIAL 3-DISC BLU-RAY EDITION CONTAINS:
High Definition Blu-ray (1080p) presentations of all six films
Uncompressed LPCM monaural audio tracks
Optional English SDH subtitles
Calling Dr. Death – Audio commentary from screenwriter/film historian C. Courtney Joyner and Regina Le Borg (daughter of director Reginald Le Borg)
Weird Woman – Audio commentary from author Justin Humphreys (The Dr. Phibes Companion) and Del Howison (Dark Delicacies: Original Tales of Terror and the Macabre)
Strange Confession – Audio commentary from screenwriter Peter Atkins (Hellraiser II, III, & IV) and screenwriter/film historian C. Courtney Joyner
Kim Newman on The Inner Sanctum Mysteries – New interview with journalist, film critic, and fiction writer Kim Newman
This is the Inner Sanctum: Making a Universal Mystery Series [55 mins]
The Creaking Door: Entering The Inner Sanctum [15 mins]
History of the Radio Series with author/radio historian Martin Grams Jr.
Mind Over Matter [20 mins]
Archival interview with actor Martin Kosleck (The Frozen Ghost)
Inner Sanctum Mysteries: Radio Episodes – A selection of episodes from the original radio series
PLUS: A collector's booklet featuring new writing on the series by Craig Ian Mann
Inner Sanctum Mysteries: The Complete Film Series is released on Blu-ray by Eureka, £37.99