American Horror Story: Apocalypse – Review
By Sarah Morgan
In a week or so, Ryan Murphy and Brad Falchuk's juggernaut of an anthology series rumbles on when the ninth season begins on the FOX channel. Subtitled 1984, it's influenced by slasher franchises such as Halloween and Friday the 13th.
Ahead of its broadcast comes the DVD and Blu-ray release of its predecessor, Apocalypse. Here's hoping 1984 is more coherent than this.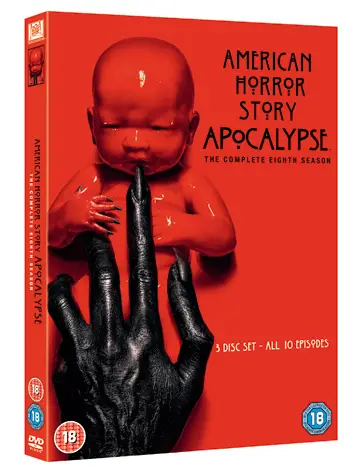 I've seen the first and second seasons of American Horror Story and while entertaining, I thought they were a bit of overblown nonsense. They were curiosity pieces, however, not least because they managed to attract such strong casts.
"Jarring"
Many of the thespians have stuck with the show throughout its run, playing a variety of characters, sometimes linked, sometimes not. It's an interesting idea to have a recurring cast, but in practice I find it slightly jarring, particularly as many of the same actors have also popped up in other Murphy projects, such as American Crime Story, Feud and Pose.
While watching Apocalypse, I ended up spending more time wondering where I'd seen certain performers before, rather than concentrating on the plot – and to be honest, the plot really needed more concentration than I could give it thanks to a timeline that jumps around all over the place.
It starts out as the titular apocalypse is about to take place. Some people are lucky enough to find shelter in a secret underground bunker that was once a boys' school. It's a strange place ruled with an iron fist by Wilhemina Venable.
However, her authority is soon undermined by the appearance of Michael Langdon, the possible antichrist. We then go back in time to find out more about his origins, while the witches from season three reappear and then… well, frankly, I'd stopped caring by that point.
"Somewhat baffled"
The story also doesn't stand alone as a one-off. Instead, it weaves together aspects from the first and third seasons, leaving anybody who hasn't seen those somewhat baffled – thank goodness for Wikipedia, which enabled me to fill in the gaps!
For instance, the sudden inclusion of Fleetwood Mac's Stevie Nicks would baffle anybody unaware of her previous appearance in the show. But apparently she's a white witch (in AHS at least), so popping up to sing 'Gypsy' shouldn't have batted an eyelid.
Despite all the confusion there is one glorious reason to watch – Joan Collins. She's clearly having the time of her life as an ageing glamour queen. Fans of classic British horror will also lap up her homage to And All Through The House, her segment of the 1972 portmanteau movie Tales from the Crypt.
'AMERICAN HORROR STORY: APOCALYPSE' is available on Blu-ray and DVD now