A Walk in Rabbit Ings Counry Park, Barnsley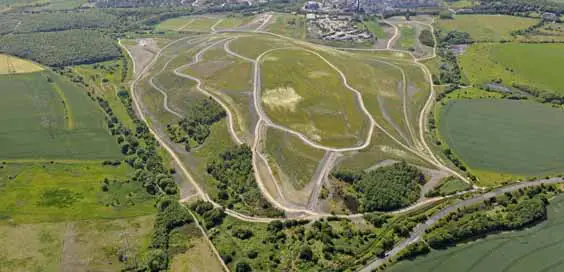 Former mine now home to an array of wildlife
The walk follows a stretch of the Barnsley Canal and passes through the wetland of Pool Ings before entering beautiful Rabbit Ings Country Park. This route will take around two hours and is 3-miles/4.9kms.
Best for: Families will love the footpaths, cycle paths and sports pitches that make this park so popular with the local community. Not to mention the stunning views.
You'll be surprised: To find a striking image of a rabbit carved on the hillside and which can be seen for miles around.
Why you should visit: This much-loved park has fantastic paths for walking and cycling, lots of benches to take in the views, sports pitches for kicking a football around, and even bridleways for horse-riding – making Rabbit Ings a great day out for everyone.
1. Starting at Rabbit Ings Country Park car park, exit the car park and turn left along the road under the railway bridge. Beyond Cross Lane, turn left along the Trans Pennine Trail South, following the Barnsley Canal.
2. Turn left along the road, cross over where it narrows and go straight on at the bend along Pools Lane. Continue beyond the playground – don't go through the kissing gate but instead pass through the hedge beside the barrier. Continue over the railway line and turn left along the improved path that curves right through the wooded Pool Ings. Cross an old railway bridge and continue along the track bed past the football pitches into the Country Park.
"A grand viewpoint"
3. Turn right to follow the perimeter path of the Country Park. This path hugs the base of the hill. Continue past the Land Trust map and start to ascend. Turn left at the junction, pass a wooden seat and climb higher, rising to a metal seat at a junction, and a grand viewpoint. Turn right behind the seat to the next main junction.
4. Double back down to the right and turn left at the junction, back onto the perimeter path with the light blue waymark. At the next red and blue post you can visit the lakeshore and the main route passes a second lake. Bear left on the red route uphill and keep straight on following the little valley on your left past an information panel. Keep right on the red and blue route and turn right at the junction to return to the car park and toilets.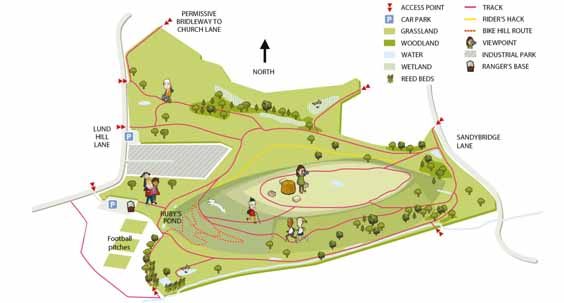 Opening hours: Open all year round
FREE entrance
Car parking: Free, onsite
Toilets: No
Café: No but perfect for picnics
Dogs: Well behaved dogs welcome
Accessibility: Wide paths but with some narrower trails through woodland
Walk courtesy of The Land Trust – follow them on Twitter or Facebook