A Circular Walk from Pateley Bridge Past Yorke's Folly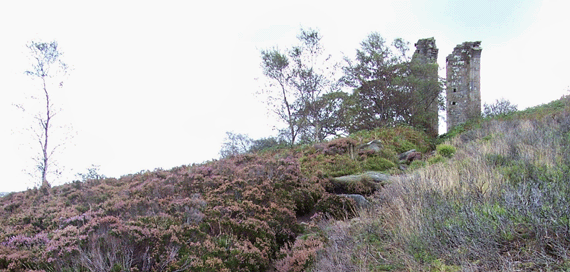 Stepping Up to Yorke's Folly

by Matt Callard
It's a curious kind of benevolence that bestows employment to a ravaged local community via the construction of an entirely useless and egocentric – albeit impressive – stone column folly.
Such were the eccentricities of all-powerful John Yorke of Bewerley Hall that a shilling and a loaf of bread a day in wages probably seemed more like a splendid upper crust gift to the downtrodden masses rather than the outrageous irony it appears today.
Yes, different times and all that, and surely the needy workers were thankful in some roundabout way for the sandwiches, but you can't help but imagine the bitter grumblings that must have accompanied every stacked lump of stone. Couldn't he have opened a dark satanic mill or something?
Two thirds of John Yorke's 1810 triptych still glower over the Dales village of Pateley Bridge today. Originally intended as 'modern ruins,' at least  we can now admire a good landmark, ponder a decent place of interest and wonder at the strange vagaries of Georgian landowners.
"Panoramic feast"
You can start this two hour circular in Pateley Bridge if you wish but this would entail a fair bit of road walking. Try instead to park in the convenient lay-by on the hairpin bend of the Bewerley-Hayshaw Moor Road where you can immediately hit the upward moorland track that will take you (5 minutes) to the folly.
A Victorian gale felled one of the columns but two remain, sentinel-like, gazing out at the wonderful views across Nidderdale. There's a convenient bench if you wish, but the tough stuff hasn't really begun yet. Take the stile and you'll find a well-defined footpath and a wall on your left to guide you.
Soon (15 minutes) the spectacular views reveal themselves. High above Guisecliff Wood you're afforded a panoramic feast of postage stamp hamlets, geometric farms and geographical drama. Notice too, vast Gouthwaite Reservoir to your left.
Important to point out, you're accompanied along this first stage of the walk by a perilous drop. You're hardly tiptoeing along a crumbling ridge but on occasion the pathway flirts with vertical misadventure (and believe me, those trees below wouldn't come close to breaking your fall) so this is absolutely not recommended for small children or the unnecessarily reckless!
"Open moorland"
Head towards the incongruity of the TV transmitter (forgiven on this occasion as a useful landmark) and remain on the right side of the wall. Leap the ladder stile and follow the perimeter fence all the way round until your path eventually joins up with a track leaving the fenced area. Soon you're on the open moorland. There's a path to follow, with a quarry on your right and Heyshaw village (30 minutes) in the distance.
The well-maintained moors that accompany you for the whole of this walk are used primarily for the rearing of grouse but they also host multitudes of lapwings – and keep a keen eye out for that elusive mini-killer, the merlin.
The remainder of the walk crosses exposed moorland until you reach Heyshaw. Once in the hamlet, turn right and walk down a narrow road which joins the Dacre to Bewerley Road. Turn right again and follow the road until you're back onto moorland and the path that will lead (40 minutes) back to the parking place.
Should you require further entertainment, the nearby village of Pateley Bridge hosts a few decent pubs, a lovely park and the oldest sweet shop in England. Not to mention a friendly museum. But for those seeking the cash-free privileges of the Yorkshire Dales you can do much worse than following the footsteps to John Yorke's folly.
Pateley Bridge Walk: What else?
How To Get There:
Pateley Bridge is located off the B6265 North West of Harrogate. To reach your set-off point head out of Pateley Bridge on the B6265 to Greenhow. Take first left to Bewerley, on to Turner Bridge and then Nought Bank Road. There's a small parking area near the top on the hairpin bend.
Or How About…
Visit Settle for another famous Yorkshire folly. Built in 1679, the centre piece of wealthy merchant Richard Preston's estate has recently been painstakingly restored. Simply known as The Folly, this vast house is an architectural enigma. It would have been the vain height of 1670's fashion. Elaborate and unusual, not to mention constantly surprising, this is a fascinating and surprising location for a family day out.
More info: thefolly.org.uk