How to Save Money on Transport
Transport costs can quickly add up, especially if you regularly use the bus, tram, or train to get to work or school. If you are clever about it, though, you do not have to spend a huge chunk of your wages on getting around. Read on for ways to save money on transport.
Look Out for Discounts
Many young people and seniors have the opportunity of cheaper travel, so have a look for public transport discounts to knock money off your daily commute into town. If you spend a lot of time on buses around your town, purchasing a weekly pass is usually much cheaper than getting a day pass every time, and if you are a senior then you may well qualify for a free or heavily discounted bus pass – see here for more information.
Book Far in Advance
You can find great train and coach prices by booking way before you plan on travelling. If you know you are going on a long trip in the future, make sure to check prices in advance to get the best deal possible. If you are flexible with your dates and your route, you could cut the price down even further.
Travel During Quieter Hours
Train providers bump up ticket prices during peak hours, so make sure you avoid these times as much as possible. Peak times for trains usually coincide with traffic rush hour – you want to avoid boarding with the morning work storm and the after-work crowds. Not only will you save money on your ticket, but you will also enjoy a whole window seat to yourself without being crowded by other commuters.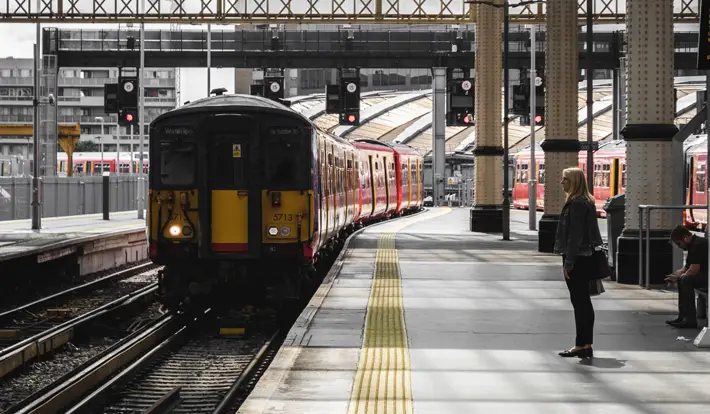 Use Coach Over Train
The train is usually more convenient than a coach, but if you do not mind a long journey, then you could save a significant amount of money travelling by coach. There are even coach journeys that cost as little as a few pounds! This is great for those wanting to explore more of the UK, as you can get around all the different towns without spending too much on transport.
Purchase a Railcard
There are several railcards on offer in the UK. If you use transport often and you qualify, then it is a simple way of saving money on your travels. The 16-25 one is incredibly popular, as it takes a third off rail fares for young people travelling to school, college, or even just to a cultural weekend away. The other railcard types include senior railcards, family and friends railcards, veterans railcards, and disabled person railcards – just choose one that applies to you.
Cycle Part of the Way
If your train is expensive due to the length, why not cut it down by cycling part of the way? Doing this is especially helpful if you travel regularly – your savings will add up greatly over time, and you will even build up your fitness levels (meaning you could cycle even further in the future). If you are interested in starting cycling, have a look at Cycling UK for more information.
By travelling smart, you ensure that you get the best deals possible for your train, bus, and tram tickets around the UK.