Yorkshire's Megalithic Sites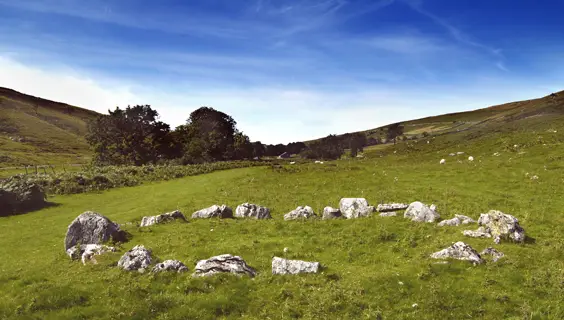 Yorkshire abounds with incredible history, mystery, and stunning scenery. In particular, it has a fascinating array of megaliths – or standing stones – dating back into prehistory, some of which are well known, while others are hidden gems.
A new book, The Old Stones explores some of these sites with photographs, visiting information, and comprehensive articles, enabling anyone to get out and about and discover the ancient sites all around us. You can discover over 15 top megalithic sites in the Yorkshire region from Druid's Temple and Duggleby Howe, to rock art at Hangstone Quarry. Each location has its own unique history and story such as the Devil throwing the massive stones at Church buildings at Rudstone Monolith. The beauty of Yorkshire is explored through the unique lens of its megalithic sites, and is a celebration of its fascinating history.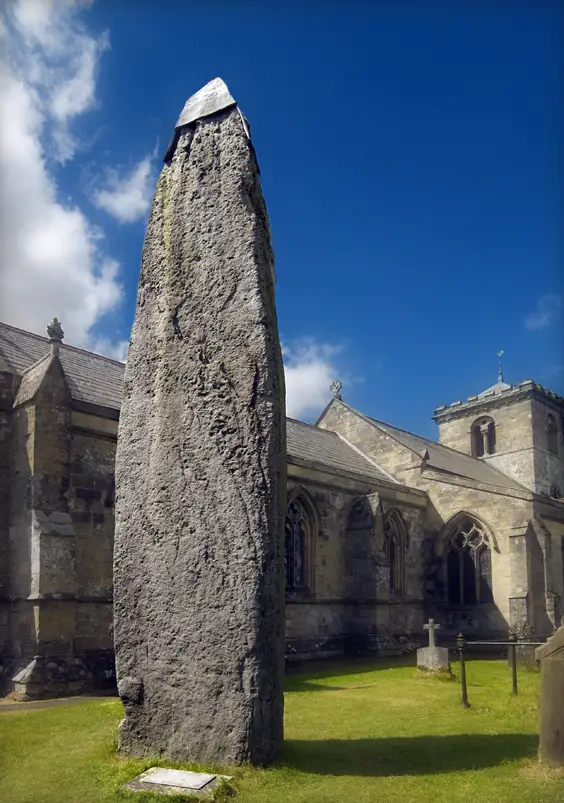 RUDSTON MONOLITH
Standing Stone | Nearest Village: Rudston
Map: TA 0980 6774 | Sheets: E301 L101 | Lat: 54.09385N | Long: 0.32246W
Legend tells how the Devil threw this massive stone at All Saints Church and missed, leaving it sticking out of the churchyard. Famously the tallest standing stone in Britain, it is just under 8m (26ft) in height and 5m (16ft) in circumference. Antiquarian investigation in the 18th century indicated the stone extends underground for a further 8m (26ft), but this has been disputed. A jaunty lead cap, deplored by many, protects the broken top. The stone is thought to have been brought here from Cayton Bay or Cornelian Bay, some 16km (9 miles) to the north.
Markings on its surface have been interpreted as cup-and-rings, and more contentiously as a star map. Nearby are four cursuses, romantically named A, B, C and D. Each is many hundreds of metres long, but hard to spot in the modern landscape other than as cropmarks. The stone may have been erected at the termination of Cursus B. It seems this area was very significant to our Neolithic ancestors, although the almost complete lack of finds means understanding remains elusive.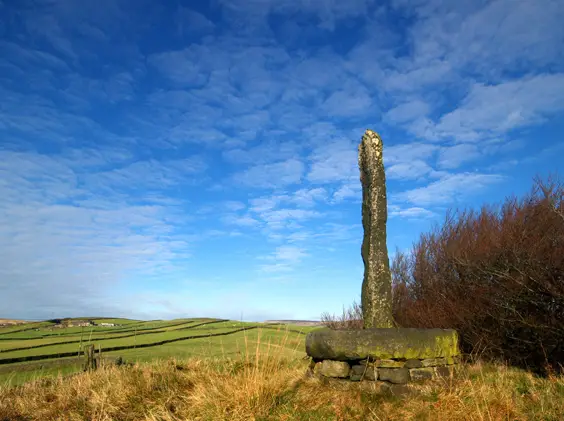 STONES MONOLITHS
Standing Stones | Nearest Town: Todmorden
Map: SD 9250 2370 | Sheets: OL21 L103 | Lat: 53.70966N | Long: 2.1151W
Although not Scheduled Ancient Monuments, and of doubtful antiquity, these three stones are still worth the visit. The 3.6m (12ft) stone set in a millstone-like base seems to have appeared some time after 1912, its holes suggesting it has spent time as a gatepost. In the field to the west is another stone, of a similar height. The smaller, third stone, 1.3m, is in a field further up Stones Lane. Until the 1950s there were two stones in this field; the missing one may be part of the trough built around the spring.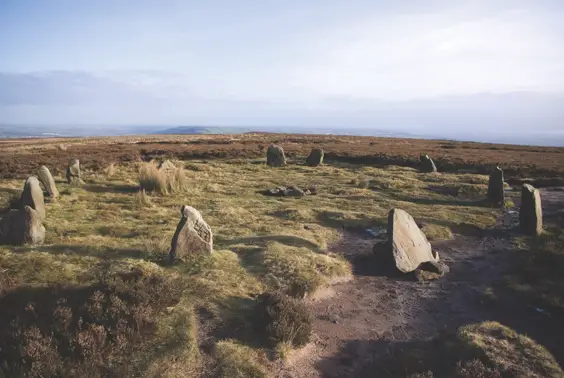 TWELVE APOSTLES
Stone Circle | Nearest Town: Ilkley
Map: SE 1261 4506 | Sheets: E297 L104 | Lat: 53.901555N | Long: 1.80957W
The Twelve Apostles are conveniently close to a main footpath on Ilkley Moor, but this hasn't necessarily done them any favours. By the 1970s all the stones had fallen; they were put back up again in an unauthorized re-erection. Some have since fallen and been re-erected again, and many are now loose. The current 16m (52ft) circle has 12 stones but it's thought there were once 20 stones, plus a central pillar, and a raised embankment.
The circle has wonderful panoramic views and is sited close to where two important tracks across the moor cross, one of which at least is considered to be prehistoric. Various astronomical alignments have been suggested, for example to the midsummer sunrise, which is celebrated here each year.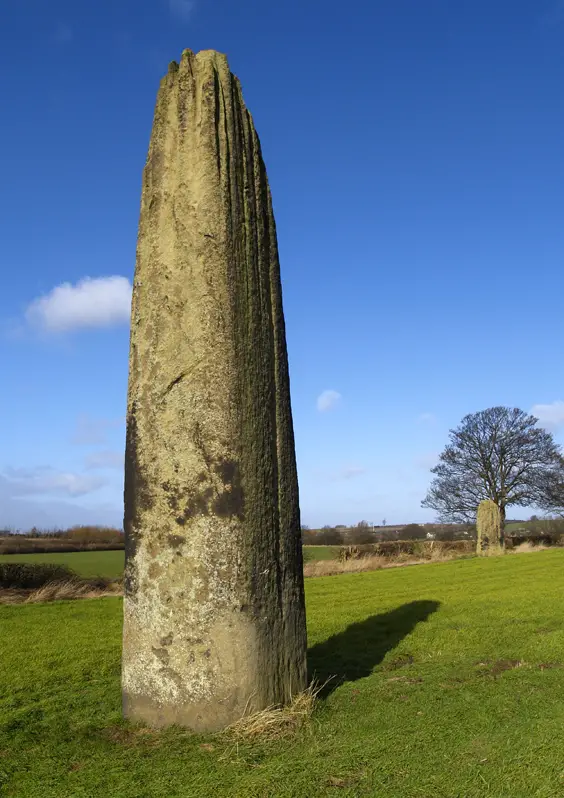 DEVIL'S ARROWS
(Alt Names: Three Grey Hounds, Three Sisters, The Devil's Bolts)
Stone Row | Nearest Town: Boroughbridge
Map: SE 3907 6659 | Sheets: L99 E299 | Lat: 54.09373N | Long: 1.40412W
Three massive stones remain in this dramatic stone row 174m (570ft) long, the stones ranging between 5.5m (18ft) and 6.8m (22ft 3in), with a further 1.5m (5ft) of each stone hidden below ground. The gritstone has weathered into grooves at the top of the stones, giving them a characterful appearance. It is thought the central stone was one of a pair, and there may have been a total of five stones here originally, with one stone broken up to build a bridge c. 1600. The very close proximity of the A1(M) indicates the importance of this glacial ridge as an ancient north–south transport link.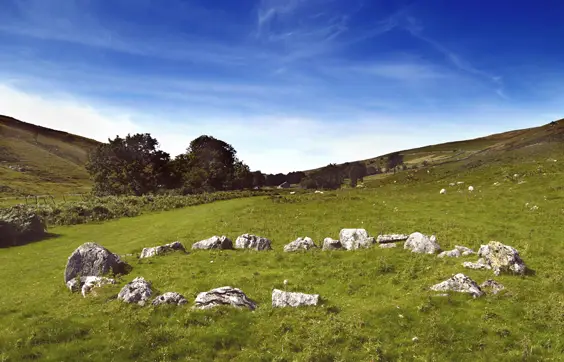 YOCKENTHWAITE
Ring Cairn | Nearest Town: Grassington
Map: SD 8997 7937 | Sheets: OL30 L98 | Lat: 54.20996N | Long: 2.15528W
This site has been described as a stone circle but the 20 limestone kerb stones look to be all that's left of a ring cairn about 7 × 6.5m (23 ×21ft) in diameter. Four further stones form an outer kerb to the northwest. The tallest stone is 1.2m (4ft), with most about 0.4m (1ft 3in). A possible outlier stands 6.5m (21ft) to the southeast, and there are a couple of similar boulders to the west that may or may not be associated with the remains of the circle.
'The Old Stones: A Field Guide to the Megalithic Sites of Britain and Ireland' is published on September 20 by Watkins Publishing, edited by Andy Burnham, RRP £29.99
All images © Richard Dixon except Twelve Apostles: Shutterstock, Photo © Gavin J. Dronfield,
Old Stones, Watkins