Britney Spears – Live Review – Scarborough Open Air Theatre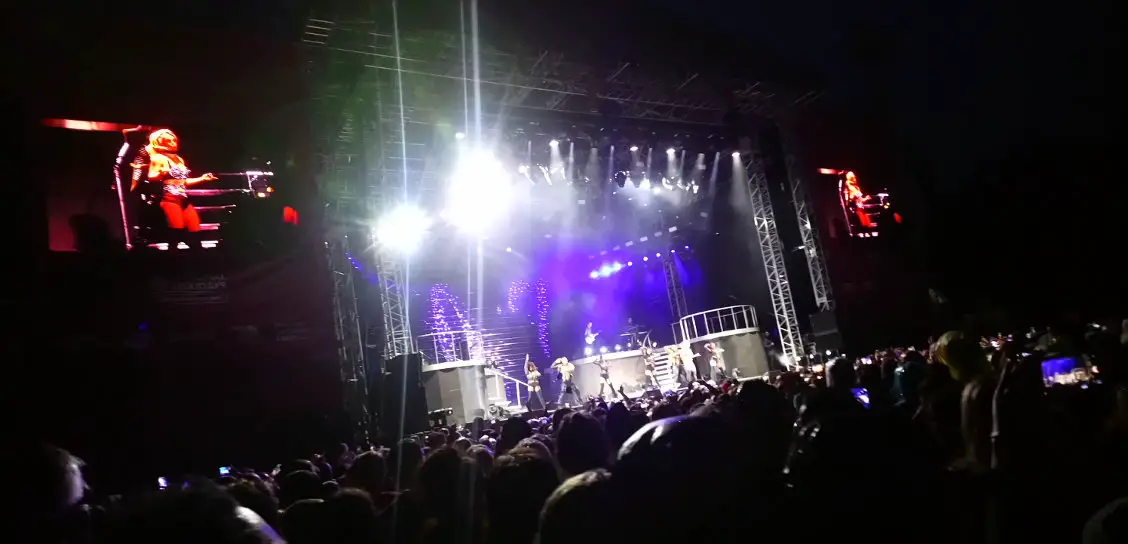 By @Steve Crabtree, August 2018
Britney? Britney Spears? In Scarborough? Yes, you're reading that right. The Open Air Theatre pulled off a masterstroke by securing the 'Princess Of Pop' for a Friday night this summer, and her fans turned up in their droves to see her.
For Britney, her arrival at the British seaside was greeted by a traditional British downpour. But that wasn't stopping anybody having a good time, and it certainly didn't dampen spirits.
Scarborough had been busy all day as people arrived from all over the country to see the first date of her UK tour. The place was rammed with Britney fans, and her mere presence had caused a stir. The queues to get in early were huge, and her hardcore followers kitted out in either official merchandise, or Britney wigs and costumes.
"Whoops, cheers and screams"
And inside the venue, as Spears came on to whoops, cheers and screams under nightfall at 9pm, it was clear the crowd were ultra excited.
She kicked things off with an energetic 'Work Bitch', which led in to a stomping 'Womanizer'. Swarmed with dancers and superb choreography, we were in for a night of huge hits, and new material.
'Baby One More Time' and 'Oops I Did It Again' came in after the first costume change. I thought that it was good she'd decided to get a couple of her big songs in to the show early on, rather than leave them to the end or the encore.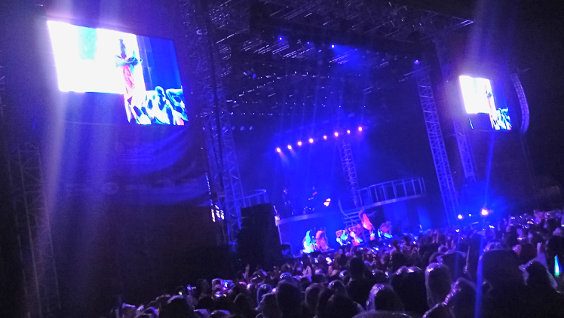 "A different level"
Now, there's been some great shows over the summer, but the stage set-up for this one was on a different level. With podiums at either side, and LED walls flooding the stage; this was the biggest tech set up I've seen in my ten gigs at the Open Air Theatre.
And with many costume changes came many racy outfits, as her fans enjoyed more back-to-back tunes.
'Gimme More', 'Clumsy' and 'Do You Wanna Come Over?' all got an airing, as the rain battered down on the dancing thousands.
But one thing that Britney Spears fans must have been a bit disappointed about was her lack of interaction with them. After over 18 years of performing as a worldwide sensation, you'd have hoped she'd have had some things to say between songs. She could have personalised the show a little bit, but she briefly spoke to the crowd three times.
But the fans were far from unhappy. And the dancers got stronger as the night went on. They were doing some impressive, technical moves which really helped to make the show.
'I'm A Slave 4 U', 'Freakshow' and 'Circus' came thick and fast. As did 'Toxic', 'Stronger' and '(You Drive Me) Crazy' which gave Scarborough a fantastic end to her main show. Confetti cannons exploded at the end of 'Till The World Ends' in Britney's encore, and Britney's time in Scarborough was up.
What a huge name for the town though. The summer line up at the OAT has been nothing short of amazing, and having Britney Spears kick her tour off here is pretty special. The mixture of ages in the crowd went home happy. They'd seen a world-famous superstar, and she'd only been a few feet away.