The Swallow's Nest, near Thirsk – Review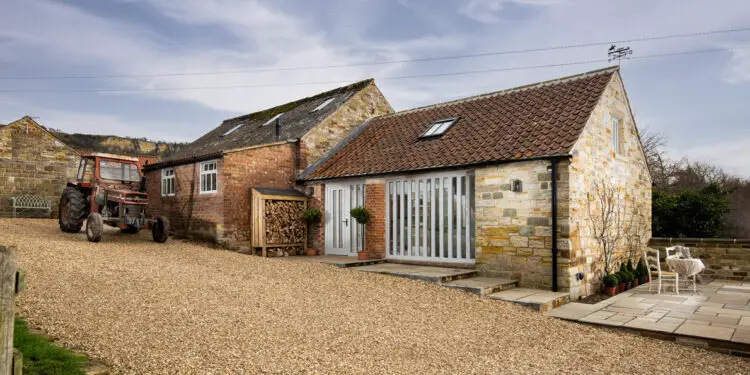 By Roger Crow, February 2023
Going on holiday on my Yorkshire 'doorstep' is one of my favourite things. Yes, I love globe-trotting if the opportunity arises, but living in one of the world's greatest holiday destinations means there are countless riches within 100-miles of my front door.
In this case I opt for a two-day trip to Thirsk, which, to my shame, I've never visited until now.
Thankfully I have a cracking temporary residence – The Swallow's Nest, a converted barn 4.5 miles from Thirsk, which is beautifully simple. It's not long been completed, and the whole place is so beautifully finished, it's a wonder Kevin McCloud wasn't on the doorstep doing one of his Grand Designs pieces to camera about how fabulous the place is.
Getting there is relatively simple; just take it easy traversing the winding country lanes. And leave the supercar at home if you want to go full Clarkson and have a trip through the babbling ford. As you follow the sat nav for the last bit of the journey, your destination is on the left rather than the right.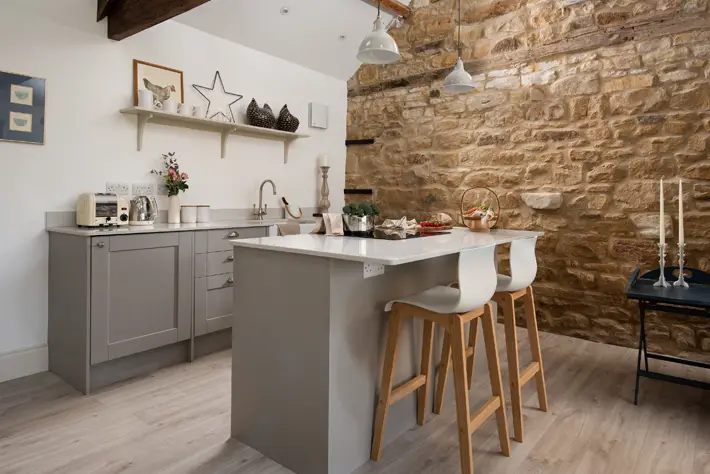 "Fabulous"
You may be greeted by some of the region's most adorable cats and dogs, or if not, you may hear them as a welcoming committee.
The owners of The Swallow's Nest are Tom and Margot, a fabulous couple who live at the neighbouring main house, and like their sitcom namesake characters, ensure The Good Life is guaranteed during your stay.
There's a living room with TV; a couple of sofas, and a kitchen, complete with island where you can have breakfast/lunch/dinner. There's also a dishwasher to minimise the amount of time you spend washing up.
The upstairs is a super comfy bed in the eaves, which involves a little manoeuvring, if you're tall, like me.
One of the many major selling points is the underfloor heating on the ground floor, which is the gift that keeps on giving, especially first thing when you potter downstairs to the kitchen to make a cuppa.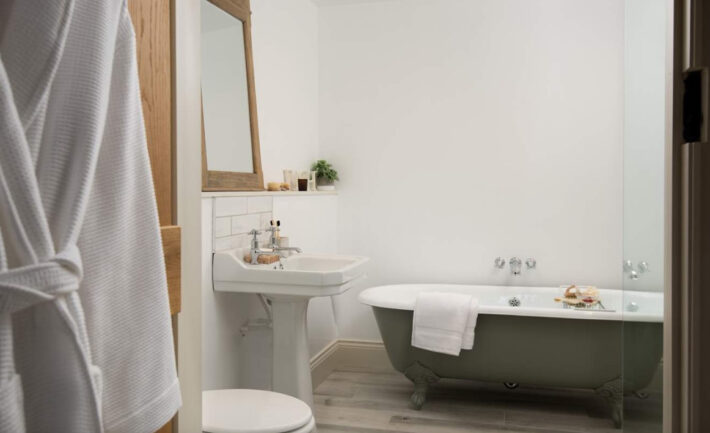 "Luxuriating"
The wet room-style bathroom with heated towel rail is divine. I love the shower, which is simple to operate, unlike some hotels where you need a degree in plumbing. One turn of the right switch left, to around 11.50, and you're luxuriating in hot, not scalding water, which is just the job, especially after a long drive. Or if you prefer, have a bath in the wonderful old school tub, which again looks splendid. The Scandi chic vibe is very cool.
There's so much stuff to do on the doorstep, you'll think you've had a week off after just two days.
My tips are The World of James Herriot in Thirsk. If you park locally, get a free permit disc from the centre itself; pop it the car window, then you're free to explore this rather impressive tribute to James Wight, the man behind those beloved books, films and TV dramas. There's a wealth of props from the shows, and activities. You can also get the ideal selfie while sticking your arm up a fake cow's rear end… Because why wouldn't you? I'm not surprised it's visited by Wright/Herriot fans from all over the world.
While in town, if you're a film addict like me, then you have to visit The Ritz Cinema, one of the oldest in the country. Its Tardis-like exterior gives the impression you're going to be crammed in a cupboard-sized space, but the large single screen boasts stunning sound, terrific seating and two floors. Run by volunteers, it's the perfect way to spend an evening and at around £5-£6, it won't break the bank.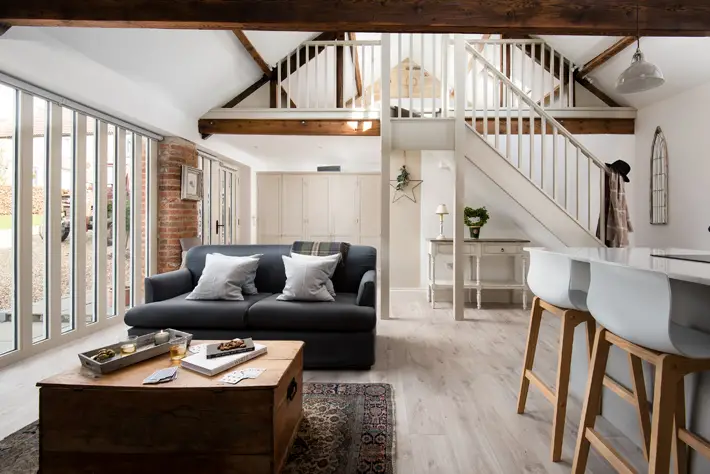 "Facilities are excellent"
I'd also recommend having a bite to eat at one of the nearby pubs or restaurants. We had a terrific curry for two for less than £30, which included a couple of beers, rice, poppadoms, bhajis and two mains.
Or if you prefer cooking at The Swallow's Nest, the facilities are excellent. An easy-to-use hob and all the implements you might need to rustle up a tasty dinner. I was proud of my scrambled eggs, which were whipped up in no time with the provided butter, bread, milk, salt, pepper and, of course, eggs.
There's plenty of charging outlets, but it's worth taking USB plugs to power your gizmos. Wi-fi is excellent, and there's a smart speaker, Amazon and Netflix, so plenty to watch or listen to.
And if you can't find anything to watch on TV, you can stream things from your tablet to the smart TV; in my case, from a certain mouse-themed provider.
We did the Herriot tour, cinema and restaurant on day one, either before or after arrival. The night sky over our hostelry was beautifully clear as we arrived back that evening, so if you love a spot of amateur astronomy like me, you may be lucky.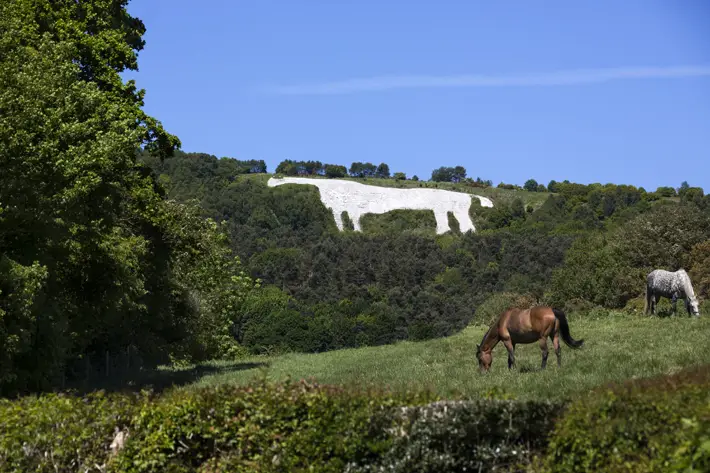 "Explore"
Day two involved a three-mile walk around the white horse at Kilburn, a 318-foot long and 220-foot high landmark crafted by businessman Thomas Taylor and assorted volunteers in 1857. It's a glorious place to explore, whether watching the gliding club making preparations to hurl themselves off a cliff, or those phenomenal views of the surrounding region. As someone who spends most of their life either staring at a computer or TV screen, it's a reminder of how lucky we are to live in such a picturesque area.
Alas, we didn't have time to do the magnificent Lake Gormire, half a mile away, so that's a must for a return trip.
Lunch in Helmsley, one of my favourite areas thanks to a hotel review I did in 2017, was a must. A sausage sandwich and pancakes at a cafe, followed by a trip to the deli was essential to either recharge my batteries, or get a few nibbles for dinner. And if you fancy a pint not far from The Swallow's Nest, award-winning pub The Carpenter's Arms may leave you feeling on top of the world. It's walking distance (approximately two miles) if you want to burn off lunch, but worth taking a hi-vis jacket and torch if going after dark.
As great as it is to explore the local area of an evening, it's also rather nice to soak up the facilities of our beautiful temporary accommodation. Again on the final night, I slept so well, it was a delight.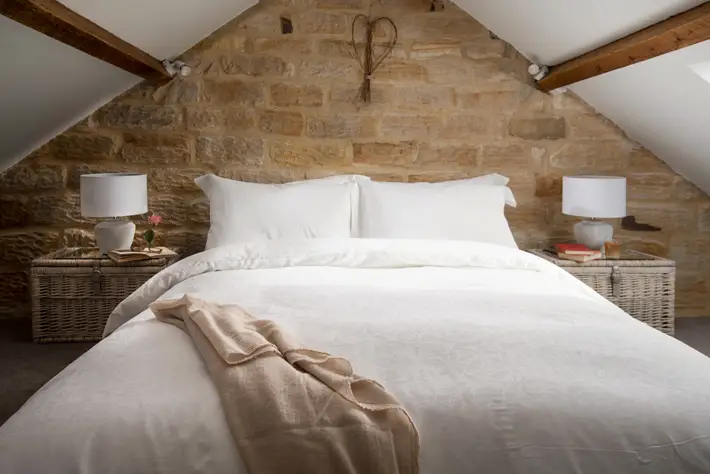 "We'll never forget"
Check out is before 10.30am, so, with a heavy heart, we leave the place like we found it, and head off home, via Saltburn-by-the-Sea, and Staithes. Great options if you fancy a few hours by the seaside during your stay.
So, between leaving home on Monday and arriving back on Wednesday, we packed in about a week's worth of activities (largely because Mrs C is an outstanding planner); saw some extraordinary sights, and stayed in a residence we'll never forget.
Thanks Tom and Margot for reminding us how good life can be.
My next challenge is to find a Yorkshire B&B run by 'Jerry and Barbara', but that's a review for another day.
The Swallow's Nest, Thirsk
Sleeps 2 | 1 Bedroom | No pets
From £550 for a long weekend or mid-week break
Visit: boutique-retreats.co.uk
All property images: Boutique Retreats / Tracey Bloxham