What is the Story Behind the White Horse of Kilburn?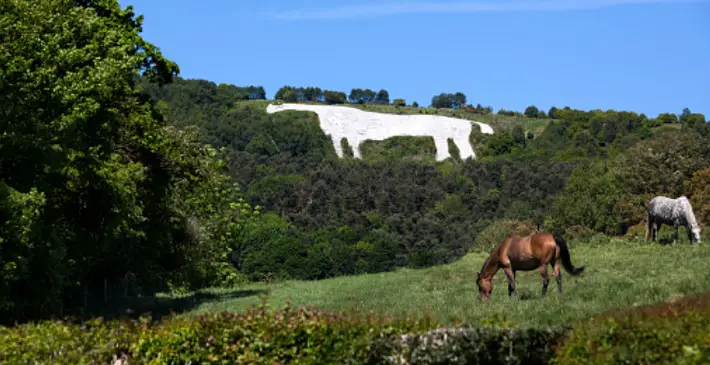 It Ain't no Desert, and the Horse has a Name
By Ed Glinert
It's a huge blanched stallion cut into the hillside in the North York moors near Roulston Scar, 318 feet long, 220 feet the other way, covering nearly two acres as the largest hill figure in England.
The White Horse of Kilburn is visible from the East Coast railway line south of Thirsk. On a clear day it can be seen from Leeds, while in recent years its fame has grown due to exposure by aerial cameras during cycle races.
The horse was created in November 1857 when 33 men took the topsoil off to expose the rock underneath and then covered it with limestone chips whitened and sealed with six tons of lime. It was the work of school master John Hodgson and his pupils, influenced by a Thomas Taylor who was a buyer for a London firm and attended the celebrations at Uffington White Horse in Berkshire in 1857.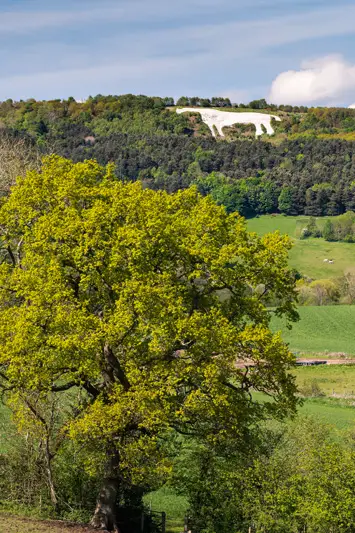 Yet to some chevalier purists, the horse is a fake, as it was carved into a steep grey limestone hill rather than a traditional chalk hill, and it's been nicknamed the 'Old Grey Mare' because of its true colour. From the top of the hill one can enjoy what author James Herriot called 'the finest view in England'.
"Steep gradient"
There are 16 or 17 such horses, depending on which ones are counted. Most are ancient. For instance, the one in Westbury, Wiltshire, was cut to commemorate King Alfred's victory at the Battle of Ethandun in 878. The Osmington White Horse of Dorset shows George III riding his steed. However, that of Devizes, Wiltshire, was created for the 2000 Millennium celebrations.
During World War II the horse was covered up to befuddle enemy bombers looking for the landmark. Much work has been needed and undertakten by volunteers to groom the beast, given the steep gradient of the hillside. Now the fear is, if more lime chips are added to maintain the whiteness, the weight will see it slip down the hill. A dash of paint is regularly added by the Forestry Commission.
Address: Low Town Bank Road, Kilburn, near Thirsk, YO61 4AN
Getting there: From Thirsk, take the A 170 to Hambleton and head south
Hours Accessible: 24 hours
Tip: Leave the horse and head to Thirsk for the Birds of Prey Centre to see these magnificent flyers – eagles, falcons, hawks, kites, vultures and owls – up close and marvel at how they don't fly away.
Article taken from '111 Places in Yorkshire That You Shouldn't Miss' by Ed Glinert, available here