Le Telfair Golf & Spa Resort, Mauritius – Hotel Review
By Angie Aspinall
Guests at Heritage Le Telfair Golf & Spa Resort are simply spoilt for choice for great places to dine. You can rest assured that you can happily eat here every day of your holiday, discovering a whole world of new flavour combinations as you go – because this is a food-lover's paradise.
On our first night, we dined at the Gin'Ja restaurant where we were treated to some of the most colourful and mouth-watering flavour combinations we have ever enjoyed – and entertainment too, for we had our own Teppanyaki chef for the evening. Teppanyaki is a style of Japanese cooking using an iron griddle for super-fast stir frying. Before the frying began, we enjoyed some sashimi and sushi with a cocktail at the bar and then we were escorted to the Teppanyaki area.
Our chef gave us a range of mouth-watering dishes to choose from and we opted to share a king prawn and scallop main course. Watching the Teppanyaki chef was like watching an artist at work: he was almost sculpting the food – crafting, chopping and styling as he fried. Dish after colourful dish was presented to us. It was mesmerising. There were flying eggs, four-second prawn-shelling and butterflying and even flashes of fire (with a touch of flambé).
"Art form"
It was easy to forget we were in a lively restaurant filled with other people because it felt as though Gin'Ja was there that night, just for us. Our attention was only drawn away from our 'floor show' by the applause from a nearby party who were showing their appreciation for the two five foot trays of sushi which had been prepared for them in the specially chilled preparation room.
Our starter featured beef so delicate it almost melted in the mouth and the scallops, although imported, were as mouth-watering and succulent as any I have tasted. The chef was as meticulous in his cooking style as he was with his food presentation. Teppanyaki, it would appear, is an art form for the neat and tidy.
But, don't think this is where a culinary experience ends at the Telfair, for nothing could be further from the truth! On our first morning, we breakfasted at the nearby Chateau de Bel Ombre. (There is a shuttle to take you the short distance to this nineteenth century chateau.) Here, we dined in opulent surroundings befitting any French colonial retreat, enjoying a basket of freshly made pastries with tasty preserves, followed by Eggs Benedict, whilst soaking up the view of rolling lawns and distant mountains.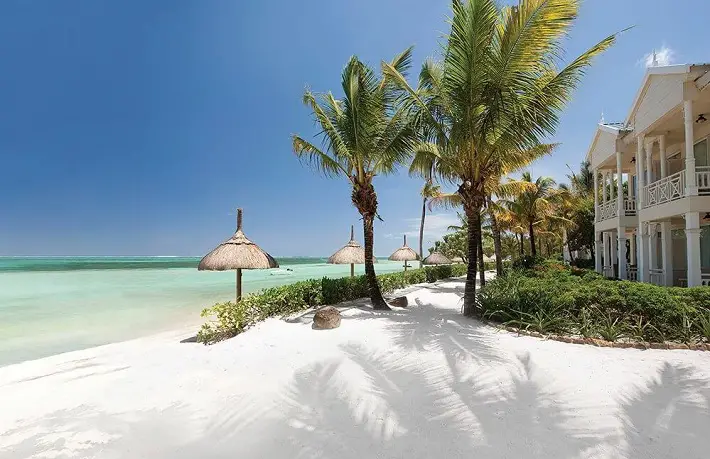 "Elegant"
Our next culinary delight followed, hot on the heels of the others, as we were about to enjoy the 'Chef on stage' experience with the delightful Italian chef, Enrico Rodati at Anabella's restaurant.
What a night! If you know any foodies planning their wedding or honeymoon on Mauritius, then receiving this as a wedding present would be a wonderful way to help them to celebrate. Or perhaps you know a lovely couple of non-cooks tying the knot on the island? They would be able to pick up many handy tips and even get 'hands on' with the food preparation. Don't worry, aprons are provided to keep spillages from spoiling elegant evening wear.
As well as being a top class chef, Enrico is also a charming host and a most likeable chap. Being such a foodie, I was in raptures enjoying this experience and I loved watching, tasting, and taking part. My husband, who enjoys good food and occasional cooking said the thing he most enjoyed about the night was watching me so obviously in seventh heaven. It was such an enjoyable way to spend an evening, swapping foodie stories with Enrico, whilst being served fresh pasta spaghetti and making my first ever tortellini.
"Selection"
Food is a passion which really brings people together; it crosses the same cultural divides as great art and music and means you never run out of things to talk about. Bringing chefs and food-lovers together in this wonderful open plan kitchen is inspired. Not only do you get to see your own dishes being prepared right in front of you, you are also in the heart of the restaurant's kitchen and can see how the team works together orchestrating the elegant dishes of food for customers.
The kitchen itself is a stunning space, with great mahogany presses, granite work surfaces and a refurbished cast iron range from Manchester. Guests are welcomed into the kitchen to view the night's selection of meals – as display versions are available to viewed before orders are placed. I think this is a charming idea as it gives diners the opportunity to look at portion size and presentation before decided what to choose. As well as being the preparation area for evening meals, the kitchen is also where guests can enjoy a fine breakfast selection with everything from fresh fruit salads, cold cuts, pastries and crepes to a full fried breakfast.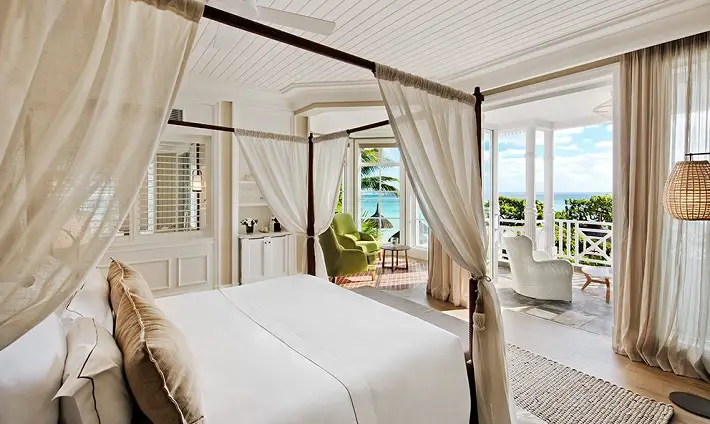 "Spectacular"
But, back to our evening: our dessert was prepared by Narvish, the Patisserie Chef, who showed us how to create the lightest, fluffiest soufflé and to serve it straight from the oven with a scoop of ice cream. Enrico asked him to make an extra dessert so he could join us! My husband now has high hopes of me recreating the dishes when we get home and, do you know what – I just might! Lunch at the Heritage Golf Club was our next treat. The Club House menu complemented that at Le Palmier (the hotel's 'feet in the sand' daytime eatery with stunning views of the Indian Ocean) with a different range of lunch time treats – and a different, but equally spectacular view.
Now, I have never before had the inclination to learn to play golf but I have to say that this course looked the most splendid place to take up the sport. Of course, you may prefer the more sedate online slots at Playamo NZ now that they have been legalised for golf – but that's up to you. You can also experience the finest Mauritian cuisine, an evening at The Chateau de Bel Ombre is a must and there's a free shuttle service for guests of the Heritage hotels, Le Telfair and Awali.
"Tempting"
As our car pulls up, the staff are ready to greet us and escort us to our table. We weave through the elegantly laid tables in the restaurant and are shown to our table on the terrace. There's a surprise in store for the guests yet to arrive at the next table to ours: their table is decorated with the heads of deep pink bougainvillea flowers – and a card in a golden envelop awaits.
It's a wedding anniversary I am sure they will remember forever. Our charming young waiter talks us through our 'Mauritian night' menu. We're having a little of everything as a tasting experience and an initiation into Mauritian cuisine. I'm thankful that we are because it all sounds so tempting, I would struggle to narrow down my preferences to just one choice of main course.
The beautifully presented sharing platter soon arrives with our starters. This is the epitome of fusion food: a European inspired Pheasant Terrine, some Mediterranean-style octopus, then a purely Mauritian dish of pineapple and cucumber and a vegetable which has no English translation. Oh, so many flavours to savour, accompanied by a truly excellent white wine recommended by the Sommelier. We're enjoying it so much that we ask for a pause before moving on to our main courses so we can soak up the atmosphere.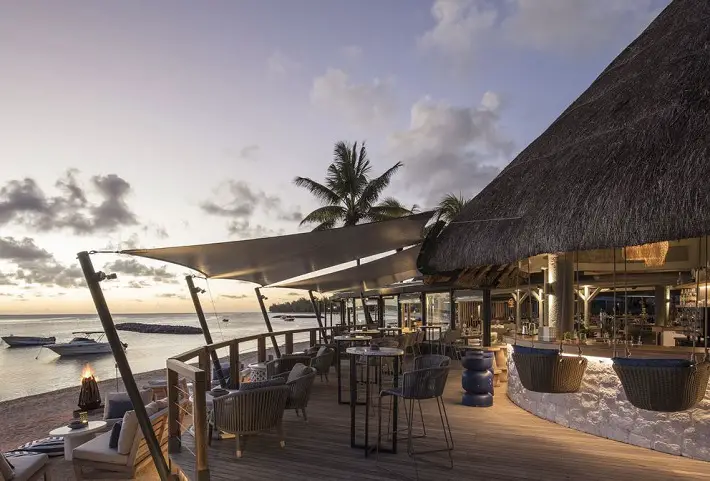 "Sensation"
I'm not usually a fan of live entertainment whilst dining but here the local musicians who moved from table to table serenading diners did actually add to the ambience. We were invited to make a request but, having no idea of their repertoire, we asked them to choose something for us. We were treated to a sweet rendition of the Eric Clapton classic 'Wonderful Tonight', which we enjoyed before they moved on to play 'Congratulations' to the people on the next table.
When we were ready, the waiter brought us an array of tiny blue casserole dishes, each containing a taster portion of a different main course. He removed each lid in turn, describing each dish for us. I asked which was his favourite  and he told us it was the venison, but then he hesitated before saying that the fish vindaloo is also a favourite of his. We tried a little of each of those and then some of the wild boar which, for me, surpassed both of the waiter's recommendations as a great taste sensation. However, the venison curry is a dish we will try to recreate when we get home for it was truly inspired.
"Illuminated"
The main courses were accompanied by rice and 'farata' (a type of flat bread known to us in the UK as a 'paratha'), which went well with the spicier dishes. The red bean dish was lovely and mild and it stood out as a fine solo artist in a glittering array of stars, although the finest star was perhaps the sumptuous red wine. Our dessert was a medley of coconut dishes – a panna cotta, a miniature macaroon, a shot glass of chocolate and coconut and coconut ice cream with a pineapple tuile. Each was a sweet-lovers' delight and all complemented one another perfectly.
After dinner, we enjoyed a stroll around the formal garden and admired the chateau, with its colonial architectural style, illuminated from within. This was an enchanted evening and one which will live on in our memories for years to come.
Check out this 'foodie paradise' in Mauritius: heritageletelfair.mu
Direct flights from Heathrow Airport are available from Air Mauritius: airmauritius.com