Hard Rock Hotel & Casino Punta Cana, Dominican Republic – Review
By Richard Jones, May 2023
It was just after 6am and having just risen from my slumber and venturing out onto the already sun-drenched balcony, I was faced with a dilemma. Which of the 13 pools was I going to lounge around today?
Speaking of decisions, I also had to choose which of the 15 restaurants I was going to eat that evening. There are a lot of choices, albeit very pleasurable ones, to make when you're staying at the Hard Rock Hotel & Casino Punta Cana, the largest resort in the Dominican Republic. And I must admit, when I first arrived at the HRH, following a direct TUI flight to Punta Cana, the size of the property was a bit daunting.
However, thanks to an early morning recce and a handy pocket-sized fold-up map, I soon found my way around the sprawling 121-acre site, where the staff whizz guests around in golf carts-turned-taxis.
I was in an Islander Junior Suite, with views of the nearby natural river below and the Atlantic Ocean in the distance. As well as having a hydro spa tub on the balcony, there was a choice of two bathrooms, complete with amenities from the Rock Spa.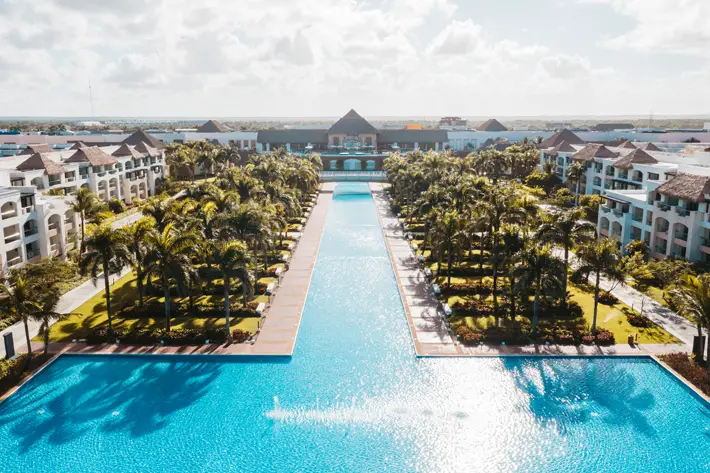 "Doesn't disappoint"
The kitchen area had a sink and mini bar stocked with soda, bottled water and Presidente beers, as well as a Nespresso machine. And should you not wish to leave your room for a while, there is complimentary 24-hour room service which can be accessed, along with all manner of other services, on the iPad.
There is an unmistakable Las Vegas feel to Hard Rock, and the smells, sounds and sights will seem familiar to Sin City regulars. Plus, if you're a gambler, its casino has many similar slots to those in Vegas, as well as roulette, craps, blackjack and three-card poker at the tables.
A hotel the size of the Hard Rock needs an extensive food-and-beverage programme to suit, and the Punta Cana property doesn't disappoint. Among the restaurants I sampled were Toro steakhouse, where I had fall-off-the-bone beef ribs, contemporary Italian restaurant Ciao, and Zen, the teppanyaki and sushi eatery which comes alive with fire and flying knives each evening.
There is also Brazilian rodizio-style restaurant Ipanema if you're a meat fan, Los Gallos, if you prefer Mexican, and laidback burger joint Stacked.
The best and most convenient place for breakfast is The Market buffet with its freshly made omelettes and toasties, while Subway-style sandwich shop The Split is a great choice for a quick lunch.
"Alive after sunset"
Throughout the day, there is a lot going on at the Hard Rock. While the Central and Eden pools are the places to go if you're high energy, I gravitated towards Bongos, a few yards from my room. I spent many an hour there during the week, talking to other guests about US politics and the British royal family at the swim-up bar and turtle spotting in the river.
For families, HRH's water park, Rockaway Bay, is home to 26 water slides within lush tropical gardens, and there is even a FlowRider surfing machine on the beach.
Finally, for a bit of adult pampering, the world-famous Rock Spa is the best in the Caribbean. I was guided through hot tubs, saunas and a special clay steam room on a Hydrothermal journey, before heading off to one of the 52 treatment rooms for a refreshing anti-ageing For Him facial.
As you'd expect from a Hard Rock property, the place really comes alive after sunset, with live music, entertainment and bars aplenty to dip in and out of. The Eclipse Terrace is a great place to hang out in the early evening, while drinks and snacks are available at the Bowling Bar and the popular Moon Lounge with its silent discos.
Oro, modelled on Vegas and Miami's finest spots, is considered one of the most exclusive nightclubs in the Caribbean. If you're a night owl, keep your eye peeled for celebrities, artists and sports stars.
"Highlights"
Not everywhere in the Dominican is as luxurious as the Hard Rock, but that's not to say you shouldn't get out and see more of the island. I took part in a Taste of the Dominican safari tour with Runners Adventures and their local guide, the jovial and knowledgeable Angel.
After passing through the Anamuya countryside and villages, with their colmado (small supermarket-turned-bars), our first stop was at the Runners' base at the foot of the mountain. We met some of their rescued crocodiles and iguanas, before learning how sugar cane is harvested and pressed to make rum. Then, one of the highlights of the trip was watching an artisan show us the art of rolling cigars, using the dried tobacco leaves from the surrounding jungle.
Our next stop was the modern and spectacular Basilica Catedral Nuestra Señora de la Altagracia in in Salvaleón de Higüey, before we arrived at Maria's house, a typical Dominican family home where the family served us a lunch buffet of chicken, rice, beans and fresh fruit, before demonstrating coffee and chocolate making on their farm.
The day ended with a trip to the beautiful Macao public beach, with vendors selling handmade gifts and delicious cocktails in hollowed-out pineapples and coconuts.
"High level of service and friendliness"
On my final day in Punta Cana, I was booked in for a round of golf at the Hard Rock's on-resort course with my new pal Tyler from North Carolina. Designed by the Golden Bear's company, Nicklaus Golf, the 7,253-yard-long course features Platinum Paspalum grass fairways that that carve through the Dominican jungle, as well as a number of water features, strategically placed bunkers and undulating greens.
Oh, and the kind lady in the all-inclusive beverages cart helped cool us down in the hot sun.
I appreciate that when it comes to hotels, bigger does not necessarily mean better, but the ginormous HRH Punta Cana, with its 1,882 rooms, is expansive enough to not feel crowded, but has a high level of service and friendliness so you're never too far away from homeliness and comfort.
The Dominican Republic, and Punta Cana in particular, is one of the fastest growing tourist areas in the world, with new hotels springing up each year. But if you take a Punt on the Hard Rock, it is one choice you definitely won't regret.
Seven nights at the five-star Hard Rock Hotel & Casino Punta Cana in the Dominican Republic costs from just £1,949 per person. Price is based on two adults sharing an Islander Junior Suite with balcony/terrace on an all-inclusive basis and includes return flights with TUI Airways from Manchester or London Gatwick and transfers. Price based on departure on select October 2023 dates. To book go to tui.co.uk or visit your local TUI holiday store.
TUI offers return direct flights to Punta Cana from Manchester from £437 including 20kg luggage.
For more information on the Hard Rock Hotel & Casino Punta Cana go to hardrockhotels.com
For more information about car parking options to suit every budget, Security Fast Track tickets and access to the Escape and 1903 Lounges at Manchester Airport, visit manchesterairport.co.uk