An Interview with Vivienne Westwood
Matt Callard gets 15 minutes with the Grand Dame of UK fashion, Vivienne Westwood…

I know you're not entirely comfortable talking about your work – is this why you're on-line manifesto is in full swing? Is this the best way of communicating your ideas away from the catwalk?
My clothes are uncompromising in the sense that they are what they are. They are not trying to sell themselves to you. If you want them, they make you incredibly strong. But they are not asking you to want them. You have to decide, 'yes that's what I am going to have'. And when you wear them they say about you, 'I'm something to reckon with – take it or leave it'.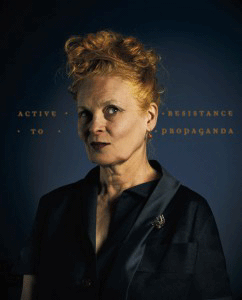 They allow you to project your personality, and are quite theatrical in the sense that they are real clothes, well designed, but they give you a chance to express yourself. They are also inviting – people respond to them and want to come and talk to you. The added bonus is, you are not going to be bothered by conservative types coming up to you, because they won't.
"Spaceship"
Our wine writer, Paul Howard, was one of the original Kings Road punks. He asks: "I'm always interested how you maintain that freshness, creative spark and risk-taking over such a long period – for most of us, if we have one great idea we are fortunate indeed – how do you do it, and is it born or made?"
What I think my clothes give people is the power to make them feel sexy – after all they are very feminine. But what is even more important is that they talk about the body in a way that makes you stand out.
There is a form to it all, a relation between you and what you are wearing that is terribly interestingly. You are doing something that you have never seen done before. Nobody else is wearing anything quite like it. What I think they can do for you is to make you look and feel important. They give you clout. That is what inspires me forward.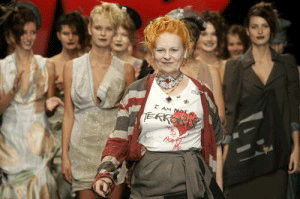 You seem to be more politically active than ever. What issues are closest to your heart?
The title of my last Gold Label show was Chaos Point. Scientists have warned that ecological crisis has reached tipping point and the destruction is now irreversible. Others believe the response of human beings to the crisis is one factor that can save us – provided enough of us wake up to the emergency. The Chaos symbol means that nothing is predictable because all the old patterns of life have gone haywire and only human beings can now steer the planet to avert the ecological crisis. We only have a few years to guide our spaceship, Earth, before it tips out of control. We have to change, NOW!
"Richness"
The amazing response to your V&A exhibition proved the love and fascination for your work in this country – we could all see your personal 'journey' through your work – what was it like to see your life's work displayed and in order before you?
The exhibition is mindboggling. It's incredible. I look at it and it's just amazing. Every season we do so many things; we have so many ideas in every collection. And you know, you're just going to see one per cent of it, and it's still going to be incredible – the richness of it all and the great clothes. The show has taken a long time to figure out – the first room was easy to do because the collection was smaller and I didn't keep everything but the second room took an incredibly long time because the choices we had from my archive were enormous.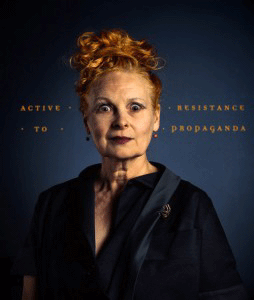 There were rumours you stormed out of the Sex and The City premiere – is this true?
I stayed throughout the film. I was overjoyed to see Sarah Jessica in her beautiful wedding dress. Furthermore, I am delighted to notice recently how well young girls are dressing; that they have clearly been inspired by the film.
"Delight"
Can you recommend our readers a book, a work of art and a piece of music?
Brave New World by Aldous Huxley, The Memoirs of Hadrian by Marguerite Yourcenar, Madame Bovary by Gustav Flaubert. My favourite painters are Titian, Velasquez and also Vermeer. I particularly love 17th century Dutch painting. I visit the Wallace collection in particular for the 17th century. But then you have the three 18th century geniuses: Boucher, Watteau, and Fragonard. To look at the paintings is to enter a world. It's an absolute delight.
What's next for Vivienne Westwood?
The Opus Book Polaroid Exhibition will go to Japan and Italy; of course there will be another Red Label show in London and the V&A retrospective exhibition on my life will go to Hong Kong in November.