Il Paradiso on the Forest – Restaurant Review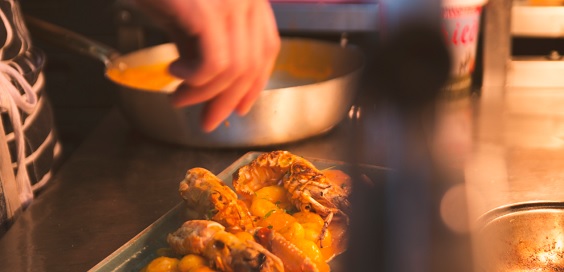 By Roger Crow
The first time I see Il Paradiso on the Forest is for a split second, when we drive past it. A few minutes later, after finding a spot to turn round, we pull on to the car park.
Being a graphic designer in a former life, the restaurant's sign jumps out at me for all the wrong reasons. The logo blends in with the background of illustrated trees. It's hard to know where one starts and the other ends.
Thankfully, the place itself is terrific. A simple, engaging eatery with a rustic charm and a genuine feel of slipping into the boot of Europe without needing a passport.
We'd originally pencilled in a 7pm seating, but after a blissful afternoon at Hunmanby Gap, the expected nightmare of rush hour traffic never arose. We're 100 minutes early, so having given them a quick call to be on the safe side, Manager Mauro and Assistant Manager Daniele welcome us.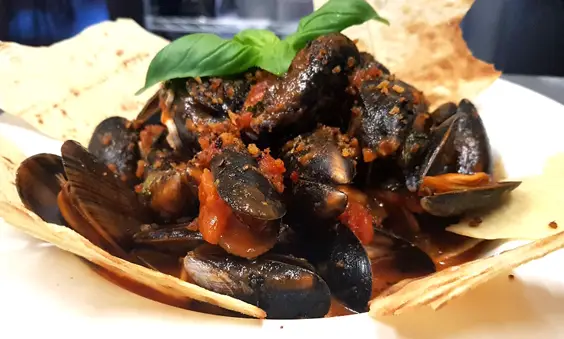 "Array of flavours"
The place has been open 20 minutes, so we're first to arrive. Time enough to settle in and look around.
We're not sure what to expect – maybe a bowl of pasta, which is fine by me. However, when there's mention of a taster menu, I'm glad I only had a bacon sandwich for lunch.
They've already managed to accommodate our much earlier seating. We throw them another curve ball – my partner is a vegetarian. There's a split second of wondering if they can cope, but a good restaurant will have to deal with such issues every day, and safe to say they do a great job adapting there too.
We start with a glass of refreshing Limoncello spritz. Rachel has sliced courgettes with buffalo mozzarella, which is to die for. I have a version with thinly sliced Italian ham – a beautiful array of flavours bouncing off the tongue like the summer rain which has finally arrived after weeks of drought.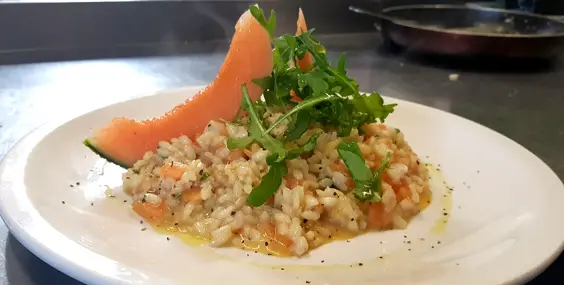 "Exquisite"
It does feel quite rightly like we've stumbled across an Italian restaurant in the middle of nowhere. Just a shame Billy Joel's timeless track isn't playing, and no, not 'Uptown Girl'.
Maybe it's the scorching weather, or the atmosphere, but I get flashbacks to my happy place in Positano. The decor is eclectic but it works. It feels like a very homely restaurant.
Rachel's Bruschetta alla Romana (sliced Italian bread grilled, rubbed with fresh garlic, then topped with vine ripened tomatoes, fresh basil oregano and extra virgin olive oil) is exquisite.
My seafood course is a mix of shell fish, baby squid and two enormous prawns. As Rachel is squeamish, I'm not surprised she erects a menu shield in front of the dish. I prefer my prawns on the small side, without heads, but hardcore seafood fans should love it.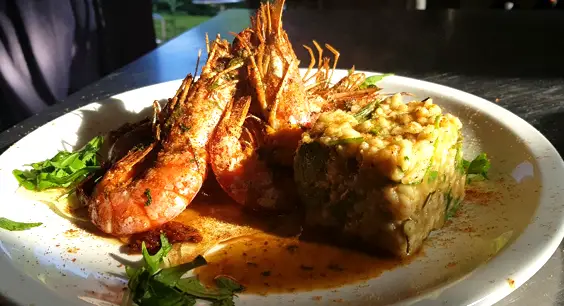 "Beautifully cooked"
As the early evening blends into twilight, the place begins to fill up with families and other diners. It soon feels like we're in another country. There's no sense of being in York at all, and that's the beauty of being a little off the beaten track.
And as the dishes keep coming, Rachel sets to work on Sunshine Risotto. The melon is an interesting touch, and it's beautifully cooked with a sweet taste. (I've never had risotto for dessert, but I imagine it's not unheard of).
My course is Malloreddus alla Campidanese. Fresh home-made Sardinian pasta, served with pork sausages, garlic and pecorino cheese
The pasta (which looks like tiny baby sweetcorn) is beautifully al dente, and the sauce is creamy without being overpowering. The flavours complement one another rather well. I've found my favourite dish.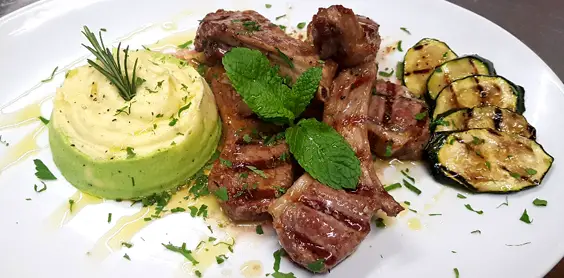 "Loving every mouthful"
Surely that's it. Dessert, coffee and home. But despite loving every mouthful of what I think is my main, I leave a portion just in case.
I'm glad I do, because when Daniele brings over a steak knife with the next wave of cutlery, I realise we're not quite done yet. My Sardinian porchetta with flatbreads arrives, and it's a work of art.
Cooked for three hours, the meat falls off the bone and melts in the mouth. Cubes of roast rosemary potatoes are beautifully prepared, and tiny cubes of bacon add a terrific saltiness to the dish together with baby broad beans. Again, the flavours bounce off one another phenomenally well.
It's almost a crime to leave any, but I'm starting to feel like David Banner mid-transformation – a culinary Hulk if you like. Only far from angry. Quite the opposite.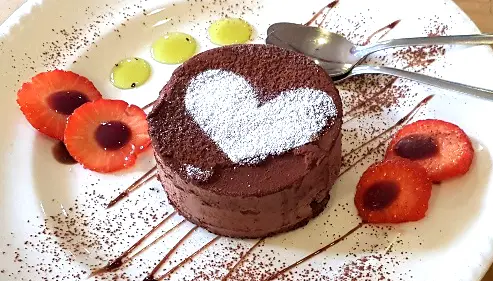 "An evening we'll never forget"
I apologise for not devouring the lot, but the cardinal rule for any good Italian restaurant is leave enough room for dessert. We share a tiramisu, which is devoured in no time, and our cappuccinos are equally outstanding. The perfect end to an incredible meal.
Thanks to head chef Mimmo and sublime work from fellow culinary geniuses Andrea and Franco, it's an evening we'll never forget.
I'm not surprised the place is heaving by the time we leave. I'm sure word of mouth works better than any sign to attract customers, though for passing trade, it certainly wouldn't hurt using a different coloured font on the same background to make the sign pop.
Staggering to the car as the sun begins to set, we feel like our day off was something incredibly special. We'd happily return, though as we've eaten enough to keep us going for a day or so, probably not immediately.
Arrivederci e grazie Il Paradiso on the Forest. You've done us proud.
Il Paradiso On The Forest, York Rd, York, YO61 1EP
Mon-Fri: 17:00-22:00
Sat-Sun: 12:00-22:00
01347 811271
ilparadisodelciboyork.com